(Cheer) Leading the Way to New Heights
Throughout the many changes on the WHS cheer team, the strong bond between the girls remains constant
Teamwork. The word is chanted repetitively among cheerleaders. Teamwork transforms a large group of girls into a strong team that acts as one together. Though teamwork is essential for any team, it is especially important for the cheer team.
"I am most proud of this team for their everlasting support.This team showed the embodiment of teamwork throughout the entire 10 month season.  They stood by each other on good days and stood even closer on the bad days," head cheer coach Linzi Gorzycki said.
Over the past seven years, the cheer team has dramatically transformed, highlighted by the presence of new coaches and evolving uniforms. The cheer team has shifted to prioritize competitions in recent years. Even more recently, cheer wrapped up season by placing 4th at the USA Nationals.
"[The cheer program has drastically changed]. When I first started coaching here it was more dance-oriented and less stunt intensive. In the past three years the team has taken a drive to be dedicated to stunting and more college cheer focused," Gorzycki said.
The need to excel in cheer stunts and dance routines may seem excessive, but by working countless hours , cheer has developed from never having competed before to officially becoming a CIF sport last year.
"With cheer becoming a CIF sport, the competition aspect has become more focused on the sport as a whole. It's not just about sideline, but it's also about competition and showing off the athletic abilities of the student-athletes on the team," junior varsity coach Kristen Malabayabas said.
Although cheer is an official sport, some may underestimate the amount of work and time commitment that is needed to produce a strong team. Cheerleaders have practice Monday through Thursday where they repeatedly work on stunts to build up their stamina.
"It's honestly very tiring and it takes up a lot of mental and physical strength. Whether you are lifting someone or being the one lifted, it requires a lot of strength and dedication in every single move. Some people might think that cheer isn't very difficult, but if they were to try [cheer], they would discover that it takes a lot of practice, determination, and A LOT of strength. I think if someone were to try, they would have a lot of trouble, " co-captain and senior at Woodbridge High Janine Aguirre said. "There is a quote that says ' athletes lift weights, cheerleaders lift athletes'."
"
"I have never had that sense of trust between 19 girls."
— Janine Aguirre
With all the concentration and focus that is needed during practice, cheer can be an escape and a destresser from those few moments in life where school or external problems can be too stressful.
"There were countless times when coach would say 'Do it three times perfectly and we will end practice,' and you hit all of your stunts and dance your heart out only to find out that someone else's stunt fell and you had to do it again. Cheer was honestly a release from all of the other pressures of life. It was two to three hours that you got to hang out with your best friends, do something that you love, and forget about the test you think you bombed, the fight you're having with your parents or the boy who hurt you," 2016 alumna Jazmine Council said.
But with motivation and desire, these girls have made it a priority over the years to develop its team bond.
"[While] spending five days at nationals, we did everything together, like practicing, going to the Disney park, and dance parties in our rooms," co-captain and senior Danielle Lee said.
"Spending so much time with the team was like being with family and I'm really going to miss being on a team with them."
For many girls on the cheer team this season was their last season for cheer, but the awards and the competitions they have won will stick with them throughout life.
"It is different from anything else I've ever been involved in because I have never had that sense of trust between 19 girls," Aguirre said. "I found something that I am very passionate about and I have also found life-long friends."
Throughout the years at Woodbridge, the uniforms and the stunts performed have become sharp and pristine. However, one fact remains constant: cheer has and always will be a group of enthusiastic girls who have different personalities and different outlooks of life, coming together to persevere and exceed as a team.
"They're wonderful young ladies as well as tremendous athletes. They are fun to be around not only on the mat training but also in the classroom, at games and at other events," Malabayabas said.
About the Contributor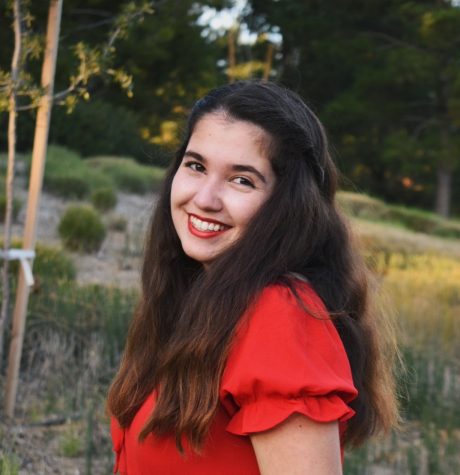 Corina Silverstein, Co-Editor-in-Chief
Buenos dias, Warriors! This year for me comes with many sweet sorrows as I treasure my fourth and last year with the Golden Arrow. I hope to instill this...