Warriors "Feel (The Spirit) Still" in the Lip Dub Tradition
Students unite to film this year's spirited lip dub to Portugal the Man's "Feel it Still"
On March 22, students from every corner of campus lined up along a planned route, filming a music video to a catchy pop song, while simultaneously inciting school-wide pride through an innovative lip syncing "lip dub."
An internet trend incited Woodbridge High's newly adopted lip dub tradition. The trend began in 2006, spreading to high schools around the nation. Introduced to Woodbridge High in 2014, the lip dub has served as a source of entertainment and pride for Warriors.
The student body initially selected the funky alternative single, "Feel It Still" by Portugal the Man, for the lip dub's background music through a school-wide survey.
"We were looking for songs that a bunch of people know of that were upbeat and have an upbeat pace to them so 'Feel it Still' was what we landed on," media producer and senior Macy Bernstein said.
Despite the gloomy Thursday morning inundating the school with rain, students donned red and gold ponchos and continued to sport prideful smiles across campus.
The lip dub route commenced with runners emerging from the aquatic center, passionately mouthing the lyrics to the well-known pop song. The camera's route then led through a live dance routine and marching band performance, progressed into a dramatic pool jump and culminated with the camera panning onto the cheering student body.
Although the route may seem straightforward, the unique format of the lip dub introduced potential obstacles while filming the video.
"The thing with the lip dub is that it's one shot," film teacher David Baker said. "We've got one shot to do it, and if it doesn't come out, you don't get another chance, because there's so much involved in organizing the school and the route."
Despite the stressful circumstances, students and faculty enjoyed the unique experience. From sport teams and academic teams to the general student body, every group on campus held a specific location to cheer on the runners.
"The lip dub makes me feel included because it makes me feel like the school has spirit," junior Nicholas Olmedo said.
Such extensive inclusion and unity allowed the lip dub to reach all students and groups on campus.
"Especially if you feel like you're not included at the school and don't have a place in the campus, [the lip dub] helps everyone feel a part of a Warrior family," Bernstein said.
The lip dub ended in a crescendo in emotions of pride and belonging, especially for graduating seniors who witnessed the birth of the new Woodbridge High tradition three years ago.
"Once we got to the top of the JH lockers and everyone was there, I think it was this moment of pride for our school and happiness to be part of Woodbridge," Bernstein said. "I'm happy to be sending off my senior year with this message of the lip dub."
About the Contributor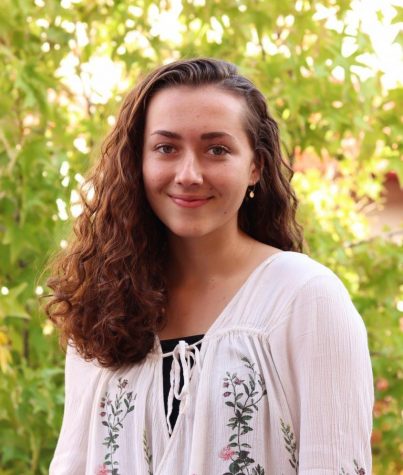 Kirra Lunow, Co-Editor-in-Chief
Welcome reader! Three years ago, I joined the Golden Arrow and entered an inviting community, opening myself up to the world of culture conglomerated within...