The Story Behind Entertainment Corps' 1,001 Stories
Entertainment Corps reveals inspirations for the new field show theme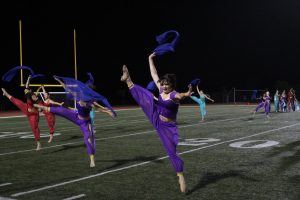 Figures in bright red, purple and sea green Arabian outfits paint the sky with blue flags and graceful leaps to a soundtrack of mystery and excitement. The Entertainment Corps takes you to an Arabian night with their new theme, "Scheherazade: 1,001 Stories Told."
The field show is based off of the piece, "Scheherazade" by composer Rimsky Korsakov. Korsakov took his inspirati
on from the collection of Middle Eastern folktales entitled "One Thousand and One Nights." Scheherazade acts as the storyteller throughout these 1,001 stories, recounting them to her husband, King Shahryar, to keep him from killing her. Korsakov conveys some of Shahrazad's stories in the music, lending a story line to the Entertainment Corps.
"Four years ago now we had a story and it was our favorite show of all time, 'The Giving Tree,' and that was a story with a narrator…and the band is really excited because we have that same narrator with a big impact moment in the beginning and we die out in the end with visual," senior and drum major Niels Dawson said.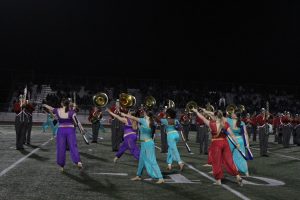 From the masses of flags thrown into the air behind changing formations of the band, there is always something to watch. The show highlights both instrumental soloists and section features, a new addition to a marching band show.
However, that is not the only unique aspect of the field show. The band hopes to hide the clarinets behind a drape before their feature, have the woodwind section sword fight and even use aerials to show a magic carpet flying through the air. The largest prop planned for creation is a genie bottle that shoots out flags for color guard performers to catch.
"It's a little bit more coordination when we do these kinds of shows because it's a coordination of not only the audible sounds but also the visuals, whereas in past shows what we do is we kind of stay a theme and we just carry that theme throughout," instrumental music director Brad Harris said. "The [students] have to be a little more involved in it and ready to take that leap, and I think this year this is the group."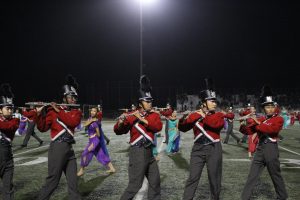 Just as Scheherazade impacted her husband with her stories, the Entertainment Corps hopes to both entertain and tell an important story.
"I hope that they are just entranced by it, and that they want to come and see it again because every time something is different, you know we will add something here, we will take something out there and I could watch the show over and over," junior color guard member Zahara Chaudahary said. "I hope the audience feels that connection with us."
About the Writer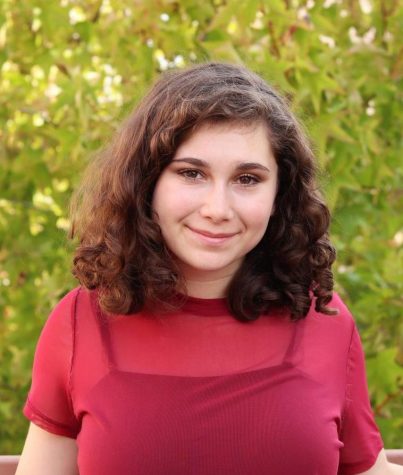 Emilee Klein, Arts and Entertainment Editor
Hey Warriors! This is my second year in the Golden Arrow and I am ecstatic to be back! I have been in the Woodbridge Vocal Music Department for four years,...