Choir Brings their Broadway Best to "Broadway Cabaret"
13 select choir students perform excerpts and medleys of 75 classic Broadway songs in one impressive musical performance
Embellished by harmonious voices and multi-colored stage lights, Broadway's biggest hits took center stage in the choir department's annual "Broadway Cabaret" performance on Oct. 15 and Oct. 16. "Broadway Cabaret" featured classic Broadway hits, such as "One" from the musical "A Chorus Line," bringing the Woodbridge community a taste of Broadway flavor into their very own theater.
This year, the show included 13 select students from the choir department, making this years cast significantly smaller compared to last years 26 member group. Cast members self-choreographed several routines to further enhance the experience of the show, incorporating a clapping sequence into their rendition of "Favorite Son" from the musical "The Will Rogers Follies," as well as a handful of props.
Attendees of the event enjoyed a myriad of songs from various renowned Broadway musicals. The show itself consisted of solos, duets, and group performances, all accompanied by an ebullient live band. As featured in previous choir performances, South Lake Middle School's choir made a special appearance in the show, joining the Woodbridge cast in singing several all-time favorite broadway classics and performing a number of their own, including "Matchmaker" from "Fiddler on the Roof." Additionally, Woodbridge High alumnus Austin Ray as well as Broadway veteran Valerie Perri appeared as guest stars intermittently throughout the show, performing multiple solo songs.
Cumulatively, the show included a whopping 75 songs, all seamlessly incorporated through lively choreography.
"Some of [the choreography] was definitely a challenge, but we record every time we learn something new so we can always go back and watch it," junior cast member Kristy Garcia said.
Despite having to prepare for such a demanding, exuberant show, students were able to maintain an especially positive attitude, looking forward to the event and unique opportunity to blend Broadway classics with student involvement.
"I was more excited than I was nervous," Garcia said. "We go out there and we do the best that we can and we have fun."
The show itself was largely student led, requiring significant effort in planning practices and choreographing songs prior to the first show. Vocal music teacher Rob Blaney enjoyed witnessing the cast's hard work pay off.
"There's some tricky choreography in [the show] and there are some really difficult harmonies… but I think they did a really good job," Blaney said.
Likewise, audience members enjoyed the Broadway classics performed on stage, indicative of the hard work taken to create the production.
"The show was overall really impressive," sophomore and concert attendee Micaela Yared said. "It's clear that a lot of time and effort went into putting together the performance."
After yet another successful show put on by the choir department, the same select cast featured in "Broadway Cabaret" is preparing for their next performance, "Little Shop Horrors," giving the Woodbridge community another musical production to look forward to this year.
About the Contributor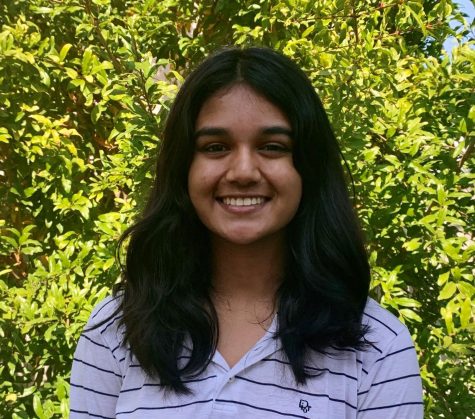 Sristi Palimar, In-Depth Editor
Hey Warriors! I am so excited to begin another volume of the Golden Arrow. Coming into my third year in journalism, I plan to serve our publication as...