Gaming to the Top of "Overwatch"
The Woodbridge Esports Team takes fourth at a selective regional tournament
Lined up in rows of lengthy gaming chairs facing projections of "Overwatch," the Woodbridge Esports Team placed fourth at the North American Scholastics Esports Federation (NASEF) competition on Dec. 15. The selective tournament, held at the University of California Irvine (UCI) Esports Arena, introduced students to the realm of an emerging new sport while competing in the critically acclaimed video game, "Overwatch."
Esports involve skilled gamers participating in multiplayer video games, typically played for and funded by an increasing international audience. Woodbridge formed the first ever "Overwatch" team this year, fielding 13 active players.
The team commenced preparations long before the tournament, with a multi-step process consisting of recruitment, determining team roles, consistent training and finally, qualifying games leading up to the UCI competition.
Throughout the season, the team engaged in strategic training.
"We tried to practice two times a week and spend some time simply reviewing our footage of our games or opponents preparing for the next match," coach Adam Lopez said. "Scouting the opponents' strategies and practicing as a team are the two biggest factors that can influence a result of a match."
After completing the first two phases of qualifying games online and maintaining a nearly undefeated record, Woodbridge qualified as one of only four teams selected for the NASEF competition hosted at UCI on Dec. 15.
Culminating eight weeks of virtual success, Woodbridge competed in live competitions against the three other high schools at UCI. After battling against Fountain Valley High and La Quinta High, two losses placed Woodbridge in fourth place.
Despite the outcome, students were grateful for the opportunity to join the inviting UCI esports community.  
"While playing at UCI I felt really welcomed there because I haven't been to a place where so many people are passionate about playing video games," senior main support player Arthur Danao said. "I feel there aren't many places in real life where esports are an accepted thing that's growing and taking shape, but it's definitely getting there."
"Overwatch" is one of the most widespread and mentally demanding video games with diverse representation, leading NASEF to select it as the yearly game of choice.
"The game has a nice balance of letting individuals who have trained really hard shine, but also places a heavy importance on team coordination and synergy," Lopez said.
Esports as a whole provide players with a unique opportunity, blending the competitive aspects of traditional sports with a modern, technology-based take. For many students, growing up in the age of video games allowed for an inherent interest in esports.
"Video games have been something that I grew up with since I was five or six," Danao said. "I started to watch esports when I started playing 'League of Legends'… and when I managed to get a fairly high rank in 'Overwatch,' I started to participate in esports."
Through distinguished competitions, such as UCI's NASEF gathering, students are exposed to the world of professional gaming and scouts for college scholarship opportunities. UCI, a pioneer in the realm of esports, was the first public university to introduce an official esports program and is currently considered one of the most advanced programs internationally.
While clicking on a mouse and communicating via headset may not align with the traditional definition of a sport, esports are only increasing in years to come, hand in hand with a mounting technology based culture.
"Esports are no longer just a pastime for gamers," esport aficionado Nicholas Olmedo said. "The esport industry is one replete with scholarships, new career paths and financial opportunities, demanding endurance and strength."
The Woodbridge Esports team will compete in more tournaments throughout the year, continuing a tradition of embracing technological sports. The team seeks new additions and will meet twice a week to resume training.
As the UCI tournament comes to a close, the team reflects on the successful journey and comradery forged through a rising sport.
"Simply making it to this far in the tournament was a huge accomplishment and we didn't go down without a fight," Lopez said. "Every map was really close and I am super proud of these students."
About the Contributor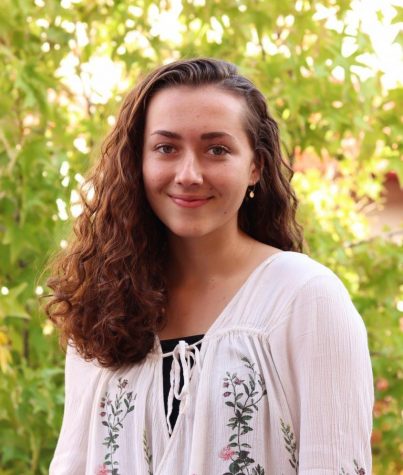 Kirra Lunow, Co-Editor-in-Chief
Welcome reader! Three years ago, I joined the Golden Arrow and entered an inviting community, opening myself up to the world of culture conglomerated within...