Hope Squad: For Students, by Students
Students elected as members in the new suicide prevention support group, Hope Squad
In October, students watched a video during homeroom regarding the importance of mental health and nominated their peers for Hope Squad via Google Form. As conversations about mental health are slowly becoming more normalized in today's society, Hope Squad is a solution to improving the wellness of each student and a step forward in calling more attention to the significance of these discussions.
Hope Squad is a newly introduced program at Woodbridge High and provides a peer support team that serves as a suicide prevention program and provides friendship, encouragement and support to students struggling with mental illness.
"If a student has a problem they need to talk to someone about, they have teachers they can talk to. They have counselors they can talk to. But if they can't go to adults, this is a way they can go to other kids," science teacher and hope squad adviser William Buckley said.
Woodbridge High is the first school in California to introduce this program, which originated in Utah.
Peers elected Hope Squad members, prompted to nominate peers that are good listeners, empathetic and approachable. Hope Squad members have diverse backgrounds and interests, enabling them to connect with many students on campus.
"It's a program built on [our awareness] that peers are going to talk to their peers more than they'll ever talk to us first," wellness coordinator Lauren Stallings said. "It's providing gatekeepers so that we don't miss anybody that might be struggling and hopefully destigmatize talking about these things as well."
Hope Squad members go through nine different training lessons on how to interact with peers who are struggling in order to learn how to respond to students feeling suicidal, ask the right kinds of questions and encourage them to seek help.
"We [the teachers] are there to help guide the peer mentors and connect them to those they need to be in contact with," science teacher and hope squad adviser Jamie Sodorff said. "We're there as advisers."
In addition, there is also a curriculum for other types skills of such as proper communication, anti-bullying, how to stay grounded and healthy boundaries. Once they complete this training, they are able to implement these newfound skills on campus.
Members of Hope Squad and teachers alike anticipate the success of Hope Squad for the first year of implementation.
" I think I'll be a good fit because I personally struggle with mental health so I think I can be relatable too," senior Claire Wong said. "I hope that people will be open and feel comfortable in reaching out with me but also with other members of Hope Squad."
Freshmen:
Brooke Brody, Megan Lim, Jessica Ramirez, Daniel Salameh and Ghazall Valadkani
Sophomores:
Diana Ghaffari, Coral Heffes, Pauline Kim and Malaz Nour
Juniors:
Rahan Alemi, Alyssa Crosby, Alyse Leigh, Joey Liu and Brandon Waller
Seniors:
Kylie James, Azure Otani, Claire Wong and Emily Steinhouser
About the Contributor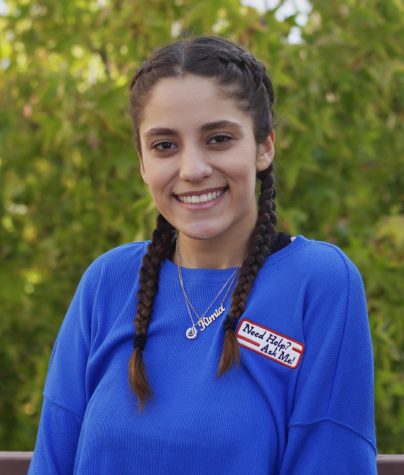 Kimia Soltani, Photographer
Hello everyone, my name is Kimia Soltani and I'm a senior at Woodbridge High school. It's my first year in the Golden Arrow. In my free time, I play basketball...