Teachers' Top Teams: Athletics in the Classroom
Grant Davis, English Teacher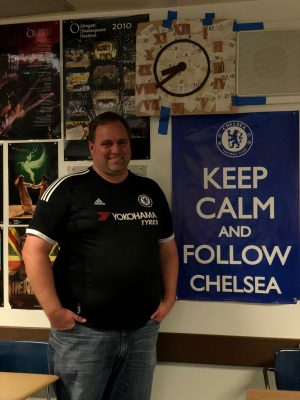 "I've had students walk in with Manchester United jerseys before and they're not going escape without hearing about it from me, or last year I had a big Chelsea fan in one of my classes, so we would always talk before class about how the game went. It's cool when you can make those sort of connections with students."
Grant Davis started following soccer about seven or eight years ago, igniting the beginning of his passion for Chelsea F.C. Davis wanted to gain a deeper understanding of soccer, and began following Chelsea to develop this knowledge. Since the team's games occur in England, Davis wakes up at 4 a.m to watch his team play. Early mornings do not hinder Davis's passion, as he gets very into the games and silently cheers at the television during broadcasts to prevent waking up the rest of his household. Davis also takes part in the large online community of Chelsea fans in the United States. Through blogs, such as "We Ain't Got No History", and discussion boards, Davis interacts with his fellow fans across America and the Atlantic Ocean. Davis' passion for Chelsea F.C shows through his devotion in following the team despite the obstacles of connecting to a team in another continent.
Tim Murray, History Teacher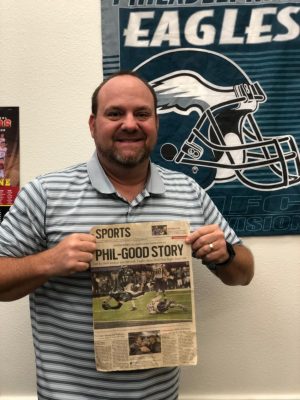 "My daughter has become an Eagles fan…even at her school she wears the Eagles shirt around and people give her a hard time. And my son wears his Carson Wentz jersey [around school], and then my wife is a Chargers fan. I can't convince her yet."
Lacking a professional football team in his hometown, Tim Murray decided to join the Philadelphia Eagles fan-base due to his admiration for Eagle players such as Ron Jaworski and Randall Cunningham. What started in college as an interest continued to grow into passion for the team. The Eagles have become a major part of Murray's life, as he religiously tracks the team's progress on sports television channels, radio stations and online score reports. Sunday football is a family event for Murray, as his wife, son and daughter are all football fans. Once a year for the past couple years, the family attends an Eagles game to cheer on their team. Although the Los Angeles Rams moved back to California, Murray's loyalty and love for the Eagles stays strong.
Jeff Alexander, History Teacher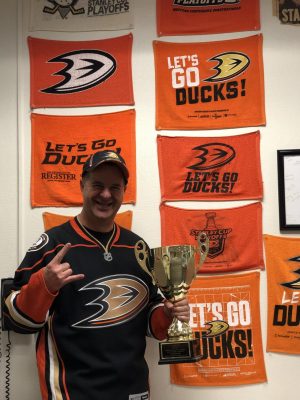 "When there's a goal, even at home, we will high-five, just like we do in the stadium when there are seats. It is even to the point where my own parents are very big hockey fans, and my dad will call me after every single goal."
Jeff Alexander always loved hockey, and his admiration for Wayne Gretzky facilitated his original loyalty to the Los Angeles Kings. However, Alexander changed teams once the Anaheim Ducks came to Orange County. Alexander not only watches the away games at home, but as an owner of season tickets, attends as many games as he can. Alexander's wife, son, and daughter are all Ducks fans and enthusiastically attend and watch games with Alexander. When students walk in with Kings jerseys, the rival team of the Ducks in Southern California, Alexander jumps on the chance to defends his team's pride. Alexander even places bets with his students on hockey games, wagering that the loser must wear a shirt of the winning team the day after the game. The same friendly rivalry occurs between Alexander, Matthew Takeno and Andrew Parker, the latter two both Kings fans.
Sabreena Beneville, English Teacher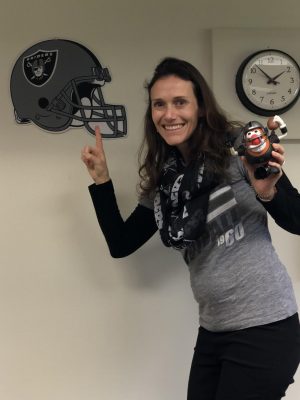 "[I incorporate the Raiders into] things I wear, I have a whole little shelf in my house that has different Raiders items, I dress my son in Raiders outfits on Sundays…when people wear silver and black, I would probably make a comment about that like 'nice Raiders colors'. I think it is just always there in the back of my mind."
Sabreena Beneville had been an Oakland Raiders fan since her childhood. Her grandfather and father are Raiders devotees who passed their passion into Beneville through Sunday football days at home complete with face paint and Raiders chairs. When the Raiders resided in Los Angeles, the Benevillies travelled to Southern California to attend games at least once a year. As soon at the Raiders moved to Oakland, Beneville obtained season seats in the box suite of the station. The Raiders spirit was bred into her, and her devotion to the team continued throughout her life. Usually, Beneville finds sports bars and restaurants that broadcast Raiders games each time the team plays. From the clothes her son wears to conversations with her students about football, Benevillie incorporates her team in many different aspects of her life, classifying her as a fan who lives and breathes the Raiders.
About the Contributor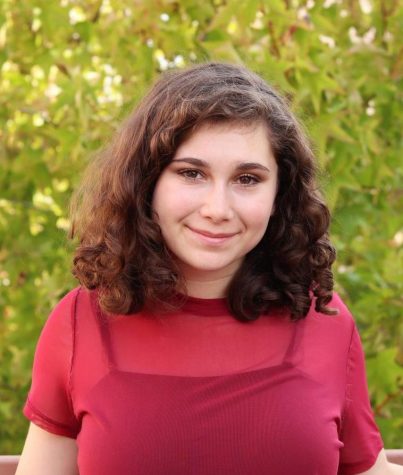 Emilee Klein, Arts and Entertainment Editor
Hey Warriors! This is my second year in the Golden Arrow and I am ecstatic to be back! I have been in the Woodbridge Vocal Music Department for four years,...