Multicultural Clubs on Campus
Cultural clubs across Woodbridge campus work to recognize student diversity from an inclusive perspective
Chinese Calligraphy Club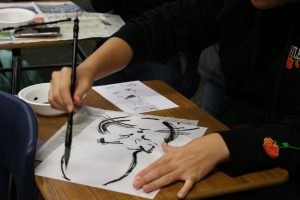 "The purpose of this club is to allow Woodbridge students to learn Chinese art and calligraphy in a fun
and relaxing environment."
In an effort to introduce Chinese culture and art to the larger Woodbridge High community, junior and club president Evette Ton and junior and vice president Madison Lee founded the Chinese Calligraphy Club. Club meetings are held on a biweekly basis in club advisor and Chinese teacher Joy Chao's classroom. Members gather to create Chinese calligraphy together, an activity that serves as both a writing exercise and an art form. Chinese Calligraphy Club exemplifies interest in Chinese art on Woodbridge campus, drawing students of all cultural backgrounds to learn more about the traditional practice. "I think art is something a lot of people enjoy. It's not just a 'single culture' kind of thing; art is all over the world, so even if you're not Chinese, you can still learn to like Chinese calligraphy as an art form," Ton said. Through Chinese Calligraphy Club, students are provided an outlet to express their interest in both art and Chinese culture.
Indian Culture Club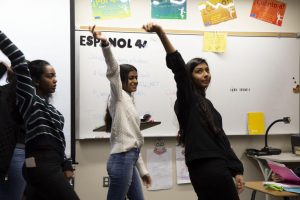 "The purpose of this club is for Woodbridge students to come together and express the Indian Culture. There is a Cultural Show at the end of the year where we perform a dance along -with all the other high schools in Irvine."
As one of the oldest cultural clubs on campus, Woodbridge High's Indian Culture Club has run for five years. Members meet every other Tuesday in club advisor and Spanish teacher Maria Gomez's classroom.The club hopes to expose students of all backgrounds to Indian culture, namely through song and dance. Seniors and club president Ria Dhillon and club vice president Surabhi Sharma have been working alongside club members in choreographing a Bollywood style group dance, which they will perform at an inter-district culture show taking place March 30. Currently, club meetings are devoted rehearsal in the upper gym. Profit earned from the show will be donated to Khelshala, an organization educating underprivileged Indian youth. The club prides themselves in their efforts to express Indian culture inclusively, despite ethnicity. "[Our purpose] is to bring together the community, Indian or not, and celebrate the Indian culture in a way that benefits all people," said Dhillon.
Japanese Culture Club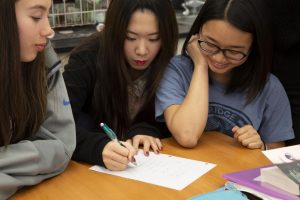 "The purpose of this club is for people to help out at Japanese volunteer events and share and celebrate the culture of Japan"
Woodbridge High's Japanese Culture Club introduces students to Japanese culture, mainly through teaching simple Japanese and engaging in cultural activities. Students meet on the first Wednesday of each month in club advisor and art teacher Matt Takeno's classroom. The club, led by seniors and club president Azure Otani and club vice president Emily Bell, participate in a "pen-pal program," communicating with high school students in Japan. Students from both countries are prompted to write to one another, encouraging Japanese students to learn English, and Woodbridge students to learn Japanese. "[Many] joined with the hope of being able to write a little bit, speak a few words, converse on a very simple level- just enough to understand what people are saying. The pen pal situation [gives students] a reason to write, and calls people back to meetings" Otani said. The club accepts students of all ethnicities, embracing student diversity.
Explore Laos Club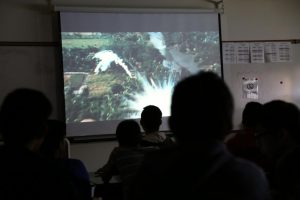 "The purpose of this club is to educate others about the history and culture of Laos through social, educational, and cultural events. Our goal is to spread awareness and raise money for Legacies of War."
Inspired by his grandfather, former Laos Chief of Police during the Laotian Civil War, freshmen and club president Prinston Pan, alongside club vice president Taketo Hayashi, founded the Explore Laos Club. Meetings are held the third Thursday of each month in club advisor and English teacher, Christina King's classroom. Pan hopes to spread awareness regarding unexploded explosive ordinances (UXO), or cluster bombs, abandoned in Laos during the Vietnam war. Members work with non-profit charity Legacies of War to plan fundraising activities to aid in the crisis. "I've always enjoyed listening and learning from [my family]… I can't change what happened to them," Pan said. "But there are ways to make a difference through the UXO program, which can help the children there today." The club encourages all students to partake in club activities and hopes to ally with other culture clubs in planning fundraising events to support respective organizations.