Azure Otani Climbs Her Way Up
Participating in rock climbing for nearly a decade, Otani shares her journey of perseverance throughout her athletic career.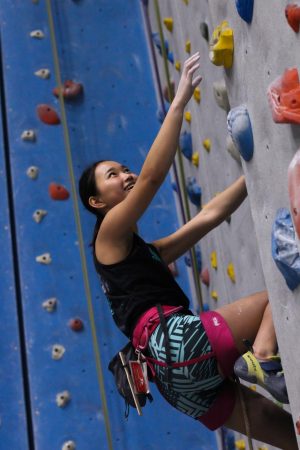 It is no secret that life comes with its challenges; school, relationships, work- little roadblocks yet nothing we can't handle; unless it's a threateningly insurmountable wall. A rock climbing wall may pose as a bit of a hurdle, but for senior Azure Otani, this is an exciting challenge that only brings her closer to her goals.
At the age of eight years old, Otani instantly fell in love with rock climbing after she first attended recreationally with her father. She continued to practice the sport during her summers, but despite her love for rock climbing, the idea of practicing competitively at first left Otani unsure.
"I felt like I wasn't good enough, so when I saw the competition team advertisement, I ignored it, I played other sports such as tennis, swim, cross country, etc, however I could not get over rock climbing," Otani said. "I just couldn't leave the sport alone so I actually went back to it in seventh grade and have been obsessed with it to this day."
Continuing to rock climb for the next five years, Otani has competed in many teams, ranging from high school club to competition team. She currently practices in the Sender One Youth Competition Team.
"I realized in the past two years especially my love for competition in the sport that brings me absolute joy and so I have continued to climb since," Otani said.
Although Otani is fueled by the thrilling rush of climbing, the physical burden that accompanies the sport is nothing to underestimate. She admirably keeps a level head in competition, exercising the skills that ultimately get her to the top of the wall.
"Azure does a great job of using her style to her advantage; using her head to think a better way out instead of expending mass amounts of upper body strength," teammate Emily Hsi said. "We can all look towards Azure to become smarter, more determined and overall better climbers."
Otani's resolute energy on the wall is infectious and her unwavered spirit on the wall overflowing to those around her. Her dedication inspires both younger and senior climbers alike.
"Everyone on the team can trust that [Otani] will be there for them," teammate Phoebe Borland said. "She is always such a positive person and many of the younger kids on the team look up to her as a positive role model."
Whatever walls come in Otani's path, her love and fervor for her sport will always get her to the top.
"I enjoy that the sport takes me out of my comfort zone and requires me to fully commit to something that I may be deathly afraid of," Otani said. "I appreciate that this sport is so rewarding; all of your progress can be visually seen and definitely felt."
About the Contributor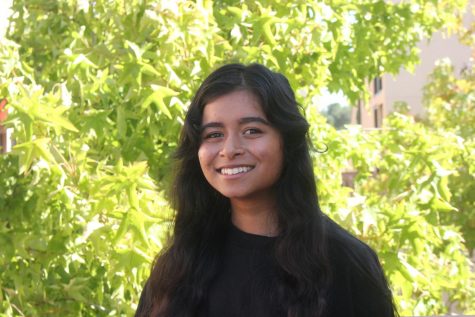 Anisha Samanta, In-Depth Editor
Hey Warriors! My name's Anisha and I'm happy to be your In-Depth Editor for this year. This is my third and final year of journalism before I graduate,...