The "Hundred Acre Wood" Brings Magic to Woodbridge
All the classic Winnie the Pooh characters come to life onstage in one sweet play
Across the front of the stage, children sit on blankets staring at the green woods that seems to be ripped out of a storybook. Characters dressed in bright colors and painted faces occupy the stage. During the scene, forest critters play with the children on stage while Winnie the Pooh, Piglet, Tigger, Owl, Rabbit, Christopher Robin and all the characters of the Hundred Acre Woods, where the stories of Winnie the Pooh take place, engage in adventures. "A House on Pooh's Corner," as performed on April 12 and 13 by the Woodbridge High Drama Department, evokes both a cheerful and nostalgic mood while teaching the power of acceptance and love.
The play is based on the collection of stories by Alan Alexander Milne, who created the Winnie the Pooh characters. The plot focuses on the forest critters building Eeyore a house and preventing Tigger from destroying the possessions and homes of Winnie and all his friends. Although the plot may seem joyful, the cast researched the dark history behind Milne's stories. Milne pulled inspiration from his experiences in the World War I and raising his son Christopher Robin Milne. One of these stories include Winnie the Pooh being based off a black bear in the London zoo from a Worl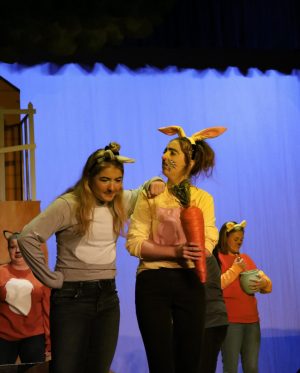 d War I war zone. Despite this, the cast found a way to bring optimism to the story.
"We were trying to figure out after all the research how do we make this uplifting," drama teacher and director Cassandra Goana said. "And the bottom line [is that] all the characters are always accepted. Eeyore is really upset but everyone accepts him. Tiger breaks everybody's stuff and at the end they realize they are going to accept him."
Every two years, the Woodbridge Drama program does a children's show, like "A House on Pooh's Corner", that incorporates an interactive element. The purpose of these shows is to draw the community to Woodbridge High's shows and appeal to all age groups. The characters constantly break the fourth wall and interact with children on the apron of the stage. In this production, the kids are asked to tell jokes, hop with Tigger and help build Eeyore's house.
"It's like we are doing the play," kindergartener Tavia Kramer said.
The added element of improv for the actors as the children interact with the play proves challenging, yet rewarding for the cast.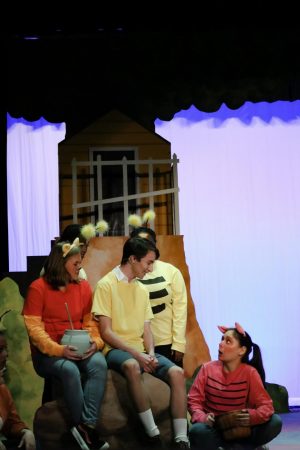 "Having the kids up on the apron allows us to get more involved in this world," junior Joshua Goan, who plays Christopher Robin, said. "What [the kids] do, the expressions on their faces and what they say gives us energy to keep going and makes the scene a lot more fun then running it 70 times in rehearsal. It helps brighten the mood."  
Overall, the play hopes to bring happiness to each person in the audience as they observe the silly antics of each character.
"I want the audience to walk out of the theater in a good mood," Goan said. "If they had a bad day and then they saw this play and then they are happy when they walking out, I would say that is a success."