Plans for Renovation Are on "Track"
With construction beginning at the start of the 2019 and 2020 school year, Woodbridge High's track will undergo major renovations in accordance to the school's construction plan
Woodbridge High student-athletes anticipate the revitalized rubber track for practice and competition, expected to begin construction in Aug. 2019.
The current track and field consists of packed dirt, unlike the other Irvine Unified School District high schools who rely on a rubber track. According to track and field coach Aaron Craver, rubber tracks maintain composure in unpredictable weather spells and thus are more suitable for meets and practices.
"We have had more rain than I have ever seen around here during track season," Craver said. "We had kids who were twisting their ankles because people would walk through [the track] when it was muddy and when [the track] dried up it would be uneven. We were the only school who had to go somewhere else to practice."
The track and field, as well as other projects, abide by the Irvine Unified School District's Facilities Action Plan, in which schools are evaluated in order to identify where changes need to be made. The blueprints for the track are currently being approved and sent to the department of state architecture for review in hopes to meet all requirements. Physical markings on the track have been made in accordance to the pre-planning stage of the construction plan.
"We're going to break ground in around August which will either be a couple of weeks before school starts or right at the start of the [2019-2020] school year," Principal Christopher Krebs said. "So we're still in the pre-planning phase."
The absence of a competition-worthy track has forced student athletes to travel distances for away games, but plans for a rubber track hope to change that.
"It will be a superior playing surface to what we have now and it will allow our athletes to do [meets] on campus," said Krebs. "We used to have home track meets and there was a real sense of community and I hope we can bring that back."
Woodbridge High's track and field team have managed to earn numerous accolades and titles to their name even with a standard track. A more upgraded facility and better resources for their sport is highly anticipated for the members of the track and field team.
"Even without a rubber track, we have won numerous league titles and have made it to CIF and state many times," said junior and track and field athlete Tami John. "To be the last high school in Irvine with an actual track, this is well deserved."
Alongside the perks given for the track and field team, both Krebs and Craver anticipate that the new track will also benefit other athletic teams as well as Woodbridge High's physical education program. The track is overall hoped to be a step toward creating more equity and quality to all students attending Woodbridge High.
Construction for the track and field is planned to be completed in Feb. 2020.
About the Contributor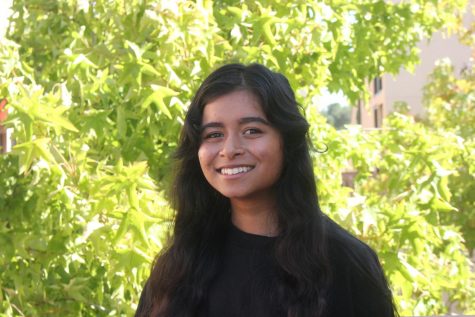 Anisha Samanta, In-Depth Editor
Hey Warriors! My name's Anisha and I'm happy to be your In-Depth Editor for this year. This is my third and final year of journalism before I graduate,...