Through an Entrepreneur's Eyes
Madison Rodriguez, an early graduate of the 2018-2019 school year, is pursuing her dream as a young entrepreneur establishing her own eyelash company.
"I think Madison and I first had a conversation about graduating early and getting started on the next chapter in eleventh grade. We created a class plan and summer school plan that Madison worked hard to stick to do that she could graduate in January," counselor Jennifer Carrington said.
Currently, Madison Rodriguez is cooperating with a company to release three unique pairs of eyelashes by the summer of 2019. Madison Rodriguez works with the company to adjust the flexibility, length, curve and length of the eyelashes. When the company sends samples of eyelashes, she reviews each of them and mails them back with directions on how to change certain components. The past two months have consisted of a pattern of receiving and mailing back packages to produce flawless eyelashes. She looks forward to including a trademark that identifies her own products.
"These eyelashes are what I'm going to be sharing with the world so I want to put my passion and dedication into every single package," Madison Rodriguez said.
Her interest in cosmetology sparked in seventh grade when she brought in some mascara to school for her seventh grade picture day. After the experience, she began watching makeup tutorials online to learn makeup. The elegant movements of a pink brush swiping across the face and the light touches of foundation amazed her. Her passionate and hopeful outlook of her future has profoundly impacted one of the staff members on campus, Jessica Bracken.
"Madison inspires me to be nicer to people. She is always happy and bubbly that she inspires me to be like that too," Bracken said.
When Madison Rodriguez shared her interest in makeup, her family responded with admiration and support. Her father is currently helping her to write a thorough business plan and her sister, Brooke Rodriguez, an eleventh grader at Woodbridge High School, is planning to join her company after graduation.
"As her future business partner, I would like to market the brand and help advertise the products," Brooke Rodriguez said.
Her experiences as an Impulse beauty artist contributes to her knowledge of all the factors that make up a good product. As a sales advisor, she is broadening her knowledge as a entrepreneur. Reaching daily, weekly and monthly sales goals becomes a source of challenge and motivation as a developing businesswoman.
"Be yourself. Push yourself to go an extra mile to create something new because you can be the next person that can have an impact on society," Madison Rodriguez said.
About the Contributor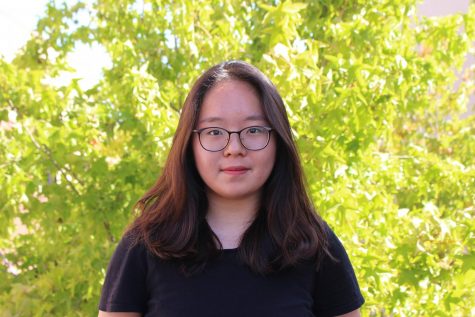 Christine Jang, Business Manager & Title Page Editor
Hello Warriors! My name is Christine Jang, and I will be working as a business manager as well as a staff writer in the Golden Arrow! Thank you for reading...