Students and Staff Dodge the Competition
The dodgeball tournament continued its successful run, with victories at every turn
The annual dodgeball tournament took place from April 10-20 in the big and small gyms. Hosted by both the boys and girls sports commissioners and seniors Naya Swedan and Joseph Faza, the event featured students and teachers battling for the second year for dodgeball supremacy.
Faza noted the dodgeball tournament's uniqueness among school traditions.
"You get to see your staff in a different environment, because you usually see them in the classroom, but now you can see them just doing something that you enjoy as well," Faza said.
Over 250 students and 70 teachers participated in the tournament, a massive showcase of school unity.
"It's really exciting that the student [participation rate is] one of the biggest ones ever and I think [it's] a really good kick off for…next year…" Swedan said.
Fine Arts teacher Matthew Takeno and substitute teacher Dylan Trumbull participated in the tournament. Takeno said that the dodgeball tournament humanized him.
"It's a really good time for us to bond and also for…teachers to…show a playful side…we're not always teachers, we're people," Takeno said.
Meanwhile, Trumbull enjoyed helping connect students and teachers.
"You see your students during class time but when the bell rings…you're kind of isolated…so it was super fun," Trumbull said.
The final took place during Air Guitar, with "Get The Money" (GTM) claiming student victory and Space Evaders claiming teacher victory.
"It was a wonderful game and luckily we came out on top," junior and GTM member Grant Martine said.
Junior Connor Razey participated in the tournament as a player and a spectator, encouraging others to participate in the tournament.
"If you're interested in dodgeball, you should definitely sign up for a team or come watch," Razi said.
For students that missed the lunchtime games, Faza encourages continued involvement in years to come.
"Definitely come out to watch all of the games to see your teachers and friends play," Faza said. "And definitely participate in it next year."
About the Contributor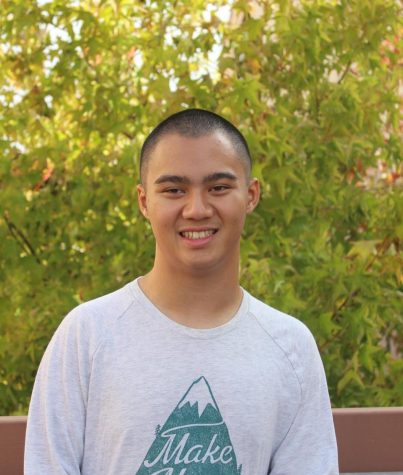 Bailey Kanthatham, Copy Editor
Hello, my name is Bailey Kanthatham, and this is my third year on the Golden Arrow.  I absolutely love writing articles and seeing them in print. As the...