Hui Lau Shan: Mango Lovers' Paradise
Hui Lau Shan is a mango lover's dream, but even someone less than a mango enthusiast can find something for them. The dessert shop has something for everyone, and it provides a clear window into Hong Kong dessert cuisine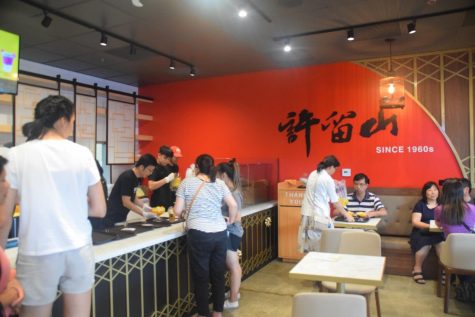 Hui Lau Shan opened its first American store on August 25 with a soft opening, or an opening without the normal fanfare. Every day, when Hui Lau Shan opens at 3 p.m., long lines of mango enthusiasts wind in front of the shop. According to the store's marketing manager Yuqi Wang, they ran out of mangoes during the first week of operation because of the high demand.
The store is a branch of a Hong Kong dessert shop chain that started in the 1960s. Known for their mango specialties, Hui Lau Shan offers mango ice cream, shaved ice, and drinks. 
The dessert chain also includes popular fruits in China, such as durian and pomelo, as well as nutritional foods like bird's nest, an East Asian delicacy prized for its skin brightening properties. Hui Lau Shan's menu also includes harsmar, lotus seeds, taro and sweet glutinous rice.
Their durian pancakes, a beautiful and alluring green, captured my attention immediately. Unsurprisingly, their taste perfectly accompanied its aesthetic, the usually strong durian muted with fluffy cream and the more gentle taste of crepe-textured pancakes. 
I also tried Mango Romance, A2 on the menu. It featured almost all of the classic mango desserts that Hui Lau Shan is known for, including mango ice cream, mango mochi and chewy rice balls accompanied with mango juice. According to Wang, it is the perfect tasting plate for all of the mango desserts at Hui Lau Shan. 
Indeed, I realized, as I sampled the dessert. Not only beautifully arranged in the ceramic dishes, but the Mango Romance also provides a glimpse into all the mango heaven Hui Lau Shan offers. The size of each little dish is perfectly calculated to leave you with the perfect impression of the larger dish each small part of the Romance mimicked.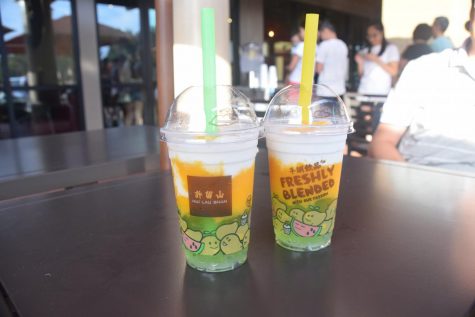 Beyond sweet desserts and ice creams, Hui Lau Shan also has a variety of drinks. Typically, all of them are cool, meaning they fend off the aggressive East Asian heat. After standing in line outside for twenty minutes, the drinks were the epitome of a delicious respite. Hui Lau Shan's Mango and Coconut Juice with Aloe Jelly, D6 on the menu was not only aesthetically appealing but a cool reprieve from the late summer heat. The layers of green, white and soft orange photographed perfectly. 
The line, though intimidating to any bystander, goes by quickly. Inside, a row of plastic and resin food models display what the various desserts look like, offering customers a look at what they can get a taste of. While there, I enjoyed the variety of their offerings. 
At the glass display by the register, they offer premade desserts, such as mango mochi, durian pancakes, as well as mango pancakes, all of which are freshly made every single morning. 
Eating at the Irvine location threw me headfirst back into my memories of first eating at Hui Lau Shan in its Tianjin location. Despite the season not being ideal for sweet, soft mangoes, all the desserts were rich and fresh. The mangoes chosen for all the desserts were rich, but not overpowering. Someone accustomed to the sweet ripeness of canned mangoes or other fruits covered in sugar syrup may find the desserts not to their taste, but for me, the desserts were a delicious blast to the past.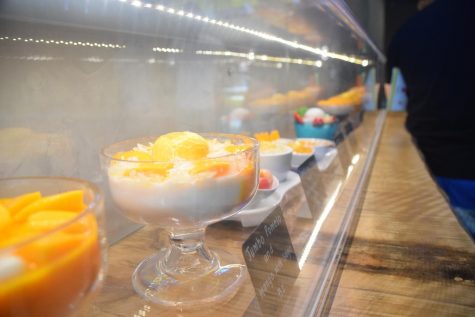 About the Contributor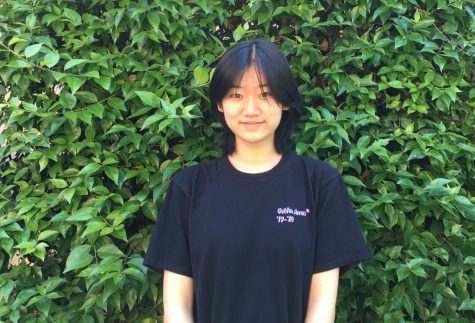 Mandy Yang, Co-Editor-in-Chief
Hey, Woodbridge! I'm so excited to bring the Golden Arrow to you this year as a Co-Editor-in-Chief. Working with our amazing team, I will strive to maintain...