Chloe Selby Making a Difference in Media
Chloe Selby steps in this year as the media commissioner in order to connect media groups at Woodbridge High
On any given day, junior Chloe Selby can be seen running from the track after marching band practice to go help with a skit for Warrior TV, then sprinting to hold collaborative meetings for Warrior TV, yearbook and the Golden Arrow. This is just one scene in the life of the highly driven media commissioner, Chloe Selby.
Her job as media commissioner is to communicate news between media groups such as yearbook, Warrior TV and Golden Arrow.
"I really enjoy the class Warrior TV and I really wanted to participate in school activities," Selby said. "I feel that I can improve the communication network between all of these various classes."
With Selby's important job, media groups are able to function smoother since communication is more efficient.
"We thought it would be helpful to have someone on Associated Student Body (ASB) who's helping to coordinate those groups and find out what's going on in all those different endeavors," activities director Lauren Prudhomme said.
In years past, there were two media positions on ASB which included the media producer and the media director of Warrior TV. Now there are two producers and a director of Warrior TV. Now, they are not required to be on ASB. Selby's media commissioner position helps streamline the communication between the two organizations.
"It's really helpful to me since I'm directing this year [and] I know I have somebody to rely on," senior and director of Warrior TV Andrew Harker said. "[The media commissioner position] really opens up my schedule so I can be able to focus on directing an episode and making sure it looks good."
The media commissioner position is beneficial to Woodbridge High since it helps media classes reach their full potential in terms of bringing quality media to Woodbridge High. Before her position was created, the director and producer would have to lead the Warrior TV class and get information from ASB on their own.
"With my position, the director and producer of this year are able to efficiently lead Warrior TV class and still get the information from ASB that they need for Warrior TV," Selby said.
Overall, Selby is a determined student that is extremely involved and brings a lot to the table. She is involved in Warrior TV, marching band and ASB.
"She's someone who represents a lot of different students on our campus and she has a really positive attitude [along with being] a really hard worker," Prudhomme said.
With this new position in place, the media at Woodbridge High has a bright future to look forward to.
About the Contributor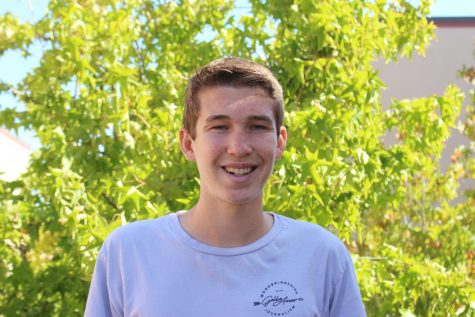 Joel Whitson, Sports Editor





Hey Warriors! My name is Joel Whitson and I am excited to say that I will be the sports editor for the Golden Arrow this year. This is my third...