Once a Warrior, Always a Warrior
Nearing the 40th anniversary of Woodbridge High, it is time to celebrate notable alumni
Kazu Kibuishi
Kazu Kibuishi is the author and artist of the New York Times Bestselling graphic novel series "Amulet" and illustrator of the 15th Anniversary Edition "Harry Potter" books. However, before his career took off, Kibuishi attended Woodbridge High. Here, Kibuishi dove into art and developed his passion.
"I spent much of my free time writing short stories, screenplays, and even a short novel… and I continued to draw cartoons for the Golden Arrow and in comic books," Kibuishi said.
Though Kibuishi went into high school with an established interest, he understands that many students do not and instead get caught up in the minutiae of everyday life: studying for tests, doing their homework and committing to numerous extracurricular activities.
"Think ahead in ten-year increments, and less about what's happening around you now. Think about where you want to be in ten years, and study the processes you will need to begin in order to get there," Kibuishi said. "Be less reactive, and more proactive…every life and career has more than a single path, so just keep moving forward and follow your gut instincts."
Kibuishi learned this lesson after high school. Though he loved art, Kibuishi could not afford to go to art school and instead attended the University of California, Santa Barbara. Nonetheless, Kibuishi kept his skills sharp by drawing artwork for his college paper, graduating with a well-rounded education in film and media studies.
Sylvia Ruszat
Sylvia Ruszat is a budding musician and current student at Arizona State University, having just graduated from Woodbridge High last year. As a student, Ruszat was part of the Woodbridge choir department for all four years of high school, singing in Bel Canto, Entertainers, Chamber Singers and Advanced Entertainers.
Ruszat's involvement in the choir department is how she discovered her voice- alongside a community of fellow vocalists.
Ruszat has also just released a new single titled "Relentless."
"The lyrics are very dear to me— I wanted to write a song that inspired people to be 'relentless,' even in the midst of the storm because on either end of that storm there's always a miracle…it just might take a while to see it," Ruszat said.
Following your dreams is terrifying but Ruszat sees the importance of plunging into the deep end.
"Try new things! High school is the time to experiment with as much as you can because you never know what you might learn. Yes, the unknown is scary. That never goes away. But those scary experiences are where so many things are revealed to you that you wouldn't be able to see if you just played it safe," Ruszat said.
For many high school students, it is a lot easier to follow the more familiar path, even if it leads away from one's dreams. However, there is something to be said about pursuing one's passions.
In the print issue of the magazine, photo credit for the image of Sylvia was given to Jill Huisken but photo credit belongs to Chele Jones.
About the Contributor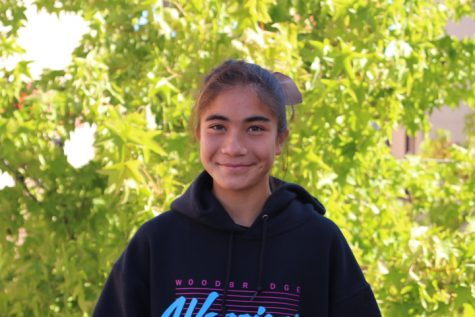 Ada Meltzer, Features Editor
Hey Warriors! My name is Ada Meltzer and I'm this year's Features A editor. This is my third year on the Golden Arrow and I can't wait to see what...