Alexa Gamo Reflects her Creativity through Visual Art
Senior Alexa Gamo represents Woodbridge High at the 2019 PTSA Irvine Unified Council Reflections Art Competition and earns an "Honorable Mention"
On Dec. 2, senior Alexa Gamo received an "Honorable Mention" for her visual art piece, "Broken Pieces," in the 2019 Parent Teacher Student Association (PTSA) Irvine Unified Council Reflections Competition. 
This year's competition presented participants with the theme "Look Within." The prompt encouraged young artists to creatively interpret ideas of introspection and self-reflection in their work, which could be submitted as one of six categories: dance choreography, film production, literature, music composition, photography and visual arts. 
Opting to pursue the category of visual arts, Gamo drew from her personal experience and sought to create artwork that reflects a deeper message for mental illness and recovery. In addition, Gamo was required to submit an artist statement, in which she elaborated on the more meaningful aspects of her art. 
Looking at Gamo's work, the distinct profiles branching out from the portrait's main character convey the importance of perspective. As a whole, the piece urges its viewers to be both unguarded and honest, emphasizing the fact that vulnerability plays an integral role in emotional healing. 
"I want people to realize that you have to work within yourself and not project your feelings onto other people, regardless of what the circumstances may be. You have to fall apart to come back together," Gamo said. 
Gamo's art is characterized by careful attention to detail and delicate linework, achieved through pen on khaki toned paper. Art teacher Jillian Rogers commends Gamo for her work, underlining the recognition as well deserved.
"Alexa's work was really technical. She showed a lot of different viewpoints in the face, which I think is really impressive," Rogers said. "On top of that, she had to have had a good artist statement for them to have considered [her work], so it was that, plus the technical skill she put out. It was a unique idea."
Gamo attributes the success of her work to her long-held passion for art. As her high school career comes to a close, Gamo hopes that her current hobby will help pave a future career.
"I definitely want to go into visual communications design or just digital design in general," Gamo said. "I want to help other people transform their vision into something everyone can enjoy."
Going forward, the PTSA Irvine Unified Council Reflections Competition is something Rogers hopes to see many more students participate in. According to Reflections Chairperson Lynne Gassel, it is important for schools to encourage participation in such programs and provide students like Gamo with the opportunity to grow as young artists.
"Students not only gain the experience of their creativity and competing but also gain awareness of self with their artist statement and applying it to the theme," Gassel said. "Being in the field of art is competitive, whether dancing on stage or showing work in an art gallery. This program allows the artist an opportunity to to gain courage about showing their work."
About the Contributor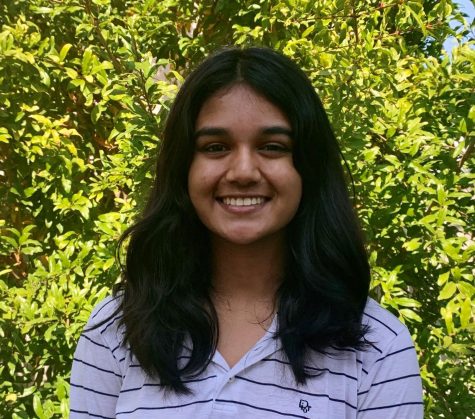 Sristi Palimar, In-Depth Editor
Hey Warriors! I am so excited to begin another volume of the Golden Arrow. Coming into my third year in journalism, I plan to serve our publication as...