Socializing while Social Distancing
It's hard to find ways to enjoy quarantine so here are some fun suggestions to try
Art at a Park
Social distancing makes a lot of activities with friends hard, but who said you need to be within six feet of someone to enjoy their company? Creating art allows you to express yourself and have fun with friends– and it doesn't require getting too close. All you really need for this is anything to be creative with. Micheal's and Joann's are great places to find supplies for such activities. If planning to paint, bring some brushes and paper, or go crazy with some water colors. If more into sketching, that works too. Maybe 2D artwork doesn't sound appealing? No worries, Crayola sells air dry clay that's easy to work with and loads of fun to mold into anything that can be thought up. The best part about this activity is that after the day is over, you will have something to take with you that will remind you of a fun day with friends amidst all this craziness.
Friend-Themed Kahoots
Now that we're stuck seeing our friends less, maybe you're worried you've forgotten things about them.The easy solution to that is making friend Kahoots!. To start, all you need to make a personal Kahoot account by signing up at kahoot.com and, best of all, it's free. Gather a group of friends and have them write their own trivia questions. Once you all have accounts, you can begin making questions about your interests, skills, favorite television shows or anything else you wish to quiz your friends on. Once you have all finished, join a group FaceTime call and go through the Kahoot games together to see who knows who the best!. Once all of those Kahoots are played, new ones can be made about anything else such as movies, TV shows or even video games!. There's even kahoots already made on the site about various topics if one doesn't have time to brainstorm questions.
Hiking
Irvine is full of hiking trails which are perfect for a day of exercise and beautiful vistas with friends. Trails aren't usually too packed with people, which is perfect for staying safe during COVID-19. The Quail Hill Trail is great because it's walking distance from the Quail Hill Shopping Center, which is the best place for a post-hike snack. Packing your own snacks is also a fantastic option and could lead to a mini picnic in the open areas that can be found on these trails. A highley suggested irvine hike is at Suicide Hill in Turtle Rock. I recommend bringing your best tennis shoes but the view is worth it. At the top of the hill,you can see all of Irvine and on a good day, the city over. The best time to go is when the sun is setting so you can see the city light up at night. The view is breath-takingly beautiful and definitely worth a picture or two. Most importantly, don't forget to bring filled reusable water bottles so you don't have to run the risk of touching water fountains or sharing drinks with friends.
About the Contributor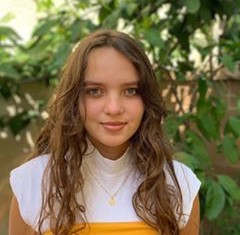 Nicolle Delgado, Photographer
Hey, Woodbridge students! This is my first year working at the Golden Arrow and I'm excited to be able to represent various sides of Woodbridge High life...