Moon Camp Surmounts the Challenge of Being an Athlete in Quarantine
Following COVID-19 restrictions, Woodbridge High's cross country team continued their off-season training in a rigorous, student led summer camp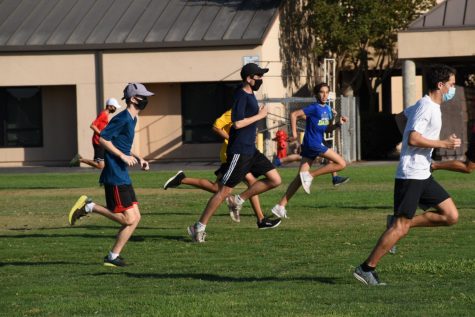 As students begin another school year amidst a pandemic, COVID-19 continues to pose unique challenges for Woodbridge High's student athletes. In response to summer cancellations and season postponements, students like senior and cross country (XC) captain Joseph Moon decided to take matters into their own hands.
A dedicated runner,  Moon organized his own summer initiative, "Moon Camp" as an opportunity for himself and his fellow teammates to continue their athletic training. In a 10 week program, Moon invited 16 of his teammates to join him in daily workouts. Each morning, the team met at Mark Daily Athletic Field to warm up, before commencing their arduous runs along nearby trails in the larger community. 
"Moon Camp was really necessary for us, not only to bring accountability and consistency in our training, but also to foster important team chemistry," Moon said. "[Last year], a good portion of our varsity team graduated, leaving a majority of the varsity spots open. Recognizing the wealth of dormant talent in our team, it was important to really help those guys get comfortable with the varsity paces and mesh with the runners."
While most students were forced to take the summer off, Moon embraced the onus of responsibility required to organize a camp that both heeded social distancing precautions and maintained the integrity of such a physically demanding sport. To promote the safety of his fellow athletes, Moon encouraged the use of masks throughout practice, except for during their runs. 
"Initially, it was hard to balance the precautions of COVID-19 and maintain our training. As with everything else, we slowly figured it out and had the routine down…We had to be careful not to raise any alarms within the community," Moon said.
Despite the challenges wrought by social distancing guidelines, Moon came to enjoy the sense of independence he and his teammates found in leading their own training, stepping into the opportunity to delegate tasks and decide daily schedules. 
"Practice was completely student led. We kind of just bounced around responsibilities, so if the coaches usually counted for the stretches, we would divide that responsibility among the runners. We really tried to keep each other accountable," Moon said. 
Though the summer was far from typical for Moon and his camp attendees, it was a unique setting for unrivalled memories. 
"By ourselves we planned a trip to Mammoth Mountain to run. During the official camp, the coaches take us up to Mammoth…obviously it was cancelled this year, but us kids, we still wanted to go, so we basically planned the whole thing ourselves," senior and XC runner Jake Suh said. "It brought us closer together. The last night, some of us, we didn't sleep in our sleeping bags, we slept just sitting around the fire. We had stayed up till 3 a.m.. It was really cool, under the stars."
As Moon Camp came to a close in mid-August, official Woodbridge High XC practice took its place, though not without its own share of obstacles.
"The biggest challenge for an athlete is staying focused. It's easy for people to think 'this is never going to end, I'm never going to train, my season is ruined, my career is ruined," XC coach Bryan Pacheco said. "I've been really worried about that for last year's juniors, this year's seniors. They lost their whole spring, which as a junior, that's usually when scholarships and stuff start to really kick in…if anything else happens, they'll have lost most of their last two years of high school, which is their most critical." 
Nevertheless, Pacheco commends the resilience and optimism  demonstrated by Moon and his teammates.
"I think the thing is, if you're a passionate athlete, you don't take time off. We have always produced good XC teams…  they're highly motivated, they want to be successful. They don't want to throw away this last season," Pacheco said. 
Woodbridge High's XC team expects to begin their season in January 2021. In the meantime, the team continues to train together and participate in virtual invitationals, the most recent of which took place Oct. 1.