Teens Turn to Thrifting
Success of second-hand shopping challenges fast fashion thanks to growing awareness in younger consumers.
Gen Z is responsible for a dramatic increase in the success of the second-hand clothing industry, but reasons for participation vary from fashion preferences to economic necessity to environmental concerns.
ThredUp, a prominent online thrift store, has reported a 27% increase in online second-hand shopping during 2020 and predicts that the second-hand shopping industry will be nearly twice as big as the fast fashion industry by 2029. ThredUp also reports that 40% of Gen Z have bought clothing second-hand: more than any other generation.
"I love the idea of owning clothing that's been worn before, I feel like it holds a story," junior Dorrin Sepehrdoust said.
History teacher Alexandra Sheridan is the advisor for the Sustainable Fashion Club at Woodbridge which was founded in 2019 to unite students under a common interest in helping the environment by thrifting clothes. In 2020, the club has covered topics including environmentally-friendly holiday gifts and repurposing old clothes and discussed criticisms of gentrification in the second-hand fashion industry.
Sheridan's main motivation to thrift has consistently been to "find items that [are] very specific and unique" but for her, it started as "an act of defiance and individuality" before she became "much more aware of the [environmental] impact."
Other shoppers find different reasons for exploring the second-hand shopping industry.
"My main motivation [for shopping second-hand] is definitely the price, but it's also way better for the environment…less resources are used and wasted, especially if you up-cycle them into something new" senior Sarah Smeltzer said.
Shopping second-hand creates a market for the waste inherent to the fast fashion industry- "26 billion pounds of textiles and clothes [end] up in landfills [annually]" according to the Huffington Post.
Fashion designer Hope Tomorrow Gregory attributes teens' interest in thrift shopping to education. "This generation is going to be the most well rounded in education, from an environmental sense, you grew up knowing this was an issue already," Gregory said. "It's a sense of pride to protect Mother Earth… [you're] doing it because it's the right thing to do."
"I have learned so much from SFC just in our few meetings this year…The thoughtfulness and passion that motivates the group makes me hopeful for our future." Sheridan said.
The WHS Sustainable Fashion Club can be found on instagram under the username @sustainablefashionwhs. Communicate with the club board on their Remind using code @ec72646.
For a list of Irvine's best thrift stores, click here. To access ThredUp's 2020 consumer report, click here. To access the article by the Huffington Post, click here.
About the Contributor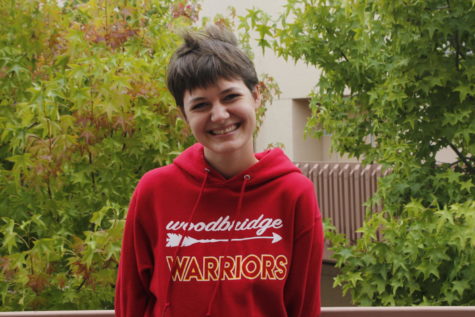 Sophia Anderson, Arts and Entertainment Editor
Hey-o Warriors! My name is Sophia Anderson and I am thrilled to act as your 2021-2022 Arts & Entertainment Editor. As a certified Choir Kid™ myself,...