Detriments Of Depop, A Popular Second-Hand Resale App
Unpacking the consequences of second-hand resale.
Increased popularity of buying second-hand has created a new source of thrifted clothing: resale apps like Depop and Poshmark. These apps are currently under fire from allegations of gentrification.
Videos on TikTok have perpetuated the idea that reselling thrifted clothes creates a supply and demand issue that "has forced stores to raise their prices," according to an article by The Oracle.
This is a controversial claim, as the article points out, because the price changes in stores like Goodwill have reportedly only changed to reflect the original value of garments, but have not raised their prices on average.
"The current popularity of thrifting could be a recipe for guilt-free and highly consumerist shopping habits under the guise of social awareness," according to a report on thrifting by the Berkley Economic Review. Despite this concern, the same report labels resale as an overall positive good as long as consumers recognize their privilege.
Because Depop is an unregulated market, prices for popular styles like "Y2K" make it increasingly expensive to keep up with clothing trends according to an article on second-hand resale by Dazed.
However, the ethics of second-hand resale are not concrete. They vary from seller to seller. Locating, purchasing, selling, and sometimes altering clothing do take time and effort, as the Dazed article reports.
An article on the gentrification of fashion by 34th Street argues that wealthy Depop sellers contribute to a classist rhetoric by profiting off of selling clothing considering the lower classes were the "trend setters" of grunge or indie clothing.
"Thrift stores were embarrassing simply because they were frequented by the poor," the article said. Other sources offer information regarding the lesser-known positives of second-hand resale.
"Reselling used goods provides an income for the otherwise unemployable, who might be disabled, chronically ill, or with a criminal record," according to Refinery 29's report on the ethics of clothing resale.
Resale makes reducing waste by buying second-hand more accessible to those who cannot shop at in-person thrift stores, Depop seller Hannah Valentine said in an interview with Refinery 29.
"Depop is making it…as easy to shop as fast fashion!" Valentine said.
With arguments from both sides, the ultimate verdict regarding second-hand resale is still undergoing deliberation.
To access the article by The Oracle, click here. To access the article by Refinery 29, click here. To access the article by 34th Street, click here
About the Writer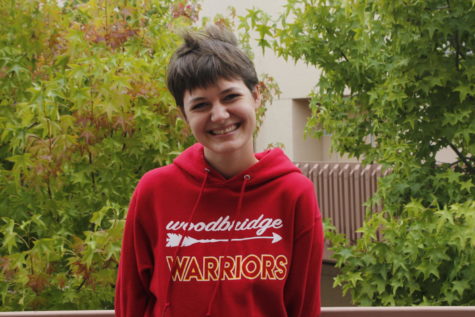 Sophia Anderson, Arts and Entertainment Editor
Hey-o Warriors! My name is Sophia Anderson and I am thrilled to act as your 2021-2022 Arts & Entertainment Editor. As a certified Choir Kid™ myself,...