Demi Lei Takes Her Hobbies to The Next Level
Junior and fencing athlete Demi Lei finds new ways to stay connected to fencing during quarantine
Junior and fencing athlete Demi Lei began fencing during her freshman year of high school. Lei has been climbing the ranks of local fencing tournaments even earning regional third place before. 
Lei was drawn to fencing as a way to stay active. 
"There wasn't a specific motive, but more because I like how strategic and physical sabre fencing is, and the desire of winning," Lei said. "I like the competition environment that allows us to express our desire to win." 
Lei has faced many challenges during quarantine such as facing distractions, not having teammates to practice with and not having the necessary equipment to be able to fence from home. 
"In order for us to still maintain the skills and further improve them, our coaches decided to have us watch fencing videos of a world class fencer, focusing on their strategies, and focus on what went wrong…Most of the time in sabre fencing, a point ends within two seconds and fencers choose their strategies before the point actually starts, because if they spend time to think about it when they are fencing, the hesitation would make them lose the point," Lei said. 
However, fencing is not the only activity that keeps Lei going through quarantine. Lei enjoys computer programming in her free time and plans to pursue it as a career in the future. She placed silver in the United States of America Computer Olympiad (USACO) this year. 
"I started to study programming simply because I wanted to try something new, something other than just the popular activities like tennis, piano and violin. I was really intrigued by the challenge I faced in the problem solving process, and the more I learn about it, the more potential I see in programming," Lei said. 
It is a new way to bridge computer programming and fencing together for Lei to stay connected to her hobbies during quarantine. By blending her two skills, Lei developed the "Judge4fencing" program which analyzes fencing matches. 
"It takes in a fencing video, analyzes the movements and strategies of the fencer, refereeing as well as helping beginners to recognize the strategies of the fencer in a clip, and showing the things that were right or wrong in the clip such as showing if that a certain move helped a fencer to win or caused them to lose a point," Lei said. 
Junior Seth Ferrell is a fellow student of computer programming class and a friend of Lei.
"Demi's a hard worker. Either she was finishing an assignment, helping someone out or practicing for the American Mathematics Competition (AMC)," Ferrell said. 
Lei is still in the process of developing her computer program and plans to finish it shortly. Although her hobbies have kept her busy during quarantine, Lei says nothing beats in-person practice and hopes that her team can resume normal practice soon.
About the Contributor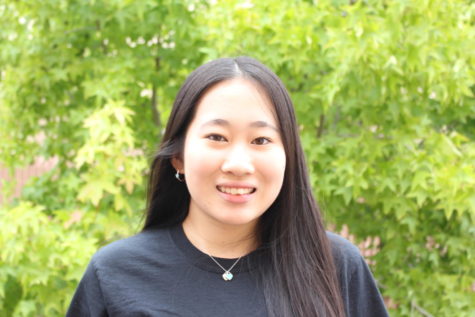 Leisa Komyo, Co-Editor-in-Chief
Hi Warriors! My name is Leisa Komyo and this is my third year in the Golden Arrow. I am honored to be working this year as a Co-Editor-in-Chief, photographer...