Senior Assassins
The game senior assassins offers a degree of normalcy after a difficult year for class of 2021
Between February and April at Woodbridge High, the pool floaties worn on the arms of senior students are not fashion statements, and the palpable tension in the air is— for once— not college related. It is the season of senior assassins. 
Senior Brandon Yu inherited the role of Game Master from last year's senior class, initiating the chaos on Feb. 10 2021. For those unfamiliar with senior assassins, adventurous seniors who need an outlet for their 12th grade angst pay $5 to join the game, but the game is in no way affiliated with Woodbridge High. Each assassin is assigned a random target who they must eliminate by spraying them with water, often using a water gun. Assassins then inherit their victim's target and the game progresses until one player is left. Players can protect themselves by remaining in designated safe zones or wearing either a pool floaty or mismatched shoes.
The winner receives a $500 cash prize and glory that lasts until graduation, after which students will enter a world where water gun fights may be viewed as a sign of immaturity instead of skill.
For most, being a part of senior assassins is an important role, especially in a year when opportunities to blow off steam with friends are so limited. Friends take one another out with no thought of mercy. Teammates turn against each other, nothing between them and humiliating elimination but a pool floaty on their arm. Elaborate plans that result in double or triple "kills" are not uncommon.
Senior Patrick McEwen has ruthlessly eliminated seven of his peers so far, no doubt due to his calculated strategy of targeting seniors placed on the hit list after failing to take out their own targets. 
"I think I do have a chance at winning as long as I can stay diligent and make sure I don't leave openings for people to get me out," McEwen said.
"I know that everyone is staying as far away from Patrick as possible cause he is [eliminating] so many people," senior Kate Rowberry said.
"There was this one time where I was on my way home from work and I could have sworn someone was tailing me so I tried to lose them and eventually I did but I was so nervous," Rowberry said.
Senior Shannon Satriawan had the second and last eliminations of round one.
"She's really dedicated!" Yu said of Satriawan with a laugh.
"I think that Shannon Satriawan is definitely in it to win it," Rowberry said. As for Satriawan's opinion of herself?
"I think I do have a shot at winning," Satriawan said. "I always try to check for updates on the Instagram page, I always bring my floaty everywhere I go, and I try to get as much information about my target from outside sources [as I can]."
The mischievous Satriawan reported that her favorite part of the game is watching other people get eliminated, especially when multiple people are eliminated at once. One such instance occurred on day three of round one when senior Sarra Hassen squirted senior Jackson Billings while in line for gas at Costco, but was betrayed by her accomplice senior Noor Addal. Addal was then eliminated by senior Sarah Hamidi, the splash of water gun removing her from the game. 
The momentous event was posted on the @whsseniorassasin21 Instagram account with the caption "BABY A TRIPLEEEE!", and received a flood of emotive comments from assassins, victims, and spectators alike. 
Due to the precarious nature of the game, conflicts are common. Yu says he does his best to minimize complications but still deals with his fair share of complaints and threats. 
"So, so many people have gotten mad at me," Yu said. "I get to know everyone's targets, I get to decide when purges are, just being the all-knowing god of senior assassins."
In spite of the pressure, Yu enjoys being able to orchestrate fun events for his peers.Eager to experience the action himself, Yu became a target during round two and was eliminated by senior Alex Llaguno. Any disgruntled players seem to have lost their opportunity for revenge.
After over a year of virtual monotony, senior assassins packs an additional punch of adrenaline-inducing fun.
"I wanted to participate in something memorable," senior Simrah Ahmad said. "Pretty much everything else was taken from us."
"[It's] nice to have some normal tradition during a year of uncertainty," senior Rithvij Pochampally said. 
With round three fast approaching, the identity of the game's victor is still unclear.
"I don't think you can say there's a definitive person who's gonna win this," Yu said. "It's wide open."
About the Writer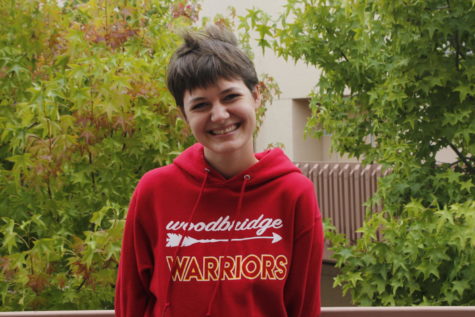 Sophia Anderson, Arts and Entertainment Editor
Hey-o Warriors! My name is Sophia Anderson and I am thrilled to act as your 2021-2022 Arts & Entertainment Editor. As a certified Choir Kid™ myself,...