Heading Towards Yale with Swim Skills, Smarts, & a Surplus of Sass
Junior Phoebe Yeh commits to Yale University's class of 2026 for swimming
While Junior Phoebe Yeh has the swimming skills and academic aptitude to commit to Yale University, her self-proclaimed cynicism prevents her from becoming completely attached to her new future.
After a short series of texts brimming with personality and an interview conducted over email where Phoebe responded to my questions with quirky quips and casual records of her remarkable achievements, I decided I needed to see Phoebe in her natural habitat. It was this decision that places me at the Woodbridge High pool at 5:45 a.m. on a Wednesday morning, wearing three layers of clothes and clinging to my thermos of coffee like my life depends on it.
Phoebe greets me like an old friend, standing in her swimsuit and parka, barefoot on the cool sidewalk and framed by chlorine-scented steam rising off the pool.
As Phoebe's coach, James Hickson, and her teammates praise me for waking up so early, I can't help thinking that while I dragged myself out of bed once, Phoebe and her fellow swimmers swim at this time every single morning. I'm amazed by the consistent level of discipline needed to succeed in this sport.
"I've never genuinely struggled with giving up," Phoebe says. "I complain, and then I keep swimming."
I sit on the bleachers and observe the swimmers grumble good naturedly about the cold, feeling guilty about the comfort provided by my thick jacket and long pants— a virtual hazmat suit of warmth compared to the team's suits. After a few moments, Phoebe tucks her hair into her cap and dives into the pool with the casual grace of someone who's been swimming their whole life.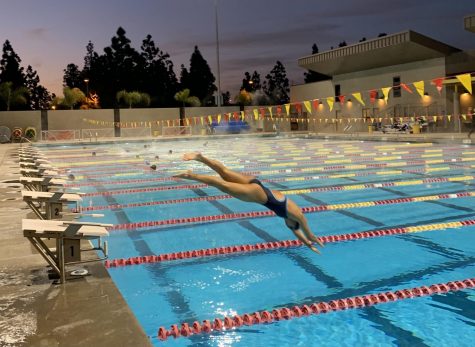 "I was in the pool before I turned one," Phoebe reflects, confirming my assumption. After five years of competitive swimming in China, she moved to the United States in the seventh grade and transitioned into a new world of swimming.
Though she specialized in breaststroke in China, Phoebe now swims six events at a typical meet.
"Here it's a lot more well rounded. In China you had about two events that you really specialized in," Phoebe  says. She holds the Woodbridge High record for the fifty yard freestyle, and it's her skill with this stroke that she suspects was most attractive to Yale's coaches.
At a little past six, it's still dark out, and Phoebe pauses her warm-up laps to float on her back next to her friend Sophia Stewart and look at the stars. The camaraderie among the team is evident— the girls tease each other for hesitating to jump into the cold water and have fast-paced conversations in between drills, exchanging swim jargon that I later have to Google to understand.
Per popular request, someone begins to play music out of the pool's sound system, and Harry Styles's voice adds yet another layer of noise to splashes, cheerful shouts, and the squeaks of flip flops on wet ground. Phoebe continues her laps, set apart from the rest of the team in execution and focus, and there's a solemnity emanating from her lane that has nothing to do with Style's "Falling" resounding throughout the space.
I kneel next to the pool to ask more questions, water soaking into the knees of my Levis. Phoebe answers with half her body out of the water, supporting her weight with her arms alone, demonstrating the strength that makes her such an advanced swimmer.
I learn that Phoebe's parents lovingly, but forcefully, encouraged her to swim almost as soon as she was out of the womb and that she entered competitions at age seven. It's been years of grueling work but, barring a near-fatal injury, nothing could keep her out of the pool.
"For a parent, the toughest task is actually determining our level of involvement suitable for a student-athlete as they grow," Darren Yeh, Phoebe's father said. "We had to learn to set new boundaries throughout their swimming careers in terms of how to continue to push [Phoebe]."
"As overwhelming as my parents' constant critique of my technique was, it was necessary for me to improve quickly," Phoebe said.
As we transition into talking about Phoebe's sister, Jamie Yeh, I am able to brush aside the veil of sisterly snark and playfully backhanded compliments and discover that Jamie also attends Yale and is a gifted swimmer. Phoebe will not be alone in her transition to college. Early periods of fierce competition between sisters faded over time and transformed into a mutual respect.
"The immaturity of wanting to obliterate the other sibling in everything turns into wanting the best for them," Jamie said.
"Character development at its finest," Phoebe remarks.
Through several incidents of self-deprecation Phoebe maintains a kind of humorous humility that anyone who has seen her aquatic intensity wouldn't buy for a second. She's been communicating with swim coaches from Ivy Leagues and Top Ten schools since the beginning of the 2020 school year but found it necessary to stay cautiously pessimistic.
"When [the women's head coach] offered the spot, I had the audacity not to celebrate immediately but instead to ask: 'Are you joking?'" Phoebe relates to me. But the offer was no joke, and as of December 2020, Phoebe has officially committed to attending Yale starting in 2022. In a fashion so quintessentially Phoebe, she postponed giving her parents the good news so that she could focus on school until winter break.
"We are not unhappy about her delayed announcement…if delaying the announcement helped her focus on exams that week, then she for sure has her priorities straight," Mr. Yeh said.
Speaking of priorities, a reputable swim team is not the only appeal of going to an Ivy League school. Phoebe reminds multiple times of Yale's fourteen dining halls: a major draw of the university. "During my time at Yale, I want to improve both academically and swimming-wise while eating to my heart's content," Phoebe says.
As for her parents' wishes for her?
"Explore, make friends, be safe," Mr. Yeh said.
About the Contributor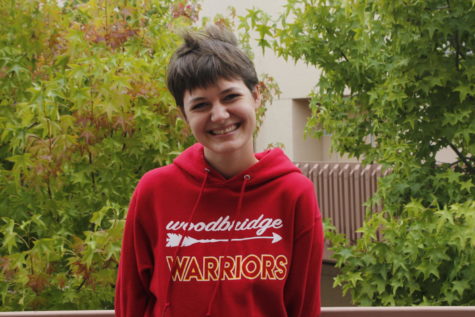 Sophia Anderson, Arts and Entertainment Editor
Hey-o Warriors! My name is Sophia Anderson and I am thrilled to act as your 2021-2022 Arts & Entertainment Editor. As a certified Choir Kid™ myself,...