Woodbridge High Clubs Provide COVID-19 Relief & Support for Community
Students rally to aid the vulnerable members of their community through volunteer work.
Three student-led clubs and organizations at Woodbridge High have carried out various community service initiatives this past year to support those impacted by the pandemic.
Freshman Brandon Liu founded volunteer organization Operation Paper Crane (OPC) in January of 2021 to make paper cranes for healthcare workers. OPC has since gained upwards of forty volunteers who have collectively produced just over 1,300 paper cranes, all decorated with short notes of gratitude and hope. Liu's inspiration came from his desire to help his uncle who works in a hospital in Los Angeles.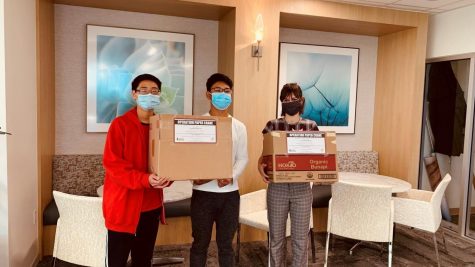 "The theory is that if you make 1,000 cranes your wish will come true," Liu said. OPC's wish is for healthcare workers to feel supported and loved by their community so that they will stay strong. Members of OPC dropped off two boxes of cranes at Hoag Hospital in Irvine this March and were warmly thanked by hospital staff.
Freshman Annabel Ho joined OPC at the beginning of 2021 and has since contributed 240 cranes. 
"I feel like those five to ten minutes [spent making cranes] allow us to have time to reflect and think about how these cranes are going to make someone happy and to me every crane is another happy person" Ho said.
Farrah Khan, Mayor of Irvine, advertised for OPC on her social media, encouraging people to join, and Liu has since seen a significant increase in volunteers he has not previously connected with.
Another group of student volunteers rallied under Senior Grace Jones, who began the Woodbridge High chapter of organization Focus AIR in Mar. 2020 at the outset of the pandemic. Focus AIR focuses on making and distributing personal protective equipment to provide airborne illness relief, hence the acronym "AIR."
Jones' team of seventy student volunteers from high schools across Orange County are currently working on eight different categories of projects: sewing, face shields, art, business, research, writing, outreach, and distribution. Since its conception, the club has sent 1,900 masks and over 2,700 face shields to various communities nation-wide and globally, with partners in Cambodia, Denmark, Mexico, and Kenya. Currently, the Focus AIR volunteers are writing letters to quarantined senior citizens as part of a pen pal program, and making face shields to distribute.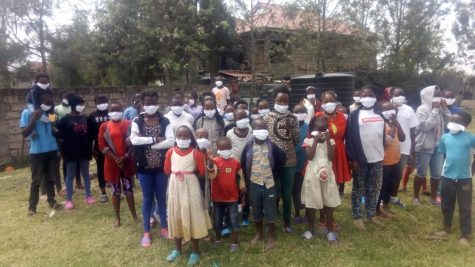 "Everyone is facing some form of ramification due to the events of the past year, so this club can extend outreach towards so many different audiences," Jones said.
Senior Krista Lao joined the Focus AIR organization before it spread to Woodbridge High. 
"I joined because I already knew how to sew, and wanted to use my skills to help out in the pandemic," Lao said. "My experience with the club has been really positive."
"There are opportunities for everyone to serve no matter what your interests are," Jones added. "Whether it's through artwork, writing, fundraising, or more, we always have ways to integrate your interests."
Junior Samantha Thayer-Pham discovered the organization Hearts to Heroes (H2H) in 2020 and immediately "fell in love" with the organization's commitment to honoring heroes in the community, including healthcare workers, postal service workers, farmers, and daycare workers. The chapter she started at Woodbridge High has eight of the 200 total volunteers throughout Orange County.
"When I found out about H2H and their mission to directly help our community heroes with the challenges of the pandemic, I knew I wanted to help," Thayer-Pham said. "My mother works in healthcare as a surgeon and one of the first places that H2H donated was her hospital. Because of this, I felt personally connected."
Members make care packages, cards and donate supplies, including over 45,000 units of Personal Protective Equipment provided by sponsors. The club is currently organizing hygiene-themed care packages to donate to a local homeless shelter. 
H2H has been praised for its efforts in a myriad of local newspapers and magazines, and Thayer-Pham is most proud of their feature in the LA Times High School Insider (read the article here).
Between all three groups, the biggest hope for the future is increased involvement from Woodbridge High students.
"It is our first year as a club, so I can only hope that we are able to grow because we have a lot of potential," Thayer-Pham said.
Ho has even grander hopes for OPC: "I hope more people join and that we can send this message to first, all of California, to all of the US, to all of the world! It's far-fetched of course, but to soar high you got to aim high!"
Additional Resources:
Click here to go to the Operation Paper Crane Website.
For inquiries related to Focus AIR, fill out this google form. Follow Focus AIR on Instagram at @whsfocusair and/or join the Remind using code @focusair. Click here to go to the Focus AIR Website.
Click here to go to the Hearts to Heroes Heroes Website. For inquiries related to H2H, fill out this google form. Join the Remind using code @whsh2h. 
About the Contributors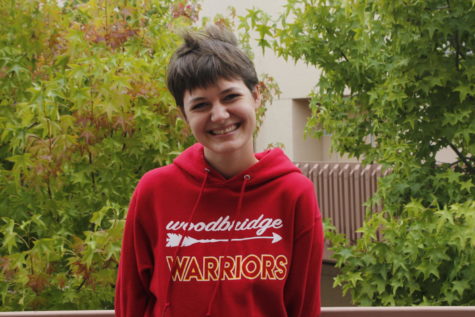 Sophia Anderson, Arts and Entertainment Editor
Hey-o Warriors! My name is Sophia Anderson and I am thrilled to act as your 2021-2022 Arts & Entertainment Editor. As a certified Choir Kid™ myself,...