Warriors Celebrate Rick Gibson's Retirement
After 38 years working at Woodbridge High, athletic director Rick Gibson is retiring
Athletic director Rick Gibson, will be retiring at the end of this year after working 38 years at Woodbridge High. Gibson has significantly contributed to Woodbridge High as he worked many different roles such as math teacher for four years, football coach for 36 years, as well as science teacher and athletic director for 20 years.
"[I started teaching in] 1983 and was lucky enough to get a job right after I did my student teaching. This has been my only adult job," Gibson said.
Gibson will miss interaction with his students the most after retiring. Some of Gibson's most memorable moments working at Woodbridge have been going to different students' weddings, honoring a former student in a eulogy, winning CIF championships in football and receiving emails and letters from alumni.
"It has been my 2nd home for 38 years and it's a place that I have grown to love. I would not have thought, when I first was hired, that this would be the only school I would be employed by," Gibson said.
Gibson's favorite subjects to teach have been science and coaching athletes because it allows students to learn "hands-on" and teaches them life lessons.
"It's awesome watching when the process of learning happens. I have had numerous former players share with me how athletics showed them how to handle victories and loses within their life," Gibson said.
Senior Vincent Garcia first met Gibson over a football summer camp during his freshman year. Garcia's most memorable moment with Gibson was during his first football game as a starter.
"I would describe Coach Gibson as a great man who cares about those closest to him. He always made sure I was good and checked in with me," Garcia said. "Sports is something many people take for granted and Coach always made sure we cherished our time. He taught my teams and I some valuable lessons throughout high school. I will miss having him around because I always knew I could count on him when I was having life issues. I am thankful I got to spend 4 years of high school with him."
Senior Tommy Prince got to know Gibson through football as well. Prince describes Gibson as wise, hilarious, light-hearted and intense when necessary.
"A memorable moment I had with Coach Gibson is when he pulled me aside after our last game before he retired and said his goodbyes as a coach and there was a giant farewell party," Prince said. "He had made sure that I understood the role I'd have to play next season and reassured me that I would do just fine."
Prince will miss Gibson's sarcasm and jokes the most during football practices.
"Coach Gibson was and will always be a great coach, no doubt about that, and is a great mentor not just to me but to everyone else around him. He will be missed at Woodbridge High," Prince said.
Digital Media Art teacher Matthew Takeno is an alumnus of Woodbridge High and first met Gibson as a football coach in the 90's. During his sophomore year, Takeno quit football until the summer before his senior year when he decided to rejoin the team. Gibson told Takeno that he would welcome him back onto the team if he really wanted to rejoin, but Takeno would have to work hard and make a dedication to not quit again.
"Looking back at it now, that moment helped shape my life. Coach gave me a second chance to play football and if he didn't I would have had to live with that regret the rest of my life. Coach gave me a senior year of memories and friendships that will stay with me forever. I'll always be grateful to him for that," Takeno said.
Takeno would describe Gibson as calm, compassionate, a natural born leader and a father figure. Takeno says that he cannot call Gibson by his first name to this day. He will always remain as 'Coach Gibson' to Takeno.
"Having Coach at school reminds me of all the traditions here at WHS. I have known him for over 25 years and he is one of the last teachers that was here when I was a student. Coach Halagan (who was my freshman football coach), Coach Nelson, Mr. Dworzak and Mrs. Blasdel are the only ones left. When they retire I will miss seeing them and instantly being transported back to my days as a student. It's up to us to keep up the traditions that they started," said Takeno.
As the year comes to a conclusion, Gibson is overcome with a wave of emotions as he gets ready to go into retirement and part ways with Woodbridge High.
"It has been surreal. It's something that you prepare for but don't feel it's going to happen until you are 30 days away from it. I am prepared and ready for a new chapter to my life," Gibson said.
After retiring, Gibson hopes to be able to spend more time with his family and travel. As a final message, Gibson wants the Warrior community to know that he will miss everyone he has worked with.
"I would like to say thank you to many people who have made my life and job so rewarding. To all my colleagues, secretaries, custodial and administration staff, cafeteria personnel, instructional aides, parents and students, I cannot thank you enough. You all have been a huge part of my life. Woodbridge will remain great because of all of you!" Gibson said.
About the Contributor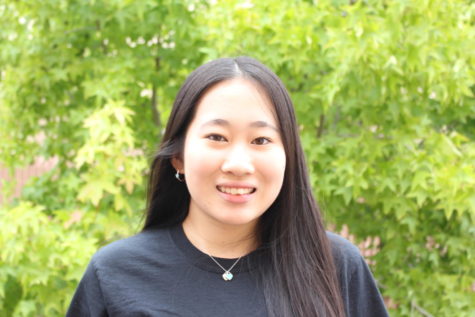 Leisa Komyo, Co-Editor-in-Chief
Hi Warriors! My name is Leisa Komyo and this is my third year in the Golden Arrow. I am honored to be working this year as a Co-Editor-in-Chief, photographer...