Woodbridge High Robotics Club and Makerspace Design Ear-Savers For COVID-19 Masks
Woodbridge High's Robotics Club collaborates with Makerspace to give back to the community during the pandemic
This year, the Robotics Club at Woodbridge High took on a new challenge to accommodate the pandemic. Every year, the Robotics Club takes on the First Tech Challenge, a collaborative competition for grades seven through twelve, where robotics teams from all around the world come together to compete against each other in developing a product that meets their target audience. Other than the production aspect of the competition, the First Tech Challenge requires students to fundraise, meet strict deadlines, connect with mentors and gather outreach. At Woodbridge High, the Robotics Club is divided into two teams called STEAMpunks Alpha and STEAMpunk Bravo. For the First Tech Challenge, the STEAMpunks Bravo team developed ear-savers; surgical mask straps to help ease the pain on the ears from prolonged mask-wearing. 
Junior Danny Lee is the captain of the STEAMpunks Bravo team. Lee hopes through this project, the Robotics Club can make students' lives better in this pandemic as well as promote masking as an universal practice. Lee was involved mainly in overseeing the entire process and guiding his team into meeting deadlines. 
"At this time, I'm most proud of our efforts so far. It's also new for our team to contribute at a scale like this within the school. We're traditionally very separated from the student body (besides location), and only to the extent of giving lunch workshops on technical skills like programming, but that hasn't occurred in the past few years," Lee said. 
From production to distribution, Lee found that a major challenge that his team had to overcome was trying to meet their overachieving goals for the project. The initial goal at the beginning of the year was to distribute the ear-savers to the Science and English departments to have them stationed at the sanitary areas in each teacher's classroom. Eventually, Lee and his team decided to distribute them to students who were interested in picking one up at the front of the school. 
"Realizing that 3D printers would have to be manufactured constantly until the end of the year, and that it is strangely unreliable, we moved to using the Glowforge laser cutters as our production method. Using laser cutters, we were able to produce 100 each run, which is per two hours or so. This would be able to hit our second goal of 2,000 to distribute to every student in Woodbridge High School through homeroom, but we decided against that to fit it into our spring recruitment process timeline," Lee said. 
Sophomore Deena Sun is a STEAMpunks Bravo club member. Sun was in charge of designing the ear-savers for production. 
"We were inspired by the many others that also used technology in order to aid others in need during this time. For this project, we really wanted to give back to our community and this pandemic gave us a really topical challenge to help overcome," Sun said. 
Chemistry and physics teacher Daniel Pilchman provided his room which was created last year, called Makerspace, for the Robotics Club. Makerspace houses 3D printers, laser cutters, engravers and many other machinery that the robotics students are able to utilize. 
"My goal has been to explore the capabilities of the machines in the Makerspace and to start getting students interested in making their own projects. I am proud of the Robotics students for stepping up and doing something creative and kind for the school community," Pilchman said. "The Makerspace is growing all the time. Anyone, with any skill level, who is interested in learning to make basically anything should come by."
Sun is most proud of the teamwork within the Robotics Club and the inter-school collaboration with Woodbridge High's Makerspace through the entire process. 
"We originally came up with our designs by researching about other similar earsavers online, especially other people who have orchestrated similar distribution projects in hospitals, senior centers, etc. around the world. But we also added little tweaks over the course of our design process after trying them out so as to maximize their comfort and also make it our own! To actually design the earsavers, I used online computer aided 3-d design software," Sun said. 
Advanced Placement (AP) Physics teacher Jennifer Blackie is the advisor for the Robotics Club. In the club, Blackie is responsible for the organizational and administrative aspects. 
"[I am most proud of] The perseverance that students demonstrated. Their initial designs had some issues, so they went through an iterative design process until they developed one that worked best," Blackie said. 
During the week of May 10 to 14, the Robotics Club distributed their ear-savers as a part of a test week to see how many people would be interested in picking up their products. In the future, the Robotics Club hopes to be able to extend their distribution area to people like the elderly, front-line workers and other Irvine Unified School District (IUSD) schools. Pilchman is also looking forward to offering Makerspace as an official elective next year. 
"Our robotics team is also starting to gear up for next year's competition, and because it seems like the pandemic isn't going away any time soon, I'm sure that our outreaches for next year will likely also be something to try to address the challenges covid has presented in our community," Sun said.
About the Contributor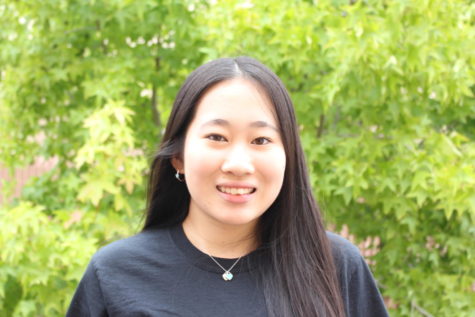 Leisa Komyo, Co-Editor-in-Chief
Hi Warriors! My name is Leisa Komyo and this is my third year in the Golden Arrow. I am honored to be working this year as a Co-Editor-in-Chief, photographer...