Makerspace Students Make Connections Between Science, Art and Engineering
Students enrolled in the new Makerspace class experience hands-on learning through the use of 3D printers
As students make the return to a semi-traditional school year, Woodbridge High has incorporated a new science elective class called Makerspace, a yearlong class led by chemistry teacher Daniel Pilchman. The class introduces students to the basics of engineering while also highlighting the connections between science and art through rigorous hands-on work. 
"It's a project-based class and it takes students through the engineering cycle but to create things that are beautiful. We do a lot of 3D printing, laser cutting, learn the basics of digital three-dimensional design and we make nice art objects that we do science with, essentially," Pilchman said. 
Pilchman originally was expecting that there would only be one period of this class, but the overwhelming popularity from students helped expand this class over three packed periods. 
"It's been a big adjustment for me. I've had to rethink which supplies I was going to get," Pilchman said. "The big thing we bought this year was each lab table has a 3D printer now and the students assembled them. I didn't originally think we were going to need 13 printers on campus and last year we had zero. We had to really ramp up our capacity for production just because there's so many students that want to do this." 
Pilchman used to teach seventh grade at Lakeside Middle where he helped develop their engineering program and got to use a 3D printer for the first time. There, he also found out that students that were interested in the robotics and engineering field did not have opportunities to continue their interests in high school. As he researched more, Pilchman became more aware of the career paths available for students in this profession. This motivated him to create the Makerspace class at Woodbridge High. 
"Fundamentally, it's just really fun to make things. I think that a lot of people never get the chance to tinker or build with their hands and if they do, it's always the context of a woodshop or a metal shop which can be not the context that a lot of people want to work in. I wanted to make this other place for people to do work with their hands, but be able to apply it to something that's different," Pilchman said. 
Makerspace students get to experience hands-on learning from their projects. Currently, the students are learning 3D printing for the first time and are working on making catapults. Students take popular mini-catapults from the internet, print them out using the 3D printer and are given multiple opportunities to personalize and improve them. 
"We have to prioritize the sort of methods of science rather than the content of science. I'm not teaching a bunch of science facts, but I'm teaching students how to engage in iterative design," Pilchman said. 
Sophomore Peiling Lee is currently working on a project where she is trying to construct a flute. 
"I think 3D printing is very special and interesting. There are a lot of things that can be changed and tested. I sit at a table with my friends, which makes everything more fun. And the projects we printed are very interesting and exciting," Lee said. "If you are interested in joining the class, you should join."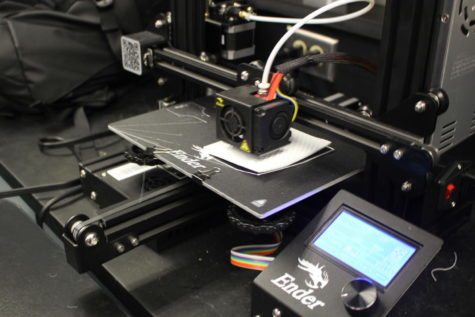 Junior Richie Bang always had an interest in making things of his own. Bang first got introduced to the class by Pilchman last year and was motivated to join it this year. 
"Makerspace is a class where you interact with other students and you work in groups to create projects. You create different things that can either be useful to you or helpful to other people," Bang said. 
In the next unit, students will learn jewelry making through molding casts. In the spring, students will learn how to make electric guitars. Towards the end of the school year, the students will be focusing on an e-textiles unit where they will be making fabrics combined with circuits and LED lights. During this unit, Pilchman has a goal of making a skirt that is activated with movement: a person wears the skirt and when they twirl, the lights come on. 
"It's definitely more student-led. In the beginning, it has to be teacher-led because I think 90% of my students don't have 3D printing experience. You start very teacher-led and eventually and naturally, students start doing their own things," Pilchman said. "If a student has an independent project they want to do, then I just want to create a space where it would be okay for them to do that in the context of a class. We're at this point right now where students are starting to go on their own paths.  Everyone's starting to do their own thing."
Sophomore Kirra Perez's favorite part of the class is the creative freedom the environment fosters and the energy in the room because everyone wants to participate and learn. 
"I saw it under electives and I asked my family members what it was. Then, I looked it up. It sounded pretty interesting because I like robotics," Perez said.  "This is considered one of my fun classes."
In the class, students are free to work individually or in a group. Group collaboration is geared more towards student mentoring. Pilchman hopes that in the future as students get more adjusted to the class, they will gain roles as leaders and learners. 
"I got a lot of people that know things more than I know. They are total masters. Building up this student-base of knowledge such that you can start teaching others and I'm just providing the venue. That's my big dream," Pilchman said. 
In addition to the Makerspace class, there is Makerspace Club which focuses on fundraising and crafting projects using the machinery in the class. Club members do not have to be enrolled in the class. Soon, the Makerspace Club will be building ukuleles. Club meetings are during lunch in Pilchman's room. 
"People should come. If anybody is curious about the Makerspace Club or the elective, it's not a scary class and it's not a traditional robotics class. It's not flashing lights and wheels and things. It's much more designed for someone who has an artistic mind and if you're good at drawing or if you're good at painting, this is the place for you," Pilchman said.
About the Contributors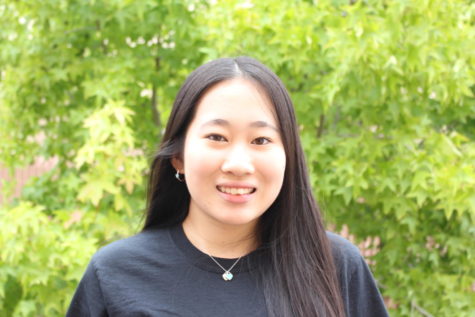 Leisa Komyo, Co-Editor-in-Chief
Hi Warriors! My name is Leisa Komyo and this is my third year in the Golden Arrow. I am honored to be working this year as a Co-Editor-in-Chief, photographer...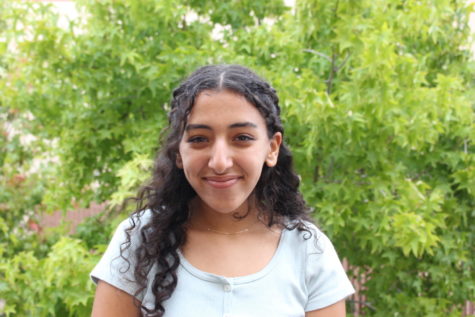 Somer Alrai, Sports Editor
Hello Warriors! My name is Somer Alrai and I am so excited to be serving as this years Sports Editor! This is my third year with the Golden Arrow and I...