Up And Coming Graphic Designer, Photographer And Entrepreneur: Jake Angel
Senior Jake Angel explores his creative freedom through a variety of outlets in photography, graphic design for Bridge Clothing and his family's clothing company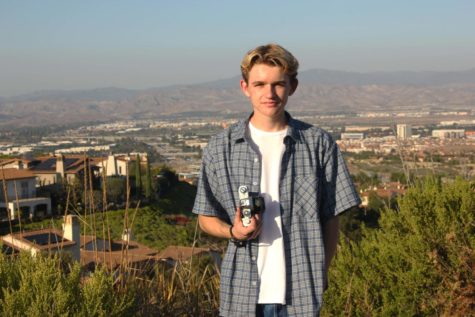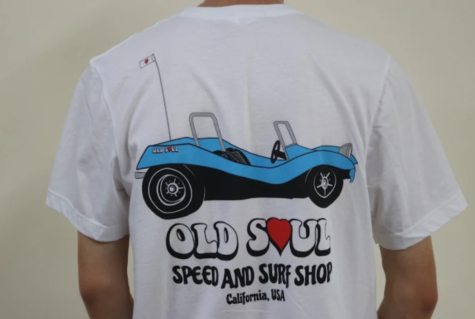 Angel has been working throughout his high school career experimenting with different mediums of art to be able to express his own personal style. 
He started graphic design due to his brother's recommendation in freshman year. Since then, he now has his own clothing company that pushes him forward to continue designing in the future.
"I asked Mr. T and he let me join the class freshman year and then…I've just kinda been doing it ever since….just kind of our aspiration to like start a clothing company and like learning how to make my own graphics. I thought that was super cool." Angel said.
His business is labelled Old Soul Clothing Company, which highlights Southern California as they are a speed and surf shop. It takes an older vibe going back decades before, with references to local history on their Instagram page and website. 
Angel and his brother have made this brand into a family business as both take their own photos and create graphics for it. So far they have made hats, shirts, and windbreakers coined with their trademark; Old Soul.What started as an idea their dad posed to them when they were younger has developed into a growing company.
Angel has come a long way since he first started out and the people around him are happy to celebrate his accomplishments.
"When I think of Jake I think of a hard worker that puts his all into everything and someone who's just been with me since day one." Senior Felipe Sinoca said.
Graphics design teacher, Matthew Takeno, takes pride in watching Angel grow throughout the years. 
"Just watching him kind of gain confidence every year and then this year just being able to…communicate with him in a way…where it's like we kinda understand each other and sort of have some of the same ideas…then just try to execute those ideas..is really really cool to see." Takeno said.
Looking back at the past he seemed to really appreciate the effort Angel put into his work.
"Just like him as a designer and the progression that he's went through like he probably wouldn't have thought so..you know but it's just cool to see that he's stuck with it, he's worked hard…he's put a lot of passion and a lot of thought into these things." Takeno said. 
Within Bridge Clothing, students are able to make designs within their personal styles. They are all able to demonstrate their own individuality and Angel doesn't disappoint. 
"They're all unique especially in this…in this class, this group that I have but especially him. I think he's got this aesthetic or…this design sensibility that's just him." Takeno said.
He strives to have his work reflect past decades and maintain this style throughout all pieces. He expresses how through these different art forms he is still able to have much needed freedom.
"Just like a free thing there's not really a strict thing like you know you don't have to take photos of a certain thing or draw a certain thing or you know like I can…design whatever I want or I can take photos of whatever I want." Angel said. 
For his photography, Angel uses a digital camera Canon 80D and also the Canon FTB QL for film.
"Just started like playing with it and then kinda got into film cause like that kinda goes with like my whole…I like old school stuff so like I got a film camera and just started messing with it," Angel said.
Angel finds that he's able to do a wide variety of work with photography that can fit his taste rather than just sticking in only one area. He uses trial and error to decide what he likes and dislikes. 
Angel hopes to inspire others to delve into their own interests and stick with it. Throughout all his different avenues of art, he consistently proves that determination and hard work can generate success.
For more information about Jake Angel's clothing company and art pieces, check out oldsoulapparel.com or his Instagram @filmwjake.
About the Contributor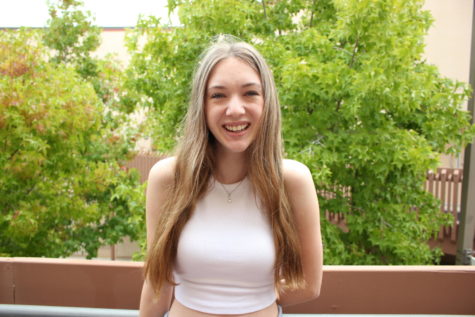 Heather Hershfield, Photo Editor
Hey Woodbridge! Writing has always been a creative outlet for me and a way to express my thoughts. "Write hard and clear about what hurts." -Ernest Hemingway....