The Return of Homecoming
As the activities shut down by Covid-19 last year begin to make a return, the annual homecoming dance and football game at Woodbridge returns, this time with changes
As Warriors begin to see a light at the end of a long and dark tunnel that was Covid-19, the activities shut down by the pandemic last year begin to make a return. The annual homecoming dance and football game at Woodbridge High are officially back, this time with changes. 
Football Game
Woodbridge High welcomed back one of its longest running traditions, the homecoming football game and dance, after Covid-19 limitations stopped the events last year. Bright lights and vibrant signs filled up University High's football stadium on the October Friday night as stampedes of Woodbridge High students, dressed in their class colors: seniors in blue, juniors in green, sophomores in black and freshman in white, poured into the bleachers of University High. 
"The student body is super supportive of football and it's amazing. The culture we have built around the football program is great," senior and varsity football player Sajun Napolly said.
 And this enthusiastic culture Napolly expresses is evident at the games, as screaming students risk the loss of their voices and energy to cheer on their team and show school spirit, bodies smothered in colored paint and glitter, with game faces on.
"The homecoming game [compared to others] is definitely a lot more hyped up. There's a lot of pressure for us as athletes to win because we are representing the school," Napolly said.
Junior and varsity football player Daniel Goodrich agrees.
"There is a lot more attention around the homecoming game compared to a normal game and more pressure to win," Goodrich said. 
Although the Warriors took a loss against Northwood with a score of 13-35, ultimately the energy and uplifting comments from the student body made the night feel like a win. 
"The feeling is unlike anything else. When they are cheering your name or number, it's the best feeling on earth," Napolly said. 
Homecoming Skit and Crowning Ceremony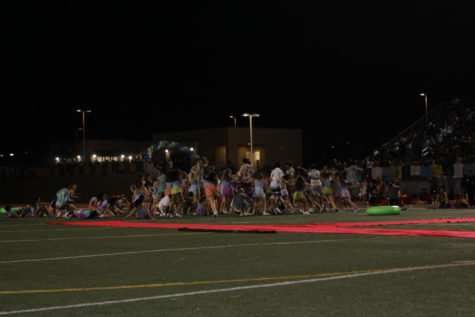 At halftime, groups of all classes gathered in the middle of the football field to perform their homecoming skits. Each class followed their set theme: freshman's snow, sophomore's space, junior's safari, and senior's tropical.  Students gave it their all on the field dancing and singing in preparation for the homecoming dance to come. Senior class president and homecoming court nominee David Han shares why he believes homecoming skits are such an important tradition. 
"It brings the Woodbridge community together specifically through the homecoming skit. This allows for students in the same class to feel connected through learning a collaborative dance together," Han said.
The halftime show continued over as the dazzling red carpet was laid out in the middle of the football field in preparation for the crowning of Homecoming king and queen. Seniors Sam Brown and Kimberly Nguyen took the crowns home. 
"Words cannot convey how grateful and honored I felt to be nominated for homecoming court and elected as the homecoming king. It provided me with the opportunity to represent all of the student leaders on campus who devote their time to both their academics and extracurricular activities," Brown said.
Homecoming Dance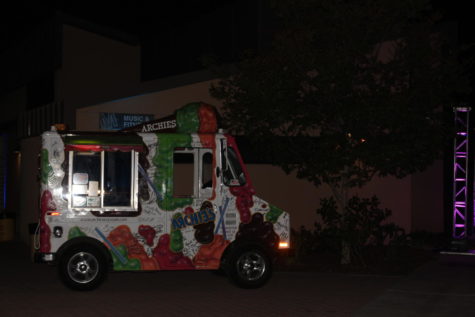 Although the excitement from Friday's game began to loosen up, the weekend's fun was far from over. As the sun set on Woodbridge High Saturday, Oct. 23,  Laser lights and deafening party music flooded the once empty campus, as eager students entered in excitement for the annual homecoming dance. 
"The dance is a way for students to all have fun, which also improves the overall campus life," said Han.
And Brown agrees, saying the student body's involvement was much more evident this year.
"As it was everyone's first big event since coming back from quarantine, there was definitely more involvement with the amount of people showing up," Brown said. 
Some students felt disappointed last year when it was announced that events throughout the year had to be cancelled due to the pandemic. However, Han shares how he thinks the limitations on gatherings last year adds to the anticipation events this year, by adding excitement.
"The dance creates an atmosphere of excitement for the students, which had many people hyped especially this year because of the lack of dances last year," Han says. 
As the long period of isolation due to Covid-19 begins to come to a close, events like homecoming which once seemed unattainable are making their long awaited return. 
"Despite homecoming week being very different this year due to Covid, I think we did a great job matching the energy we had in prior years and bringing in new ideas," Brown said. 
About the Contributors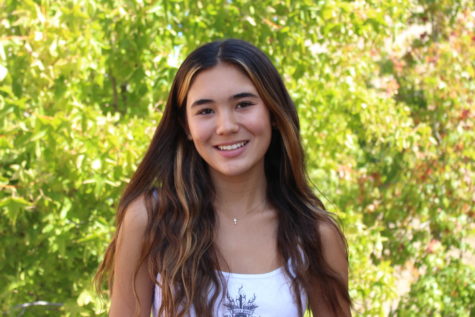 Addison Nguyen, Staff Writer
Hey Warriors! My name is Addison and this is my first year writing for the Golden Arrow. This year I am helping as a staff writer, which means I get to...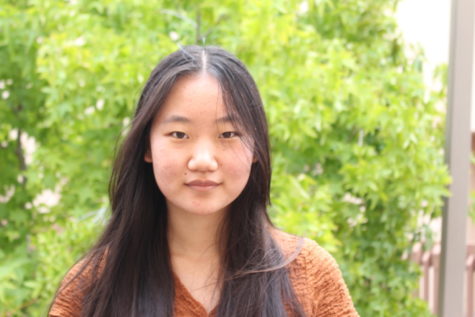 Ruby Yang, In-Depth Editor
Hello Warriors! I am so excited to begin a new school year with the Golden Arrow as the In-Depth Editor and as a staff illustrator! I look forward to an...