It's High Time Society Puts Respect on Modern Holiday Hits
A reflection on the hit holiday songs after the new year
Looking back on the holiday season of 2021, the cheer in the air was definitely there, recognizable through the sparkling string light displays, warm nights with family and most importantly, holiday music. Every year come late November, holiday music takes over the local radio stations and sets the mood for the winter months.
Nothing quite represents the holiday season more than the light and dreamy xylophone notes at the start of Mariah Carey's  "All I Want For Christmas is You." Although it is relatively newer compared to other holiday "classics," such as Frank Sinatra's "Let it Snow," Carey's 1994 hit is the definitive Christmas song and has definitely solidified its spot as a holiday classic.
This is certainly something Woodbridge students can attest to.
"I don't really listen to older holiday songs but I guess it would probably be 'All I Want For Christmas Is You'…like, especially like older Christmas songs, sometimes they're sentimental. So that's nice," junior Ryan Dehaas said. 
"Winter Wonderland", first sung by Richard Himbler is a slow, warm and cozy song to warm up to by the fireplace. The song's velvety smooth instrumentals instantly wraps the listener in a warm blanket and transports them to a snowy mountain town.
"It just like reminds me of Christmas. Like other songs do too but that one does the most," junior Ishana Das said.
These classic songs evoke a feeling of nostalgia and comfort that is enjoyed by all, from grandparents to little children.
Though holiday song classics are definitely classics, newer songs deserve more recognition. In recent years popular artists have created their own renditions of quintessential songs. For example, Kelly Clarkson's 2013 song "Underneath The Tree" and Ariana Grande's "Santa Tell Me" have all the markings of future holiday classics. 
Grande's song tells a story of a girl who has been hurt by a lover on a past Christmas and asks Santa to keep her from falling in love if her current partner will not be with her next year. "Santa Tell Me" has the potential to be the next "Last Christmas" by Wham. Both songs explore similar themes of losing a lover on Christmas and wanting better for their hearts this year. 
"I prefer '[Santa Tell Me]' because maybe sometimes the classic songs can get a little repetitive when they play on the radio. So it's cool to like, spice it up. Hear some new songs," DeHaas said.
On the other hand, Clarkson's song is a joyous pop tune that celebrates that Clarkson found a true love for her during the season. 
However, holiday songs don't have to be about just romantic love. Another recent holiday song that has been getting traction recently is Taylor Swift's 2019 single "Christmas Tree Farm." It is a lovable tribute to Swift's own childhood growing up on a Christmas tree farm in Pennsylvania and commemorates spending time with family, friends and other loved ones in the colder months.
"I like '[Christmas Tree Farm]' because it feels so comforting like the holiday season itself," junior Siyun Ke said.
All of these songs bring something new to the table– a fresher and more modern take on the holiday season– while maintaining the cheery motifs that are at the core of the season.
"I like the modern type because it's more diverse because the older type is like all the same genre kind of, but, like new artists put different spins on the new Christmas songs," Das said.
While the quintessential classic holiday songs will always have a special place, audiences should broaden their perspectives to appreciate newer songs on the same level as the older and more well known songs, whether it is through finding covers of an older tune or an original track. Hopefully, those newer songs can make it onto someone's December 2022 playlist later this year.
About the Contributor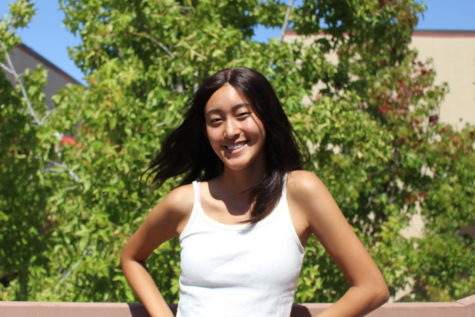 Lena An, A&E Editor
Hi Warriors! I'm Lena and I am very excited to be a member of the Golden Arrow as an illustrator! I hope to contribute to our publication through illustrations...