It's Their Book, It's Your Book, It's Yearbook.
A behind the scenes look at Woodbridge High's yearbook elective reveals the demystifies the 2021-2022 yearbook.
Overseen by yearbook advisor Matt Takeno, twelve students enrolled in the yearbook elective class spend months perfecting Woodbridge High's yearbook.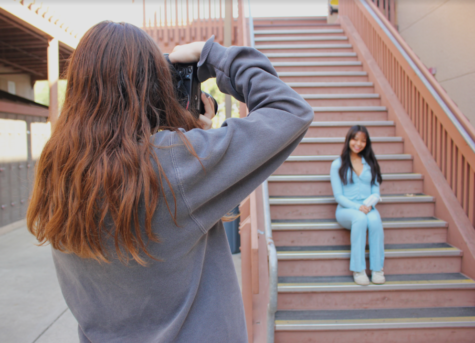 While nearly 800 students buy this yearbook every year, its creation is foreign to most students. 
The process begins in the first few weeks of school in Room B104, a dimly lit computer lab buzzing with excited chatter. Students hunch over the many computers that fill most of the room, good-naturedly calling to one another from across the room. Takeno supervises from his desk at the front, flanked by a bright wall painted in a shade he calls "Weezer blue." 
The bustle that begins in Takeno's classroom in August seldom lets up until March. To avoid overloading the company that prints the books, students must submit the yearbook in four separate sections. The first section is due in late November, and once a section is sent to print, there is no going back. At this time, the yearbook is well underway. 
"I think that's what is really good for our students…to feel that sense of urgency and to put a really good product out," Takeno said. "It's tricky. But it's a lot of fun."
To achieve these deadlines, organization is key. Students enrolled in yearbook are separated by sections such as Visual and Performing Arts, Student Life, Sports, etc. Each student is encouraged to play to their strengths, but the different sections collaborate constantly. 
"I love everyone in the class, because they're all really nice and supportive," junior and Student Life Editor Naomi Akzin said. "Everyone works really well together and gets along."
Akzin and other staff members spend the year photographing student events, sitting in on other classes, and Associated Student Body (ASB) meetings and designing aesthetic layouts using Walsworth Yearbooks' graphic design software. 
"The environment is super chill, but at the same time everyone is working and contributing to the book in many different ways," senior and Yearbook Editor-In-Chief Bryce Shaver said. 
The yearbook is aesthetically centered around a theme, determined at the end of the previous school year. The 2021-2022 yearbook theme is "Glitch". 
"[The theme] stemmed from us being online last year," Takeno explained. "We're so glad to be free of the computer."
Once the theme is decided, students deliberate about appropriate colors and font styles, and brainstorm new ideas for content. By using offset graphics and black backgrounds with rainbow accents, the yearbook imitates a broken computer, symbolizing students' newfound freedom from last year's digital prison. 
Along with the unique theme, this year's yearbook features a new section called "Senior Quotes." In this case, "senior" refers to teachers and staff who offer students words of wisdom for their futures. 
The process of incorporating these designs and featured quotes into the yearbook is complex. According to Takeno, changes to layouts and content are frequent and expected. Students bounce from one classroom to another, snapping photos, only to scrap them and try again a week later. Spelling of names is double and triple checked at every stage. S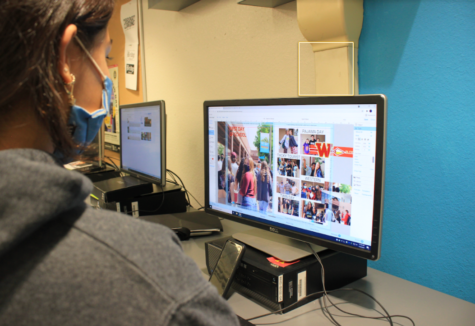 enior quotes, which were brought back this year after a three year hiatus, are run through yearbook editors, administration and security to weed out sneaky attempts at inappropriate jokes. 
"There's always problems, but I love that, because that's what life is," Takeno said. "It's never A to B, it's always a million different steps."
Takeno interviews prospective yearbook contributors, usually sophomores and above, at the end of each school year to assess how new students would impact the social chemistry of the class. 
We are really just looking for students that are responsible, hardworking, creative, open minded, and dependable," Takeno said. "Usually once you get those types of students in the same room, the chemistry comes naturally." 
Yearbook students are quick to encourage others to join. Despite the strict deadlines, the students' positivity about the benefits of the class does not waver.
"You get a lot of freedom [and] you get to think creatively," Akzin said.
"[Yearbook] teaches you discipline and skills that you can transfer into the real world," Shaver added.
Looking back, Takeno identifies the best part of being the yearbook advisor: when he submits the final section in March, the website erupts in congratulatory digital fireworks, signifying the end of his students' hard work.
"That is my favorite thing," Takeno said. "I'm so proud of them. The fireworks [are] my moment, every year, to be excited for them."
About the Contributors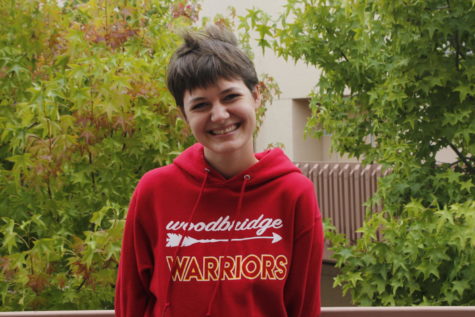 Sophia Anderson, Arts and Entertainment Editor
Hey-o Warriors! My name is Sophia Anderson and I am thrilled to act as your 2021-2022 Arts & Entertainment Editor. As a certified Choir Kid™ myself,...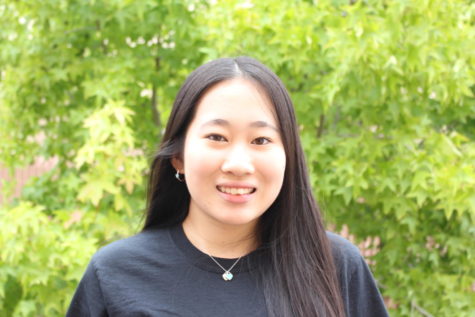 Leisa Komyo, Co-Editor-in-Chief
Hi Warriors! My name is Leisa Komyo and this is my third year in the Golden Arrow. I am honored to be working this year as a Co-Editor-in-Chief, photographer...