CubeSat Members Prepare for Satellite Launch
Members of CubeSat work diligently to re-establish their satellite launch schedule post Covid-19
Already having launched two satellites in 2018, Woodbridge High's CubeSat program anticipates the launch of a third satellite despite setbacks from Covid-19.
Specifically, a CubeSat refers to a 10 x 10 nano-satellite that travels to low Earth orbit and can perform a number of science missions and space research it is programmed to do. Though CubeSat was originally used by graduate students to conduct graduate-level research, the CubeSat satellite is now widely used throughout high schools as well.
The CubeSat program, comparatively, encompasses high schools in the Irvine Unified School District (IUSD), with the addition of Beckman High, to build and launch a satellite into orbit. Each high school is assigned to a specific area of focus, and Woodbridge High is assigned to the communications system.
"We work with laser hardware, laser software, radio hardware and radio software base. Those are basically different ways we can communicate with a satellite," senior Bobby Werner said.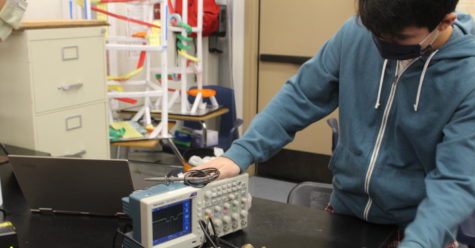 Within the subsystem of communications, members are responsible for working with various softwares to communicate with a satellite that is already in space.
Woodbridge High's CubeSat program takes it a step further and experiments with different forms of communicating with a satellite. In years past, the CubeSat program has utilized a radio communication system, in which radio waves carry information across space.
"For the radio communication system, we [used] it for both uplink and downlink.What this means is that it's a two-way communication, we can send a signal up and CubeSat can send a signal back," senior Demi Lei said.
However, this year, the CubeSat program is testing out a new laser communications system, which will incorporate a laser into the satellite. The laser, after flashing in a pattern of zeroes and ones, will be recorded in a telescope and read through a software program. Through this setup, Woodbridge High's CubeSat team is able to communicate with their satellite without having to leave their own campus.
"We actually have in the auto yard, our own optical ground station that we built to be able to talk to our laser once it's in orbit," science teacher and CubeSat adviser Jennifer Blackie said.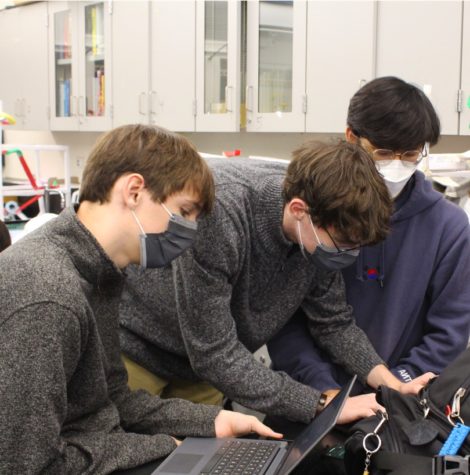 With facilities available to communicate with a laser once it has entered space, the CubeSat team is able to assess the functionality of a laser satellite and provide a valuable learning experience for its members.
The task of building and launching a satellite into space may seem like a difficult feat for many high school students, but the CubeSat team ensures that its members are properly supported and guided throughout this process.
"There is an interview process [to be admitted in the CubeSat team], and we're all going in there with some sort of knowledge in computer science or engineering but none of us really know what it is like to actually build a satellite so there are older students with more experience just guiding us through the process," Lei said.
This intensive process of building and launching a satellite was further set back due to Covid-19. Due to the pandemic, members of the CubeSat program were unable to receive parts from China and Ecuador to build and complete their project.
However, with the re-opening of school districts and the ability to work together in person, members have re-established a new schedule for the launching of the satellite.
Though this task is one that requires diligence and cooperation, members recount the rewarding experience of launching the finished product.
"With the satellite and the functions [it is] intended to do, it's really rewarding to actually see [CubeSat] do those kind of functions because they are really sophisticated for a band of high school students," Werner said.