Must-Visit Hidden Gems in Orange County to Check Out on Your Next Weekend Out
Orange County is home to many hidden hot spots to help students relax this spring
Located near John Wayne Airport, Lagu Cafe is a franchise of the famous Japanese bakery, Okayama Kobo, in Anaheim, Calif. The cafe takes baked goods from Okayama Kobo and displays it to customers in a cafe setting where drinks and seating are available. The bread is baked fresh everyday and online pre-orders are available at the customer's convenience. Lagu Cafe is hidden within many office buildings which make the store harder to locate. However once there, its small interior makes for a more mysterious and cozy spot. The patio area is lined with colorful benches and stools to enjoy your meal outside. Moreover, the plants add to the aesthetic, yet simplistic design. The menu offers a variety of Japanese comfort foods such as Japanese rice balls known as onigiri and karaage, or fried chicken.  The wide selection of refreshing drinks such as the Jasmine Rose Tea and Strawberry Sakura Latte adds to the relaxing atmosphere as customers are able to fully de-stress. The cafe prides itself for their organic and fairly traded products which make for more of a reason to visit.
Its main store in Anaheim is usually packed with a long line of people, thus Lagu Cafe offers customers an alternative piece of Okayama Kobo. Though it is close to the airport, the area is fairly quiet. The cafe is open from Tuesday to Saturday and closed on all other days, including holidays.
The Cup
The Cup is a local coffee shop dedicated to serving its neighbors in Irvine. It is situated in Novel Park, a neighborhood of Portola High near the Great Park. The shop is fairly new, having only opened last summer and because it is located within a residential neighborhood, and the cafe is not widely known to those outside the community. The menu is highly selective as there are only nine drinks and four pastries on it. However, the cafe holds itself high to their vegan, dairy-free, organic and high-quality standards. The Cup supports local businesses by promoting their products at the store such as Nowhere Bakery, a vegan cookie bakery in Costa Mesa, and coffee beans from Huskins Coffee Company, a coffee roaster company founded by former Anaheim Ducks hockey player Kent Huskins and his wife. The innovative outdoor seating
like the swing seats and the seating under a huge tree adds to the modern look of the cafe. The wide grass area next to the shop is great for smaller children to ride around with bikes, furry friends to run around or have a picnic with friends and family. The cafe is in partnership with the community and allows customers to come taste-test new products as the menu is continuously being improved upon. The Cup is only open on three days: Friday, Saturday and Sunday.
Honeymee
Honeymee is a dessert shop situated in Irvine's Orange Square Shopping Center near the 99 Ranch Market. In total, Honeymee has eight stores in California and one store in Arizona. The store is encapsulated with many other famous restaurants and shops such as Kaju Soft Tofu and Yifang Taiwan Fruit Tea. The shop itself is also quite small and located in the back corner of the shopping center, hence why not too many know about the place yet. The small shop has only two tables outside for sitting, thus guests are encouraged to order pickup. They are committed to serving true milk ice cream made with fresh Californian milk sourced from a family-owned kosher dairy farm. Each ice cream is topped with 100% pure honey and honeycomb from a local, certified and award-winning bee farm. The shop focuses on incorporating honey to all their desserts to promote its health benefits such as its rich antioxidants, healing and anti-inflammatory properties. The most popular menu item is the Honeymee ice cream which starts off with their original true milk ice cream base and is finished off with corn flakes and a real honeycomb. Other menu items include hot and iced teas as well as milkshakes, all containing some form of their real honey. Honeymee also features TinyTan Shop, a merchandise store for the popular Korean boy band, BTS. BTS fans can find exclusive merchandise at Honeymee such as posters, stickers and phone cases. Honeymee is open daily from noon to 10:30 pm. 
Milk & Honey
Milk & Honey is a popular hot spot for students with its most popular location being in The Camp Mall in Costa Mesa. Its more secret location is near the Irvine Spectrum, surrounded by tall office buildings. The cafe was originally built there to allow office workers in the area a break from their long day of tasks. The cafe is a franchise of the same brand, but the Irvine franchise is not officially listed on the Milk & Honey website, making it a hidden gem. Though the Irvine location is much smaller than the Costa Mesa location, the smaller area and fewer people make the shop seem much bigger in atmosphere. Moreover, its hiddenness provides for a faster service while still maintaining quality experience. The relative peacefulness of the area creates a perfect study spot for students with almost no disruptions as a residential community neighbors right across the street. The shaded outdoor seating is decorated with a small succulent or cactus plant on each table, completing its minimalistic, yet fresh design. Customer favorites include the Acai Bowl, Honey Aloe Lemonade, the original fresh brewed coffee and the Lavender Latte, both which make perfect Instagram opportunities. Milk & Honey also offers takeout and delivery options which are ideal for grab-and-go runs.
About the Contributor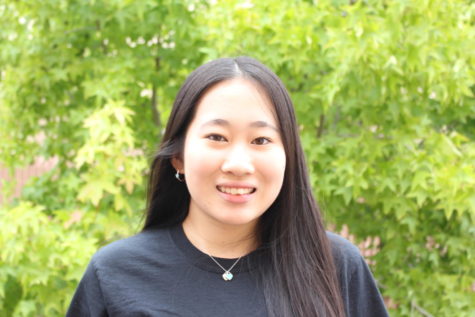 Leisa Komyo, Co-Editor-in-Chief
Hi Warriors! My name is Leisa Komyo and this is my third year in the Golden Arrow. I am honored to be working this year as a Co-Editor-in-Chief, photographer...