Staples Center No More, Now Crypto.com
Cryptocurrency buys naming rights of Staples Center; high school student and teacher share opinions
On Saturday, Nov. 13 of this year, it was announced that the iconic arena here in California known as Staples Center, was Staples Center no more. As it was confirmed that Cryptocurrency has purchased naming rights of Staples Center making it Crypto.com Arena. This Arena had been known to California, and the whole U.S. as Staples Center for 22 years. They are planning on making it official on Saturday December 25th, Christmas day, when the Lakers host the Brooklyn Nets for the NBAs annual Christmas showcase. 
According to ESPN this deal was made for a total of $700 million dollars which is believed to be the richest naming rights deal in sports history. The Los Angeles Lakers have won 6 NBA championships, once winning 3 times in a row in the arena. The arena has hosted 19 Grammy Award ceremonies, three NBA All-Star games, and two NHL All-Star games. It has also hosted countless high-profile concerts, performances and important public events. Staples Center also contains memorials for Michael Jackson, Nipsey Hussle, and Kobe Bryant. 
"I think it's an interesting investment in a professional sports arena. they host concerts and live events but I think it's indicative of where the world is going," Woodbridge High History teacher and Junior Varsity coach Tony Lin said. "I think it really benefits the company that's investing because it is going to very much put crypto currency in the mainstream with this naming licensing and again it seems like the world is heading towards a more digital world and crypto currency seems to be the next frontier so it seems like it's going to be a good synergistic move for crypto.com." 
He shares a never to forget moment he had of the Staples Center, "I've been able to go, I've been lucky enough to go to some clippers games for the playoffs in the past and I just went to one of the clippers games this past year we've lost but I think nothing really beats playoff basketball." Although he has this special memory he would not like to change anything about this news if he had the ability to. "I don't think I would change anything about it, I think that it does not have a huge effect on my life obviously as a Clippers fan it's gonna temporarily impact [me]." A separate stadium for the Clippers is set to open in 2024.
A Junior here at Woodbridge High, Telo Oweny,  had very strong opinions to share. "Honestly, I was really disappointed when I heard about that because Staples Center has been a traditional name for a very long time it's been a big part of L.A culture, Lakers culture and Clippers culture as a whole and I just feel like they kinda just sold it out for money and I feel like you can't buy culture so I was really disappointed." 
A lot of California natives are believed to agree that Staples Center plays a big role culturally in the entire L.A. area.
If you are interested in learning more about the Staples Center, visit these links below:
About the Contributor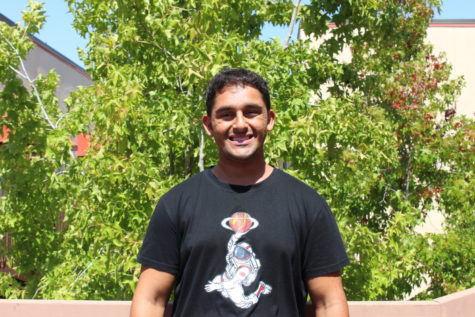 Danial Amirghahari, Writer
Hi Warriors!!! I'm Danial and I am a writer for the Golden Arrow. This is my first year in Advanced Journalism. Some of you know I am also part of the...