Students Lead a "Greener" Lifestyle
This year, students focus on becoming more environmentally friendly and leading a more sustainable lifestyle
Trash is all around us and it comes in many different forms such as food waste, recyclables and plastics. With the human population increasingly advancing everyday, more concern arises about the sustainability of our environment.
Sustainability refers to the ability to maintain a practice for an extended period of time. In regards to the foreseeable future, the hope is that resources and ecosystems are maintained at a certain level for a long time. This is because the environment provides humans with many ecosystem services. For example, the air that we breathe and the water that we drink all come from nature, as forests clean our air and water is extracted from rivers or streams. Without these services, it is unlikely that there would be life on Earth. 
An ecological footprint is the measurement of the amount of land and resources it takes to sustain our lifestyle and absorb our waste.
"Things like food, energy and transportation factor into the footprint. Someone with a small footprint might be eating lots of local seasonal foods and less red meat. They might often walk or ride a bike instead of driving a car. Traveling by airplane can dramatically raise someone's ecological footprint," environmental science and physics teacher Laura Mattair said.
One of the problems that adds to our ecological footprint is the use of non-renewable plastic. Plastic is a big problem in our society, particularly single-use plastic. For plastic to decompose, it can take longer than 1,000 years. These plastics, if not disposed of correctly, can end up in ecosystems like the ocean and destroy the balance of aquatic life. Plastic pollution begins from extracting, transporting, refining fossil fuels to make the plastic and ending with the plastic pollution problem in our oceans. 
To reduce plastic use, Mattair recommends students carry reusable water bottles and refill at the water stations around campus instead of using single-use plastic water bottles. 
"One easy way to be more green in our everyday life is to incorporate a sustainable mindset. What I mean is to be aware of the things in your life that might be wasteful and make small changes," Mattair said. "It is easy to get overwhelmed. If you commit to one small change at a time, it feels more manageable." 
Another problem we face in our environment is the issue of growing food waste. Food waste includes all of the scraps that are disposed of from meals, from preparation to consumption. It has a large greenhouse gas footprint and releases harmful gasses such as carbon dioxide and methane in its process from production to transportation. Food waste is almost always within control, especially in our homes, as we can manage our eating habits to be more sustainable. Eating fruits and vegetables, buying local food, gardening, focusing on plant-based diets and reading labels on foods, such as looking for the use of palm oil, can make a huge difference when it comes to reducing the impact on our environment through our food. Palm oil production is one of the many unsustainable practices in agriculture because of the amount of land that has to be cleared in order to make room for plantations, destroying many habitats. Avoiding palm oil in foods helps discourage production and can reduce the impact it has on the environment. Other times, food waste is not controllable, due to laws and regulations by the Food and Drug Administration and the U.S. Department of Agriculture, that govern grocery stores or restaurants to throw out edible food. Up to 90% of the world's food is wasted. 
Senior Mrunal Datar became a vegetarian in middle school after watching animal rights documentaries. Datar was also inspired by the effects of the meat industry, specifically beef production, in increasing carbon footprint. 
"Those who do not consume meat products are shown to contribute much less to global warming than those who do. With regards to dietary choices, even one day a week without meat makes a huge difference. If you have never gone a meal without meat, just one meatless meal makes a bigger difference than you think," Datar said.
According to Climate Action Brookline, if everyone went vegetarian for one day, the U.S. would prevent greenhouse gas emissions equivalent to 1.2 million tons of carbon dioxide, as much as is produced by all of France. Currently enrolled in environmental science class, Datar is growing her knowledge about topics such as the effects of changing diets and concentrated animal feeding operations on the environment. 
"During my recent years as an advocacy volunteer, I have noticed the tremendous influence we have, not only as constituents promoting animal rights legislation, but as humans, making simple, but life-saving changes. In 2020, I found myself reading many such blogs on animal rights, and so I started my very own. My blog: Stand Up to Speciesism, is for those who want to make that change but are unsure how they can help," Datar said. 
Additionally, Southern California has faced a water availability issue for decades. In recent years, residents have seen this issue exacerbated. In agriculture, drip irrigation is the most sustainable form of irrigation as it decreases surface runoff of chemical fertilizers which could cause eutrophication events, and there is less waterlogging of the soil. However, it is very costly and time-consuming, thus it is not fully utilized in places such as developing countries. Turning off water when not in use, using water sparingly and taking shorter showers can help reduce the problem. 
"Irrigation for agriculture accounts for nearly 70% of our water use and besides not wasting food, there is not much we can change about that in our day-to-day lives. However, we can be more sustainable with our personal water use. Simple things like turning the water off when you are brushing your teeth or timing your showers can help," Mattair said. 
To change how food waste is recycled, a new organic waste law called the Senate Bill 1383 was published in Feb. Essentially, Irvine residents are able to recycle their food waste in the near future, if the waste service has not already been made available to them by their waste hauler. Instead of sending food waste right to a landfill, food waste can be composted and reused as a soil amendment, or the waste can be recycled into renewable gas. Participation in the organic waste collection services is crucial in reducing short-lived climate pollutants and is a great way to live more sustainably. 
The organic waste service is not offered to all Irvine residences yet, so residents should keep an eye out for any information from their hauler or property manager so they can start recycling their food waste as soon as the service is available to them. In the meantime, households are encouraged to practice composting in their own backyards. More composting information is available at https://tinyurl.com/3un5rpur. To learn more about Senate Bill 1383, read SB 1383 Can Save Our Planet and Hunger Problem on whsgoldenarrow.com. 
Besides plastic use, food waste and water shortage problems, climate change is another factor which threatens our environment. It is an important threat as climate change directly correlates with problems such as sea levels rising from polar ice caps melting. It could also indirectly lead to more energy usage to cool down such as the use of air conditioners. Carbon dioxide ends up in our air from burning of fossil fuels, certain transportation methods, industrial emissions and agriculture. The current concentration of carbon dioxide in our atmosphere is 418 ppm and since 2000, the world has experienced 19 of the record-breaking warmest summers yet. With climate change increasingly getting worse each year, scientists worry that the rate at which it is increasing could eventually skyrocket in the future. Thus, climate change is an issue needing immediate action from the world today to lessen the impacts on the future. 
"Climate change is affecting everyone, but particularly marginalized communities that do not have adequate resources to combat its effects. The effects of natural disasters, sea level rise, ocean acidification and poor air quality, for instance, are ravaging our world," Associated Student Body (ASB) freshman president Matthew Chang said. "A year ago, my peers and I were sent home from school because of the poor air quality caused by the California wildfires. The climate crisis is real and it is a growing issue."
Chang, being born and raised in California, recalls his earliest memories asking his parents about the movement of ocean tides and learning about the towering heights of Redwood trees. Chang has always had a passion for the environment and continues to grow his knowledge. 
"I grew up feeling blessed to live in a world full of natural wonders…The first time I heard the words 'climate change' was in the sixth grade during a school assembly. After learning about the drastic impacts of ocean acidification, sea level rise and increasing global temperatures, I felt deeply compelled to act," Chang said. "Using my platform as my school's student body president, I decided to teach my peers more about this issue. I organized fundraisers for environmental causes and broadcasted weekly fun facts about climate change." 
While living more sustainably might sound like an easy feat, realistically speaking, it involves making significant changes to people's lifestyles and is a long, but much needed process. Taking small steps and focusing on positive improvements is a helpful way to start. For example, currently, there is a new trend in urban landscaping to remove grass lawns, which are water intensive, and replacing them with vegetation that is better suited for the local climate. However, Mattair agrees that there are still some limitations and restrictions to solutions as changing the way people live is a sacrificial effort. 
"It can seem overwhelming and difficult because sustainable products tend to be more expensive and not what we are used to based on texture, performance or aesthetics. Sometimes it can be difficult to avoid some things because of label confusion or deceptive marketing practices. This becomes a little easier the more committed you are to making a sustainable change," Mattair said. 
To combat these environmental issues, many efforts are currently in place and their programs continue to grow. Internationally, the United Nations (UN) has established the United Nation Environmental Programme (UNEP). In Oct. and Nov. of last year, UNEP held the COP 26 UN Climate Change Conference in Glasgow, United Kingdom, to make a bold commitment to decrease methane emissions, fight forest loss, phase out the use of coal and many more initiatives. In the United States, major laws are in effect today such as the Clean Water Act and the Clean Air Act. Within our community, the Irvine Climate Action Network is working to fight these issues and collaborate with government officials to make these necessary changes such as initiating petitions and fundraisers to help the city put programs in place. 
According to Organic Waste Recycling Policy Coordinator and CivicSpark Fellow at the City of Irvine's Environmental Programs division Serena Lee, the City of Irvine has committed to a strategy to reach carbon neutrality by 2030. This means that the city will not be contributing to worsening climate change. Thus, the city is looking at becoming less dependent on fossil fuels, and using more renewable energy. Recently, the City Council reached a decision to give a choice to Irvine residents to either continue to receive energy that they are already using, or instead draw from sources of energy that are 100% renewable. Along those lines, there are plans to install more electric vehicle chargers at City Hall, in the hopes that a larger infrastructure of electric charging locations will encourage clean transportation. 
Not only are residents encouraged to make sustainable changes, the city offers a Green Business program to help businesses make greener changes. The program offers a free on-site assessment of a business, a customized action plan, and step-by-step guidance to meet certification criteria. Businesses may be refunded up to $500 for costs incurred to meet the criteria. As a result of making these sustainable changes, businesses may use fewer resources, like water and energy.  
Additionally, the city holds a bi-monthly Green Ribbon Environmental Committee meeting in which Irvine residents are encouraged to join the meetings and learn about what environmental work is being done, or what projects are being considered. At each meeting, there is space for public comment, and participation is encouraged. The next committee meeting is slated for April 13th at 4:30pm on Zoom. 
"The city would love to hear students' thoughts and ideas on items related to sustainability, like waste management or transportation," Lee said. 
The Cool Block Program, a joint initiative between the City of Irvine and the Empowerment Institute, a non-profit organization which developed the program, empowers Irvine residents to take individual action to live a life that adapts to the effects of climate change, including topics such as disaster resilience, water consumption, waste reduction and living a lower-carbon lifestyle. The program relies on Cool Block Leaders, who facilitate meetings with their neighbors through an eight week-long sustainability course designed to inform residents about steps they can take towards leading more climate-friendly lifestyles.  At the end of each discussion, each family will pledge a sustainable action to make their household more environmentally-friendly. With the actions of each of the households on the 'cool blocks' throughout the city, the program participants will help create a 'Cool Irvine' to help the city achieve its climate goals, and reach carbon neutrality by 2030. The program includes general informational resources and is also tailored with resources, such as rebates, relevant to Irvine. Cool Block Leaders must attend a training session before they start to facilitate discussions, and there are training sessions offered every two months. The next cohort of Cool Block volunteers begins in March, and the following cohort will begin in May. The program is always looking for people to volunteer as a Cool Block Leader. For more information or to register as a volunteer, visit coolirvine.com. It is a great way to not only learn about becoming more sustainable, but also brings neighbors together and is intended to enhance their sense of community. 
"It is not only imperative that the city itself take climate action, but it is also important that residents take matters into their own hands and empower themselves to take individual action. To paraphrase a saying I heard elsewhere, it is more impactful for everyone to do sustainability imperfectly than to have just a few people be perfectly sustainable," Lee said. "The Cool Block program is a perfect vehicle of information to encourage folks to change a few things in their lives. The city cannot act in a silo to reach carbon neutrality – it needs the help from residents to reach that goal."
According to CivicSpark Fellow for the City of Irvine's Climate Programs Cameron Grannis, the City of Irvine was one of the first cities in California. to set an ambitious goal to achieve carbon neutrality by 2030. The Climate Action and Adaptation Plan (CAAP) is an important step in identifying how the city will achieve this goal. 
"When completed, the CAAP will lay out a pathway to achieving our climate goals across both municipal operations and community-wide. Through thoughtfully planned greenhouse gas emissions reduction and climate adaptation measures, the CAAP will build upon Irvine's previous steps towards climate leadership in Orange County to create a truly climate-safe city for the future," Grannis said. "The effort to develop the CAAP kicked off in summer 2021 and is ongoing, with a goal to complete the plan by winter 2022. An important aspect of the CAAP is engagement and input from the Irvine community." 
For more information, visit https://footprint.wwf.org.uk/#/ to learn more about ecological footprints, and https://tinyurl.com/mrm4bz7u  to learn more about companies that are certified to meet high standards on environmental and social performance, transparency and accountability. Also, visit ​​cityofirvine.org/climate-planning to stay updated about the CAAP and ways students can help the city. For information about waste reduction, water conservation and some of the other environmental programs available to Irvine residents, visit the City of Irvine website. For seasonal updates on upcoming events and programs, such as composting classes or the latest updates on new organic waste collection services, please subscribe to the City of Irvine's Environmental Program's e-newsletter at https://tinyurl.com/44dw7m22. 
Tune into Matthew Chang's morning fun facts about the environment every Friday in homeroom during announcements.
Cleaning Up Around Our Campus: 
Students can make a change starting with our Woodbridge High campus. Cleaning up after ourselves and helping others will greatly benefit the initiative to become more sustainable. 
Woodbridge High's custodial team employs four morning custodians and five night custodians, all tasked with cleaning up around different parts of the school. 
Armando Flores is one of the night custodians who has been working at Woodbridge High for about five months. Night custodians are mainly in charge of cleaning the bathrooms as well as vacuuming. 
"For night custodians, we divide certain buildings and certain restrooms to do. For example, I am responsible for the bottom E building, L and M buildings [and] also the new theater. For the morning custodians, they focus on things that happen during school hours," Flores said. "I would say around the lunch tables mainly during lunch time [is when there is the most trash]."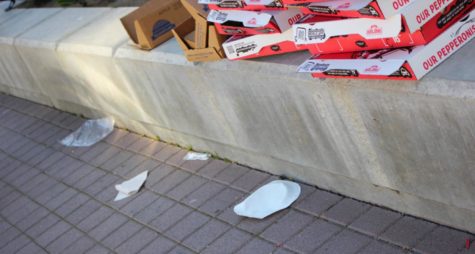 Plant Supervisor Jesus Cazares has been working at Irvine Unified School District (IUSD) for 35 years, four of which are at Woodbridge High. Cazares emphasizes that with a small custodial staff and a large area to cover, helping the custodial team clean up is greatly appreciated. 
"At each table, there's a trash can and [students] leave the stuff on top of the tables. We have approximately 16 trash cans at the Main Quad. If [students] can utilize the trash cans, that would help us out a lot," Cazares said. 
Custodian Emma Rosa agrees with Cazares and Flores about students joining in the initiative in collectively helping clean the campus. Rosa has been a part of the custodial team for 16 years and is in charge of cleaning the G, K, J and M buildings. 
"Do not throw trash on the campus because we have a lot of trash cans…It's a lot of work to do," Rosa said. 
The custodial team emphasizes not throwing food waste on the ground during break and lunch as it stains the cement concrete. It is not only aesthetically unpleasing, but it also takes a lot of effort to remove those stains.
"We care a lot for the campus. We are here for the kids. We want to provide a clean place for [students]," Cazares said.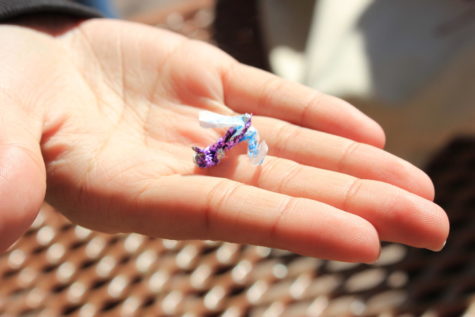 The custodial team works hard every single day to provide a safe, clean school environment for students. 
Students can help out the custodial team clean up by picking up their trash and knowing where to place trash in the right places. Paper recyclables go in the blue bins marked with a triangle recycling sign, bottles and cans go in the green labeled bins which have a circular hole at the top for the bottles to fit through and all other trash goes in the regular trash bins located all around campus. 
"I'm happy to be a part of Woodbridge High. We just hope students understand we work hard and we are doing our best in keeping the school clean," Flores said. 
To hear more from Rosa, read Everyday Heroes Support both Students and Teachers with Personal Touches on Campus on whsgoldenarrow.com.
Clubs Educate Students About Recycling: 
To learn more about how to recycle or live sustainably, students can also join environmental clubs on campus.
Clubs such as the Recycling Club are dedicated to helping the custodial team keep the campus clean. Recycling Club members meet during tutorial every Wednesday to recycle water bottles and paper recyclables.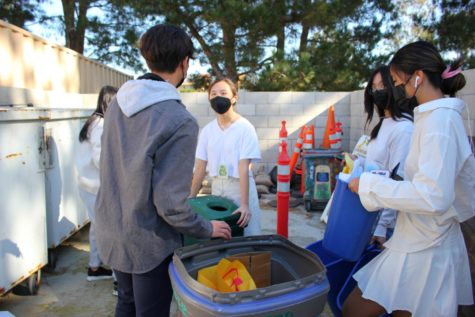 "There was a club like this before at Woodbridge [High], but after quarantine, clubs disappeared and we just realized that we need to make our environment cleaner. After quarantine, people are not used to coming back and are just leaving trash everywhere. Recycling was pretty messy, so we thought it was best if we could help out and try to make a change or something better, even if it is just a little bit," president and sophomore Caleb Jang said. 
For every club meeting, members are able to earn 30 minutes of community service for recycling. Before getting their assigned classrooms, members are taught how and where to recycle. 
"To us, recycling means to not only protect our environment, but to create a healthier lifestyle and create a committee of people where they can come together to protect the Earth and save it," Jang said. 
Secretary and sophomore Mark Park recommends students to start bringing reusable water bottles and reusable containers for lunches to be more sustainable at school. 
"By recycling, you just get to feel better because you feel a lot cleaner and you can even save money because you do not have to waste them on plastic water bottles all the time. Some recycling centers pay you to recycle some materials," Park said. 
For more information about Recycling Club, visit their Instagram @whs_recyclingclub or join their Remind @recyclewb1. 
In addition to the Recycling Club, Eco Pals is another club on campus dedicated to raising awareness about the environment. Eco Pals is a service project-based club motivated to educate members about the importance of recycling and what impacts it has on the environment. Eco Pals' main projects include recycling and beach clean-ups. 
"I think a lot of people want to help the environment, but they don't really know where to start or it's too much work. It's good to be able to set everything up and tell people to just bring in their bottles. It makes an opportunity for people to be a little bit more eco-friendly," president and senior Ally Whyte said. 
Vice-president and senior Milena Novakovic started learning about the climate crisis through a documentary in her freshman year in her biology class and through her family who educates her about climate change leaders like Greta Thunberg. 
"I think the most important way is just taking those first steps, those five seconds that it takes to throw your trash away and put your water bottle in the recycling bin. It's very easy just to do the bare minimum as long as most people have that little reminder to do so…Doing the bare minimum can make a big difference and from there, taking other steps like thrifting, using reusable bottles and putting that awareness one step further," Novakovic said. 
Whyte and Novakovic also enjoy meeting new people through the club. Their favorite part about it is that more people are able to participate in the shared effort to help save the environment. 
"I think it's fun when we get the recycling bags and we cram it into my dad's truck. It's packed to the brim and we just drive this big, old truck to the recycling center. It is kind of fun because you can see how many people participated," Whyte said. 
Whyte and Novakovic encourage students to join the club to educate themselves more about how to live more sustainably and learn more about environmental issues impacting the world today. 
"Understanding what you are doing and how you can do it to just make the world a little bit of a better place is important. Even just putting that minimal emphasis does make a difference and that always feels good at the end of the day," Novakovic said.
For more information about Eco Pals, visit their Instagram @whs.ecopals.
Q&A with Matthew Chang: 
Q: Why should students care about the environment? 
A: "Students should care about the environment because it affects them. Don't listen to me, listen to science. According to the National Oceanic and Atmospheric Administration, 'Drought can harm food production and human health. Flooding can lead to disease spread and damages to ecosystems and infrastructure. Human health issues can increase mortality, impact food availability and limit worker productivity.' As youth, we need to unite to make lasting change in our communities. Climate change will not greatly affect adults today, but the children and grandchildren of this generation." 
Q: Who should we look to for help in saving our environment? 
A: "Look to yourself. You have the initiative and courage to make sustainable change. Without you, there will not be major change. The climate movement needs everyone, from small to tall, young to old, from students to presidents, to act on this pressing issue." 
Q: Is there any hope in recovering from climate change? 
A: "Yes, of course. But we need to take action today. Start small. Make small changes in your daily lifestyle, whether that might be your diet, method of getting to school, or how high you turn your air conditioning. While these innocuous changes might not seem major, there is power in numbers."
Q&A with Serena Lee: 
Q: Why should people care about saving the planet? 
A: "To eat the produce we like to eat, we need to ensure that our pollinators thrive. For those who enjoy seafood, we need to ensure that we are taking care of our ocean ecosystems. Saving the planet not only helps the environment; a healthy environment means healthier people. We can all protect our environment in small ways, like planting a tree in our yard or growing some native flowers that attract butterflies. We can ensure that we are properly disposing of our hazardous waste, so that pollutants do not seep into and contaminate our water systems or harm life. Environmental Programs has been working hard to protect both Irvine residents and Irvine's beautiful environment so that we can all reap the benefits in the end." 
Q: Does the Environmental Program have any upcoming events? 
A: "Our next event will be an Earth Day event at Quail Hill from 11 AM to 2 PM. Please come by and say hello. For more information, visit cityofirvine.org/EarthDay. The city is looking for students to provide input on its Climate Action and Adaptation Plan via a survey that will be linked on the webpage cityofirvine.org/climate. The survey is not live yet, but it is expected to be posted on the website in late April. Please keep your eye out for the survey, and let us know your thoughts on our climate plan. The city values students' thoughts and wants to ensure that everyone's voices are heard." 
Q: Where can people find resources?
A: "I want to emphasize that the city, and specifically Environmental Programs, is here to support its residents. If anyone has any questions or needs support, Environmental Programs can be reached by emailing [email protected]. If folks have questions about waste or other environmental initiatives, they can call the Irvine Recycle Hotline at 949-724-7669, and city staff will reach back out to them as soon as possible."
About the Contributor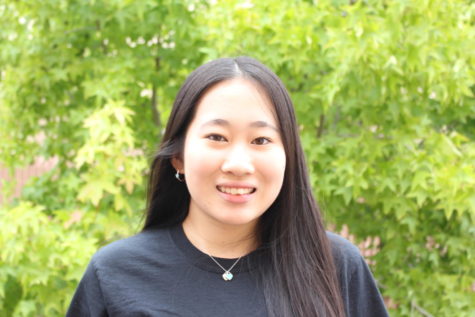 Leisa Komyo, Co-Editor-in-Chief
Hi Warriors! My name is Leisa Komyo and this is my third year in the Golden Arrow. I am honored to be working this year as a Co-Editor-in-Chief, photographer...