Front Office Staff Steps to the Forefront in the Battle Against Covid-19
As the pandemic continues, the front office staff stay alert to attend to the staff and students' needs
With Covid-19 ongoing in the 2021-22 school year, the Woodbridge High Front Office staff continue to adapt to the constant changes by following national and county health guidelines to mitigate the spread of the virus on campus.
The staff's Covid-19 protocols begin once the district is informed of a case. Cases can be reported in various different ways such as emailing teachers and counselors, calling the Health Office, indicating on Aeries and reporting the absence to the attendance hotline. Office attendance staff members Kristine Arebalo and Dana Fahr are in charge of logging students' attendance to ensure students' return dates are accurate. Additionally, they inform the Health Office and administrators of students' absences, symptoms and exposures.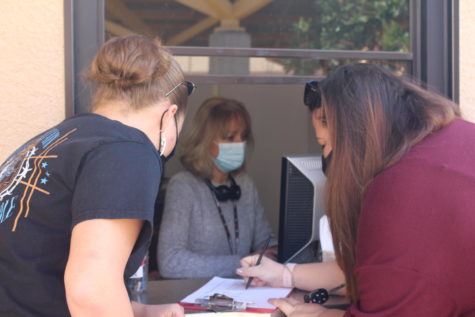 "Just like everything else, our campus has had to adjust with the pandemic, while still providing education for our students: from having 100% of our students on campus, then remote online learning, then 50% of our students on campus (Cohort A&B) and then finally having all our students back on campus with safety guidelines," Arebalo said. "It's a great feeling to see students on campus again and enjoying time with their peers, athletic events and campus events."
Fahr has been working at Woodbridge High for almost five years and has noticed the conscious measures the campus has taken over the months.
"The campus has evolved by constantly changing due to new guidelines. We can't get very comfortable because before you know it, it changes. But, we've experienced great communication, so we just pivot as needed," Fahr said.
Additionally, office assistants Rebecca Hernandez and Michelle Patterson support students by distributing free polymerase chain reaction (PCR) Covid-19 tests to students and answering school-related questions.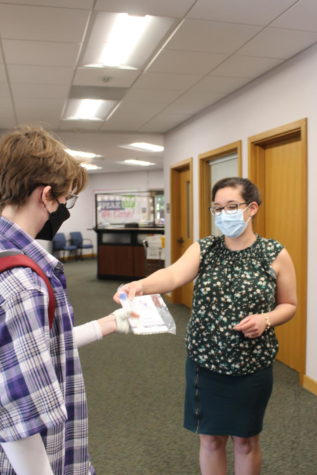 "I've never loved a job so much in my life. Everyone has made me feel so at home in such a short amount of time and I'm proud to be a fellow Warrior and staff member," Patterson said.
Beyond providing tests and attending to questions, Hernandez and Patterson support other Front Office staff members in various ways.
"There are many parts to my job. Some things include answering phones, taking parent and student questions, rescheduling detentions, signing visitors in, delivering mail, helping out staff, fixing printers, helping with emergencies — the list goes on," Hernandez said.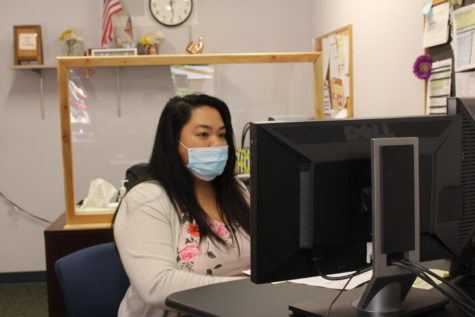 On top of her duties as a school nurse, Daniella Gorman plays a major role in Woodbridge High's Covid-19 protocols by providing the main health guidance to educate students, staff and families on Covid-19 updates, treatments and information on returning to school.
"It's inspiring when people work together and we accomplish things, and it's been really wonderful to be a part of a team that works so hard for students. I think it's a struggle to stay positive. It's really hard, so I try to focus on what is my favorite part of this job, which is interaction with the students and working with students and their families," Gorman said.
Gorman has previously worked in the K-8 schools within Irvine for 11 years. Even though she started working here at Woodbridge High earlier this year, she has seen the campus adapt in many ways.
"I'm really proud of these students and how they've taken personal responsibility in doing things like wearing masks and when they're Covid[-19] positive, sharing that information with their friends, and with me, so we can stop that chain of transmission," Gorman said.
As the pandemic evolves over time, the Front Office staff continue to stay updated with new protocols and provide students with more resources to overcome the challenges.
"I know [the pandemic] has been tricky, and I feel like everyone really has been trying their best to get past these difficult times. Everyone has been very responsible, very safe, and I'm so happy we are all in person at school," Patterson said.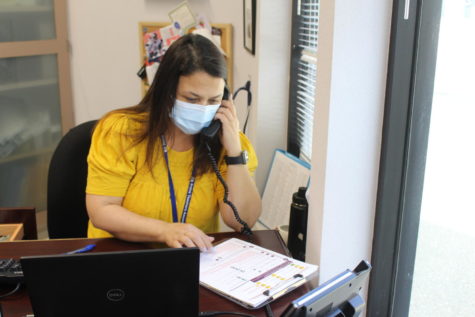 Q&A with Daniella Gorman
Q: What ways can students protect themselves and their loved ones from Covid-19?
A: [Students] can get vaccinated, wear their masks, wash their hands and be aware of the group settings that they're in. They can [also] stay home if they're sick and test.
Q: Where can students find more Covid-19 resources?
A: IUSD has a Covid-19 resource page, the health care agency has a resource page [and] Woodbridge High has a health office link on our webpage. The California Department Public of Health (CDPH) has good links too to help find resources.
Q: If you could say anything to our Warrior audience (students and families) regarding the pandemic, what would you like to say?
A: Each of us still needs to do our part. [Doing our] part is to stay home when we're sick, to test, to wear our masks. I think everyone needs to be vaccinated; we need to do everything we can to help stop this.
About the Contributors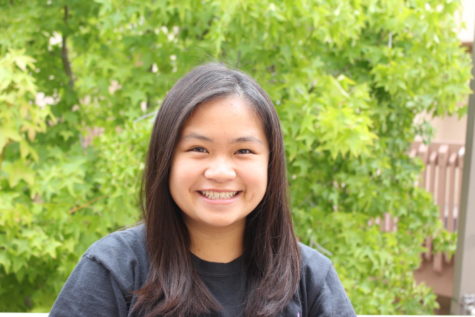 Natalie Nguyen, Co-Editor-in-Chief
Hi Warriors! My name is Natalie Nguyen and I am a senior. This will be my fourth year of being a part of the Golden Arrow. I have formally served as the...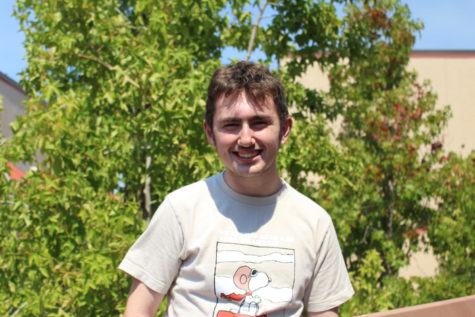 Brandon Foschetti, Photographer
Hello Warriors! My name is Brandon Foschetti and I am a photographer for the 2022-23 school year! I have loved photography ever since I was a little kid,...