The Media Misconstrues Mental Health Issues
While teenagers have been taking in a lot of information about mental health from television media, there are dangers that unravel beneath such a glamorized outlook
Content warning: This story deals with topics such as mental illness and substance abuse, TV shows rated for mature audiences and potential spoilers.
Within the media, mental health issues have become a hot topic, with good intentions to stop pre-existing stigma. However, everything online is constantly being edited and picture-perfect so it is inevitable that these issues are glamorized; dipped in sugar and passed around for society to take a bite from.
A lot of shows have been spreading misinformation about mental health issues and also presenting them in a more aesthetically-pleasing approach rather than just the reality of them. While the shows are making leaps towards more open conversations about topics usually perceived as taboo, glamorizing is still very dangerous to the receptive audience.
For example, the first season of "Euphoria" aired in 2019 and it returned with a second season this year. It follows character Rue Bennet, played by Zendaya Coleman, as she grapples with a narcotic addiction. It takes place in a high school setting with all characters struggling with their own mental health and substance abuse issues. 
On social media, people poke fun at the unrealistic aspects of the show; how the students bring no backpacks to school, act much older than being 17 or 18 years old and they seem to be abusing substances in every episode. This can set up inspiration for the adolescent audience to pursue the more adult topics that the characters take on, specifically ineffective coping mechanisms. 
Woodbridge High School Psychologist, Michelle Aaronson, acknowledges that some TV series focus on harmful activities rather than the helpful ones.
"I do still think that there's a pretty heavy stigma around mental health; particularly in getting treatment for it. I think the thing about TV shows is that they like to highlight the mental health issues and the poor coping strategies, so these positive coping strategies: actually like going to therapy; it's still very stigmatized," Aaronson said. 
Another popular TV series is "13 Reasons Why", spanning a total of four seasons, with the first one airing in 2017. The show was adapted from the book by Jay Asher. It takes place in a town where a high school student by the name Hannah Baker commits suicide, leaving behind tapes to different people explaining why they caused her death.
When the show first came out, many schools actually sent out messages, warning students about the serious topics discussed in the series. While people may have brushed this off and continued watching, it seems that now the schools were acting appropriately to prevent students from watching the romanticized events that poorly depicted mental health issues; by dramatizing rather than raising awareness.
Despite shows repeatedly glamorizing these sensitive issues, there are some other series that show reality that shine through.
Woodbridge High School Psychologist, Sarah Sabaghzadeh, brought up the reliability aspects of the series known as "Never Have I Ever", which aired in 2020 on Netflix. It has been successful with a total of two seasons, and a potential third on the way.
The main character, Devi Vishwakumar, starts off as a high school sophomore, after having struggled with grief and ending up in a more uncommon mental illness known as psychosomatic shock. She was left in a wheelchair after witnessing the death of her father and was briefly paralyzed despite no physical harm occurring to her. When an event causes a sudden rise of emotions it can result in your body's physical response, and in her case she was left motionless. 
As she tried to regain some normalcy throughout the series, it is evident how much the audience related with her more impulsive decisions. She also struggled with coping with the loss of her dad while navigating more realistic high school challenges, such as looking for a relationship and trying to maintain friendships.
In the series she starts therapy with a fun and relatable therapist. She helps her manage her life, and get through different decisions while looking at the world from a different perspective. This gives a more positive outlook on receiving treatment for mental health, which steers away from how other shows don't show the therapy process and successes that they can result in. 
In "Euphoria", when Rue went to rehabilitation she came out of it unsuccessful, perpetuating to the audience that getting help will result in a negative outcome. However, "Never Have I Ever" is able to portray therapy to appeal to adolescents and show the progress therapy can generate for a patient.
There is another Netflix show that may seem unlikely to tackle these topics as an animated series. 
According to an article from Impact, "[There] are a handful of [mental health] issues addressed in Netflix's animated programme "BoJack Horseman". Yes, you did read that correctly, an animated programme. It follows the exploits of the titular BoJack, a washed-up, narcissistic, alcoholic, drug addicted, former 90's sitcom star, as he attempts to stage his comeback surrounded by his roommate, his agent and his ghost-writer."
Following the antihero horse, BoJack, the show is there for his every bad decision and good moments. It constantly demonstrates the impact he has on the people around him and how his negative coping skills contribute to this. 
Despite the show being in a cartoon style, it still manages to show flaws within each character without glamorizing it in a mature setting with some comedic relief. 
His ghost-writer, Diane, says in the show, "I don't think I believe in 'deep down'. I think that all you are is just the things that you do."
While this may be more melancholy, it still voices the idea of reality, instead of just glossing over mental health issues and the negative coping skills that people partake in. 
In the show BoJack responds: "I am in pain, all the time. My whole life. And you have no idea." 
His vulnerability shows how he finds it hard to relate with having a positive mindset which has resonated with the audience. He is admitting his faults and how he struggles with finding happiness.
Probably one of the more positive aspects of the show is that BoJack does end up going to rehabilitation and receiving help. When the show ends, it leaves him to be a person finally facing the consequences of his actions as he is recovering and continuing to improve himself. There is this misconception that people need to be fully perfect in order to show progress with their mental illness, but BoJack is proof that even some change means a lot.
With so many shows constantly being spread around in the media, it can be challenging to determine what series steer away from glamorization. While "Euphoria" and "13 Reasons Why" do not paint an accurate picture of mental health issues, that does not mean students have to stop watching them all together. Taking in the media's perceptions of these issues with a grain of salt can be helpful, while reminding ourselves that reality is not equivalent to what is on screen. 
If you or someone you know is struggling with suicidal thoughts or mental health issues please reach out! The counseling office at Woodbridge High School is always available to students in need.
Here are some emergency resources for support as well:
National Suicide Prevention Lifeline: 1-800-273-TALK
California Youth Crisis Line: 1-800-843-5200
Crisis Text Line: Text HOME to 741714
About the Writer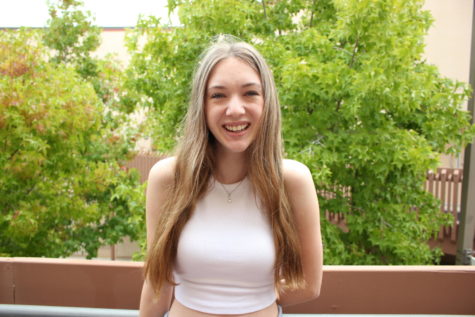 Heather Hershfield, Photo Editor
Hey Woodbridge! Writing has always been a creative outlet for me and a way to express my thoughts. "Write hard and clear about what hurts." -Ernest Hemingway....