Varsity Boys' Volleyball Makes a Valiant Attempt to Defeat Portola High at First Home Game
Woodbridge High's volleyball team hosted their first home match against Portola High on March 4
With the start of spring season, the boys' volleyball team returns to the court with high hopes of ending the season completely, due to the offset of Covid-19. 
"The last two seasons have been cut short…two years ago, they just completely shut down spring sports all together. And then last year, towards the end of the season right before we were about to go into CIF…we ended up getting quarantined," coach Alan Ho said.
With the promise of a full season, the team is training harder than ever, working together to smooth out rough edges and adjust to new players. 
"Just trying to pull it together as much as we can, working out different combinations of positions, and servings and rotations. I would say for the most part, just trying to build a team out of a bunch of individuals," senior and team captain Andrew Bakker said. 
Sophomore player Xander Uenishi shares his excitement about finally returning to what seems to be a normal season, "I'm really excited about the audience, the whole crowd that's going to be joining for the games."
The team had their first home match of the year on March 4. The game was against Portola High and ended in a loss for Woodbridge at a score of 0-3. 
Set one started off with a serve from Woodbridge player and sophomore Kellen Larson. The rally ended with a kill, which is when the opposition is unable to return the ball, from Portola, resulting in Portola gaining the first point. After a few more rallies, Woodbridge was able to earn their first point of the match when Portola hit the ball out of bounds, bringing the score to 5-1. After an intense set, Portola eventually took the first set at a score of 25-15. 
Set two starts with a serve from Portola, and after a long and intense rally, junior Gabe Starling kills and earns Woodbridge the first point of the second set. 
Woodbridge and Portola continued to stay at extremely close scores, with Portola only having the advantage of a few points. Finally, freshman Logan Matsuda and junior Jack Thompson performed a successful block, pulling Woodbridge up to tie with Portola 13-13. Woodbridge was able to pull ahead by several points, 17-14 but their success was short lived as Portola gained several points, making the scoreboard even at 17-17. The scores continued to stay close throughout the set but eventually ended with Portola taking the second set 25-20.
Set three starts with a serve from Larson and the rally ends with a kill from Portola. Matsuda got a kill, earning Woodbridge their first point for set three. Throughout set three, Woodbridge trailed closely behind Portola, but was unable to pull ahead, allowing Portola to stay in the lead and eventually take the set 25-21 ending the game with Portola with all three sets. 
Despite these losses, the team is still positive and is continuing to improve and grow.
"[Designing] drills where it is best suited for the things that we are going to do. Each team is suited to play in one style compared to another style," Ho emphasizes. 
As the season continues, Woodbridge High's boys' volleyball team aims to carry on with their positive and vigorous attitudes and continue to work harder.
"A goal…[would be] to actually finish the season on our own terms," Ho said.
About the Contributors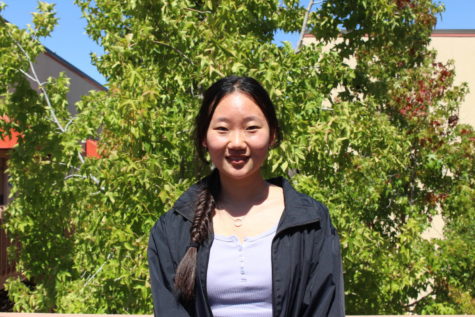 Ruby Yang, Co-Editor-in-Chief
Hello Warriors! My name is Ruby Yang and I am currently in my third year at Golden Arrow. I am so honored to be Co-Editor-in-Chief alongside Ethan this...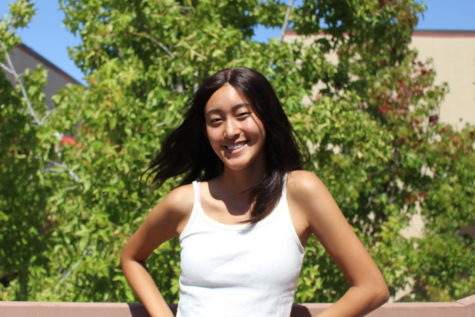 Lena An, A&E Editor
Hi Warriors! I'm Lena and I am very excited to be a member of the Golden Arrow as an illustrator! I hope to contribute to our publication through illustrations...