Warriors at Bat
Woodbridge High's teams extend the sports' heterogenous histories as the 2022 softball and baseball seasons ensue
Baseball's Beginnings
Ironically, the most quintessentially American sport is derived from a mix of two British games: rounders and cricket. The first baseball game occurred in 1751, before the United States, as it is now known, existed. A century and a half later, William Hulbert and Albert Spalding founded baseball's National League in 1901, and the first World Series premiered two years later.
"America's Pastime" has fluctuated in tandem with the United States' successes and crises. According to the National Baseball Hall of Fame, soldiers used baseball games as welcome distractions during the Civil War, and major league players served in the Chemical Warfare Service during World War I. During World War II, women founded the All-American Girls Professional Baseball League to continue the game and boost morale while men fought overseas. This league was later featured in the 1992 film "A League of Their Own," starring Geena Davis and Tom Hanks.
Curveballs & Controversies
Despite its patriotic affiliations, baseball has often failed to include every demographic of America's diversity. Lesser-known African American players such as William Edward White and Moses Fleetwood Walker predated the famous Jackie Robinson and played in professional leagues in the late 19th century, despite unwritten rules that barred African Americans from competing. Fifty years later, Robinson famously broke the color line by joining the Dodgers in 1947.
Baseball's harmful treatment of minorities extends to women, but Columbia Broadcasting System (CBS) news reports that Major League Baseball (MLB) has instituted new guidelines in early 2021 to limit harassment of all kinds. The MLB created an anonymous hotline to report harassment and discrimination, and mandated anti-harassment training for team executives.
The New York Times states that the Chicago Cubs' general manager Jed Hoyer, "told reporters that teams should vet prospective employees as extensively as they do first-round draft picks and make sure their environments are safe for women."
Baseball at Woodbridge High
Ryan Brucker has coached Woodbridge High's baseball team for eight years in total: three as an assistant coach and five years as the head coach. In these eight years, Brucker has led the team to championships in 2016 and 2021.
His additional role as a history teacher has given him the perspective to reflect on baseball's evolution, specifically the gameplay in the 1960s.
"The pitchers sort of dominated the game and…the game play wasn't so much relying on a home run like they do today," Brucker said. "Strategy came into play, which I liked a lot."
Strategy comes heavily into play during baseball practices, where players work in batting cages and then are split into groups based on position to sharpen specific skills.
Junior Matthew Kurumotto, who plays third base, left field and pitcher, relishes the skill and practice baseball requires.
After working in groups, Brucker asks the team to unite to run defensive drills. The players obey but yell "yes, sir" with playful reluctance. Particularly tricky catches are rewarded with rowdy congratulations that echo over the cacophonous serenade of rap music playing from a speaker in the corner of the diamond. The practice ends with Brucker hitting balls into the diamond to see how many consecutive outs the team can throw. This season, they have yet to beat the Woodbridge High record of 52.
"We've been working really hard to reach our goals and defend our league title," Kurumotto said. "My goal is to play division one baseball in college."
Two centuries after the colonists played the first baseball game, baseball at Woodbridge High began. The game as Warriors know it today, remains connected to its history, but continues to evolve. Baseball's tumultuous history cannot be ignored or forgotten, because wiping clean any element of its legacy would be a disservice to those who loved the game with enough courage and passion to improve it. Keeping Woodbridge High's values in mind, integrity, empathy and perseverance, can make modern baseball a healthier, more compassionate game without sacrificing its most beloved aspects.
Softball's Inception
The first version of what is now known as softball was invented in 1887 at a Harvard-Yale football game. According to United States Olympic Softball, Chicago Board of Trade reporter, George Hancock, saw a Yale enthusiast throw a boxing glove at a Harvard fan, who hit it back with a stick. He latched onto the idea of a soft ball and a large bat, and softball was born.
The game evolved over the next fifty years, moving from indoor venues to outdoor fields, and the once nameless game was christened Kitten League Ball in the summer of 1900, before changing its name to softball in 1926. The first official tournament took place in 1933 at the Chicago World Fair, where the games were divided into three leagues: fastballers, slow pitchers and women.
Softball & Sexism
As seen from the fair's category system, women have been consistently excluded from baseball and confined to softball, despite the fact that women have historically been just as involved in baseball as men.
In an article titled "Is Softball Sexist?," the New York Times reports that "Softball was invented in 1887 by men, though it came to be seen as an easier, 'safer' and more modest game — more suitable, that is, to ladies."
The New York Times states that the MLB banned women's contracts in 1952, and the Entertainment and Sports Programming Network (ESPN) reports that women were not allowed to play Little League baseball prior to 1972. National Public Radio (NPR) adds that Title IX, passed in 1972, was supposed to create gender equity in sports, but did the opposite in softball's case. Overlooking the fact that softball is not the feminine equivalent of baseball, in the eyes of the law, schools that offered softball teams did not have to allow women to play baseball.
Currently, there are no professional women's leagues in the United States, so, regardless of skill level, the highest level female baseball players can reach is the US national team. Team USA reports that the Raybestos Brakettes of Stratford, Conn. was the first team to represent the US in the World Baseball Softball Confederation (WBSC) Women's World Championship in 1965.
Softball at Woodbridge High
On the Woodbridge High campus, any observer of a softball practice would have trouble believing that female players could ever have been denied the opportunity to play baseball due to lack of skill. The eight varsity players zip from one drill to another with laser-focus, the repetitive thwaps of balls hitting gloves punctuated by the occasional shout of "attaway." Balls snap from base to base so quickly that players appear to forfeit blinking in favor of acute accuracy.
Running these practices is head coach Kim Wojciechowski. As an alumna of Woodbridge High and softball coach of 15 years, Wojciechowski is very familiar with the history of Woodbridge High softball; a history Wojciechowski describes as ¨glorious.¨
"[Coaching] my alma mater makes it so that I don't want to leave…I can't imagine coaching anywhere else," Wojciechowski said.
In nearly 40 years of annual tournaments, softball has earned the most awards and recognitions of almost every other team at Woodbridge High, second only to the girls' basketball team.
"We have a really rich history," Wojciechowski said. "We're proud warriors."
The team is bent on winning the League Championship this season, which means additional batting practice every day, two-hour batting cage sessions with junior varsity (JV) twice a month, and a greater emphasis on developing the team's offense. Among varsity's assets are two seniors who have committed to college softball teams after graduation, and a few freshmen whom Wojciechowski expects to be verbally committed by the end of the 2022 season.
Since the past two seasons have been impacted by the pandemic, the JV team will not be replenishing the varsity team after this year's graduation. Instead, Wojciechowski said, " they will be vital the year after that."
"I expect our JV team to do a lot of the same drills that the varsity team does and continues to improve with each practice and each game that they have," Wojciechowski said.
With a promising lineup and a legacy of success, Wojciechowski's players walk onto the pitch and into their season with gusto.
About the Contributors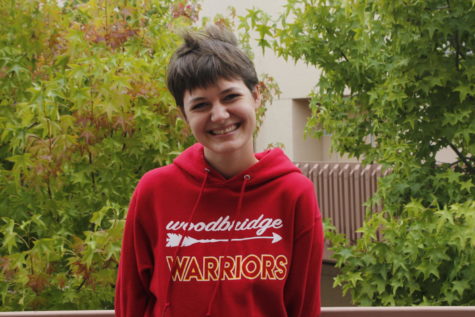 Sophia Anderson, Arts and Entertainment Editor
Hey-o Warriors! My name is Sophia Anderson and I am thrilled to act as your 2021-2022 Arts & Entertainment Editor. As a certified Choir Kid™ myself,...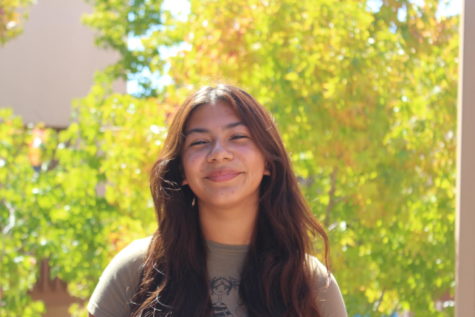 Isabella Gonzalez, Visual Director
What's up Warriors! My name is Isabella Gonzalez and I am the Visual Director for the Golden Arrow this year! I am thrilled to photograph and capture everything...