Senior Survey
Woodbridge High seniors take a survey to answer questions and reflect on their past four years of high school
Senior Poll
Best cafeteria option: 51.2% – Pizza, 31.7% – Pick Up Stix, 9.8% – Salad, 7.5% – Chicken Nuggets
Spotify or Apple Music?: 85.7% – Spotify, 14.3% – Apple
Logan or Jake Paul?: 76.9% – Logan, 23.9% – Jake
What color is Math?: 63.5% – Blue, 31.8% – Red, 4.7% – Yellow
Favorite High School Memory?
Corey Hickson: "Being part of the first Woodbridge boys' lacrosse team to make CIF."
Dorrin Sepehrdoust: "Winning 2nd place at Roleabout Theater Festival."
Daisy Bateman: "Going to Chick-Fil-A with the jazz rhythm sections before our district
concert."
Best song of 2021-2022?
Joseph Yoon: "Family Ties" by Baby Keem
Lizzy Broten: "WUSYANAME" by Tyler the Creator
Julia Tjia: "All Too Well (Taylor's Version)" by Taylor Swift
Best movie of 2021-2022?
Uchan Hwang: "The Batman"
Megan Yu: "No Way Home"
LouLou Schiavo: "West Side Story"
Becca Inlander: "Encanto"
Barbara Vandelip: "Shang Chi"
Best excuse you've used to get out of a homework assignment?
Lake Mitchell: "My sister ran away (she did)."
Alinur Isakov: "I forgor."
Ally Whyte: "A rock was thrown through my house window."
Bobby Werner: "I just turn it in late."
About the Contributor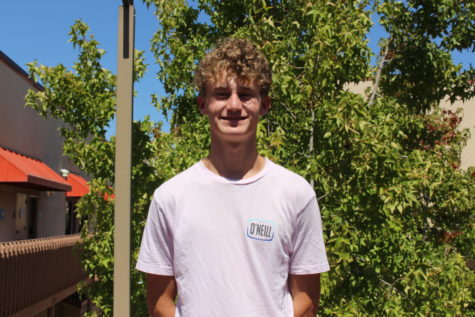 Ethan Crawford, Co-Editor-in-Chief
Hey Warriors! My name is Ethan Crawford and I feel very honored to serve as a Co-Editor-in-Chief and a staff writer this year. This is my third and last...