Full Disclosure – Behind the Addams Family
The work that goes into the magic of the Addams Family isn't just limited to the dedication of the performers
The overture begins. A bright, Latin theme of soft violin, blaring trumpets and jaunty piano tunes fill the room. The cast begins a thrilling tango, singing along to the instruments. There is nothing normal about this performance. From the costumes to the set, from the actor's movements to their lines, the production is truly "creepy and kooky."
This year's spring musical, The Addams Family, is no small production. More than 30 students, staff and hired instructors are involved in the production-from lighting crew to cast, from backstage tech to set design, there's never a dull moment backstage. Months of work culminated into a hectic week of performances. 
Audience members are often too entertained with the quick movements of actors and the orchestra's beautiful music to notice all the hard workers that are backstage. It is the task of Assistant Stage Manager and junior Karina Osbourne to supervise and direct the massive groups-down to every last stagehand. 
"[I have] to deal with orchestra, crew, cast, lights and sound," Osbourne said, "It's so many different realms of people coming together, and my position allows me to interact with every single [person]. No other position gets to do that."
In addition to the 21 actors on stage, there are 15 orchestra members, three stage managers, 14 stage crew members, three prop crew members, two audio technicians, two makeup crew members, five additional crew members and eight instructors directing them. With all the people backstage and onstage, hours and hours of work are needed to practice even one scene. 
"From 3 to 10, or from 3 to 9 p.m., every single day for two weeks of [our lives]. And then another three weeks, and rehearsal, for three months. That's work, that's effort. That means you care about something," Osbourne said.
Freshmen Alexander Youmans, who plays Pugsley in the musical, provided insight into the difficulty of the audition process and getting into the musical. Actors and technicians not only spend hours rehearsing together but also plenty of individual work is required to memorize lines, practice vocals and design props.
"I've sacrificed a lot, so I can only imagine what other people have sacrificed. And on top of that, [we spend] hours upon hours rehearsing."
Osbourne and Youmans each considered what might surprise audience members about the production.
"It's actually really funny and satirical," Youmans said, "You'd think this type of musical would be more serious since it's "The Addams Family" but it's actually kind of hilarious."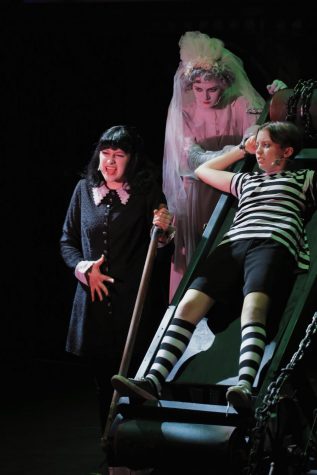 Osbourne's experience lies mainly in directing the placement of props. Prop crew and set design work together to create the scenery and props and place them onstage at the correct time. The crew must stay vigilant and listen for cues in order to move the furniture and props on and off stage with each scene change."I think maybe the set pieces, like the torture chair, and stuff like that, because they're all very complicated things that are hard to come by in a high school production," Osbourne said, "Like the stairway and the fact that the stairways move. I think the dancing, too, because that's a huge thing, and to have such a large ensemble do things like that is really surprising for a high school production."
Audience member and freshmen Sabrina Go enjoyed the production a lot. "My favorite part was the tango with Morticia and Gomez." She attended the performance because one of her friends was in it. 
Despite the exertion on and off-campus, the frantic activity backstage and the endless rehearsals, Youmans and Osbourne both find joy in the performance.
"Even if people mess up, something isn't put where it's supposed to be, someone messes up dancing, or misses a line, it doesn't matter as long as people are having fun," Osbourne said, "I want to make sure that the people on stage are having a good time while they're out there."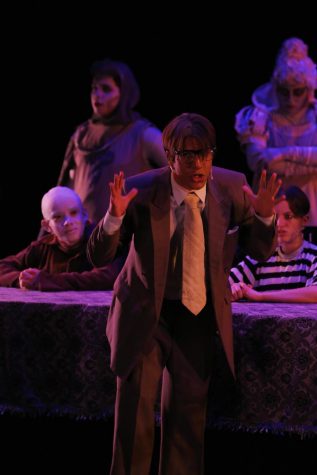 About the Contributors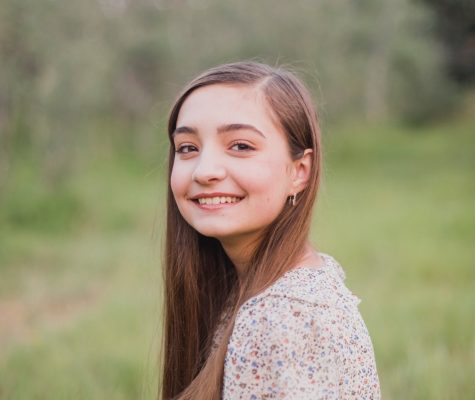 Chloe Bouton, Arts and Entertainment Editor
Hey Warriors! My name is Chloe Bouton and I will be your Arts & Entertainment Editor for the 2020-21 school year. This is my second year in the Golden...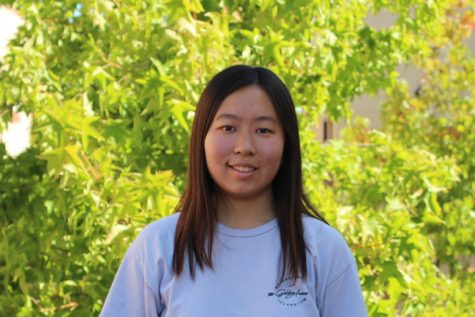 Rachel Lee, Photographer
Hello! I am very excited to be back at the Golden Arrow for another year! As a photographer, it is my goal to help portray life at Woodbridge accurately....