Music According to Sanderson- Installment #2: A Recurring Album Review Column
Welcome back to your favorite music column (please don't correct me, I am, like most writers, very sensitive). A lot has happened in the music world since I last articulated my many opinions, but I refuse to be daunted. Harry Styles released an album (more on that to come) Taylor Swift received her honorary doctorate, and Bleachers announced the soundtrack they compiled for the next "Despicable Me" movie. As they say on Saturday Night Live, "we've got a great show [column] for you tonight [today]!" Let's get started. 
"It's 2016 Somewhere" — Ricky Montgomery
Released Friday, April 8th
"It's 2016 Somewhere" is Ricky Montgomery's only album since his debut, "Montgomery Ricky" in 2016. Short and bittersweet, the album describes his experience with his father's suicide and stepfather's abuse, accompanied by simple instrumentals. The album is honest, sweet and bitterly sad at times, but is comfortable to listen to, like a conversation with a friend. The nineteen second "Intro" track consists of distant vocals that swell and connect to the first official track, while "Mom (Interlude)" is simply a voicemail left by Montgomery's mother where she is endearingly trying to hang up after calling him accidentally. 
Highlighted Tracks:
"Sorry For Me"
"Sorry For Me" describes the morning Montgomery's abusive stepfather was arrested, as well as the aftermath in the following days. Montgomery told his Twitter followers that his sister was involved in his decision to release such a personal song. He said his sister, "only asked to be framed correctly – not as a victim, but as a brave person who got my family collectively out of a pattern of abuse." The refrain of "I wouldn't want to make you sorry for me" was very effective: I feel nothing but admiration for the Montgomerys' strength.
"Mr. Loverman — Acoustic"
"Mr. Loverman" is a heartbreaking anthem favored on TikTok about a year ago, and the acoustic version manages to be even sadder. It's so beautifully produced and profoundly written that I confess to having listened to it on loop more than a few times, and not even when I was actively sad. The bridge is what always destroys me: "I've shattered now, I'm spilling out/Upon this linoleum ground/I'm reeling in my brain again/Before it can get back to you/Oh, what am I supposed to do without you?" If you can listen to that and not want to sob, I both envy and fear you. 
"Tomorrow Me" — Luke Combs
Released Friday, April 22nd
Luke Combs has a new album, "Growin' Up," coming out on June 24, and this is a teaser single from that album. Personally, I find his songs formulaic and static, but the good news is that if you like one song, you'll like them all. 
"Tomorrow Me" has a fresh subversion take on an age-old concept. Instead of singing about choosing to make a rash decision despite anticipating the consequences, "Tomorrow Me" is a song of self control. Instead of going back to an old girlfriend, Combs says,"maybe we should let yesterday be/'Cause I gotta live with tomorrow me." Way to go, Luke! If you don't think rash decisions are a theme in country music, see below (I'm looking at you,  Keith!).
Lady A's "Need You Now"

Barbara Mandrell's "If Loving You is Wrong (I Don't Wanna Be Right)"

Dan + Shay's "How Not To"

Keith Urban's "Good in My Shirt" and "Lips Keep Getting in the Way"

Janie Frick's "Tell Me a Lie"
"Growing Up" — The Linda Lindas
Released Friday, April 8th
The Linda Lindas are a self-identified half-Asian half-Latinx, all female pop punk band who write explosive songs about racism, adolescence and their pets. And oh yeah, they're kids. The Linda Lindas are made up of Mila (11), Eloise (13), Lucia (14), and Bela (17) and originated as a cover band in 2018 when their youngest member was only 9 years old. I wish I had that healthy of an outlet when I was 14, let alone their talent. 
"Growing Up" has more to say for itself than many albums in its genre. It's a rare combination of genuine, expressive catchy music that you could sing in front of your grandma without being harshly scolded. The drum beats and electric guitar riffs are bright and fun but don't get repetitive. I have no complaints about the entire album except that it reminds me I will never be as cool as The Linda Lindas. 
Highlighted Tracks:
"Cuántas Veces" 
This song, whose title translates to "how many times," details feeling isolated and insecure but comes to the conclusion that everyone is perfect in their own way. The vocals on this track are less harsh and its Latinx influences are beautiful. 
"Racist, Sexist Boy"
The Linda Lindas performed this in the 2021 Netflix movie, "Moxie," which is when I was first awed by their talent and charisma. This track details Mila's experience with anti-Chinese discrimination at her school. It's a strong, straightforward response to hateful behavior and I deeply respect The Linda Lindas for channeling negativity into their art. 
"Fine"
"Fine" is a deeply cathartic anthem for anyone who has been gaslighted. With the lines, "You hear us shouting but you don't hear a word/You know we're dying but you say that we're jerks/You keep on going but you think it's fine," The Linda Lindas call out anyone who attempts to invalidate their experiences. It's impossible not to fistpump and shout the satisfying refrain of  "It's! Not! Fine!"
"five seconds flat" — Lizzy McAlpine
Released Friday, April 8th
In the spirit of transparency, Lizzy's first album, "Give Me a Minute," is one of my favorite musical creations of all time. I realize that that's a difficult act to follow, but I still found myself slightly disappointed by "five seconds flat." She released five singles before the release of the full, fourteen-song album, and most of the other songs feel like subdued filler songs. (I'm sorry Lizzy, I really wanted to like them, I promise.)
For anyone who has never previously listened to her music, Lizzy has a distinct vibrato and riffing pattern with which she embellishes many of her songs. But this album lacked instrumental complexity that would have made each of the fourteen songs more distinct. Instead, many of the tracks had very basic percussion and some electronic melodies in the background. Unfortunately, Lizzy's voice got monotonous after a few tracks. "Give Me a Minute" also sported some gorgeous, inventive melodies that "five seconds flat" lacked. Those are nearly impossible to manufacture, and kudos to Lizzy for using creativity instead of generating her own melodies instead of emulating the same tired pop anthems over and over. 
Lizzy has worked out a successful formula for an indie pop ballad: starting low in her vocal range with a clever verse, building to an understated first chorus and eventually reaching a booming bridge and fading to a tantalizing outro. The problem is, she repeated that structure almost fourteen times. 
I will absolutely remain a fan; I think her beautifully raw songwriting is something my generation of musicians and music-lovers desperately need more of. I was just slightly underwhelmed by the general musicality "five seconds flat." 
Some redeeming elements of the album include the line, "I don't get a choice in the matter/Why would I? It's only the death of me" from "doomsday;" a chilling understatement that pierces the heart. Lizzy remarks, "It's a battle over something stupid/they're all the rage right now," on "ego thing," and her cool bitterness makes me shiver. I'm deeply intrigued by the mystery man discussed in "erase me," because allegedly "him and his aftershave hit like a drug."
Highlighted Tracks:
"Ceilings"
"Ceilings" details the beginning of a relationship that feels achingly familiar, "like the start of a movie I've seen before." It has my personal favorite melody on the album and some lovely layered harmonies that begin in the first verse instead of making us wait for the (now expected) build. It also features beautiful strings playing instead of percussion. The track ends with the realization that Lizzy's alleged lover never existed in the first place: "it's not real/And you don't exist/And I can't recall the last time I was kissed/It hits me in the car/And it feels like the end of a movie I've seen before." Ouch.
"Hate to Be Lame"
This track, which has been heavily advertised, features FINNEAS and outlines an endearing fear of commitment. "I read an article on the internet/Told me that that's how you know you're fallin' in love/Don't really trust what's on the internet/But maybe just this once," the lovable Lizzy laments. The song's concept reminds me of one of my favorite song lyrics ever, from The Japanese House's "Dionne": "I know it's not very sexy when somebody loves you this much and knows you this well." 
"Orange Show Speedway"
The final track on the album breaks the monotony with a refreshingly simple melody that isn't trying too hard. It's the most traditionally indie song on the album and allows Lizzy to vocally expand beyond her typical collection of vibrato-y trills. 
About the Contributor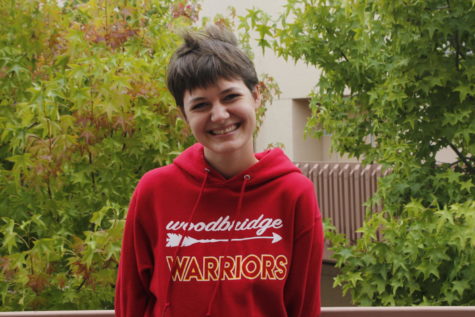 Sophia Anderson, Arts and Entertainment Editor
Hey-o Warriors! My name is Sophia Anderson and I am thrilled to act as your 2021-2022 Arts & Entertainment Editor. As a certified Choir Kid™ myself,...