Sophie Leon rows her way to the regattas
Sophomore Sophie Leon is branching out and trying an unorthodox sport in Irvine. Leon currently participates in rowing, a fast-paced technical sport that heavily relies on teamwork and endurance.
When she was younger, Leon said enjoyed watching rowing competitions in the Olympics and the Henley Royal Regatta, an annual rowing event, which led her to stumble upon rowing. Her curiosity initially sparked after her experience at a summer camp she attended in June of this year.
"I got into rowing because it seemed like an interesting sport. I liked it so much I tried out for the team [at Newport Aquatic Center] and made it," Leon said.
Though she has a passion for rowing, Leon admits that making a school club revolving around rowing does not interest her as she commits most of her time to school and her sport. However, spending time on the water is more than satisfying.
"I can't choose a single favorite thing about rowing because I enjoy it so much," Leon said. "I enjoy being out on the water every day, and I get to see the sunset every day, which is pretty cool."
Leon practices rowing with her team every weekday from 3:15 p.m. to 6 p.m. and occasionally practices on weekends at the Newport Aquatic Center to prepare for  regattas, or rowing races, every couple of weeks.
"I really like how nice all the girls on the team are, and we all have fun working out and talking and stuff," Leon said. "The regattas are awesome because we work so hard every day…it's really cool to see how much better we've gotten and watch our times improve."
Eden Broggi, a rowing coach at the Newport Aquatic Center, has been Leon's coach since July of this year and said she recognizes Leon's passion, enthusiasm and determination.
"Sophie's a new rower, [but] she doesn't get flustered…and encourages everybody to go faster," Broggi said. "I think she's very driven and competitive."
Coach Jillian Clapp sees Sophie as upbeat and determined
"Rowing is the ultimate team sport…everyone is relying on each other to push themselves as hard as they can," Clapp said. "[Sophie] is a great teammate…she does not judge or criticize…and always gives her best."
About the Contributor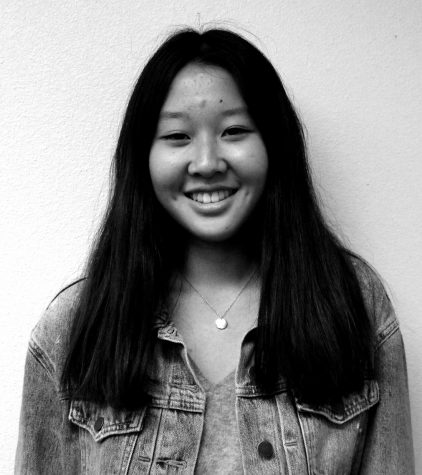 Ashley Park, Opinion Editor
Many people think that art is the best way to express themselves, but I believe that journalism is one of many interesting ways to express yourself. I'm...