Music According to Sanderson- Installment #1: A Recurring Album Review Column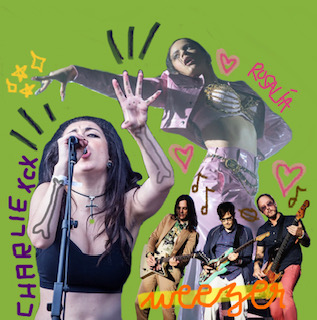 My name is Sophia Anderson and I'm the Golden Arrow's A&E editor. I introduce to you the new facet of our web articles: my music review column.
My main qualification is that music is a more integral part of my life than breathing. I'm a singer in Woodbridge's Relentless (and in my car, shower and kitchen) and an amatuer beatboxer, guitar player and songwriter. I've put more thought into the cultivation of my Spotify catalog than nearly every decision I've ever made. My parents raised me to be old school, so I have a physical library of vinyl, CDs and even a couple cassette tapes. I have a 1970 Panasonic record player and a SONY CD player that's been watching over me from my bookshelf for as long as I can remember.
Anyone who knows me knows that Taylor Swift is the great platonic love of my life, but most people don't know that my musical interests extend far beyond Ms. Swift. Raised by even bigger music nerds than myself, I've been exposed to hundreds of artists from every genre imaginable. My favorites include 80s glam rock, cheesy indie pop from the 2010s, Wes Anderson movie soundtracks and most British rock bands. 
Another favorite of mine is asserting my opinions about albums like I have the credibility of a veteran staff writer for NPR. I don't, but I sure have enthusiasm. 
SZNZ: Spring — Weezer
Released Sunday, March 20, 2022
Weezer, the lovable, meme-able 90's rock group released the first of four "SZNZ" (seasons) albums, Spring. Appropriately released on a Sunday instead of the typical Friday release date, the album narrates the adventures of angels exploring Earth while on a vacation from heaven. Without a great deal of variety among the seven tracks, nuances separate the relatively basic, windows-down tunes from surprisingly insightful ballads about innocence and spirituality. 
Despite the relatively elevated subject matter, lack of musical complexity makes "Spring" more well-suited to the soundtrack of a bad A-24 film than the subject of a critical review. 
"Angels on Vacation" is amusingly irreverent, and sports goofy lines such as "We'll have a ball while we can/We don't have to tell the big man [God]/He wouldn't understand." "A Little Bit of Love" and "Garden of Eden" are musically simplistic tracks that epitomize the easygoing anticipation that swells in the spring months.
Weezer's juvenile personas are what nearly every high school girl wishes high school boys were like: a little dorky, but thoughtful, fun-loving and possessing surprisingly good vocabulary. However, lead singer Rivers Cuomo is 51 years old and should perhaps be beyond the level of a very talented high school band.
Highlighted Track:
"Wild At Heart"
"Wild At Heart" is everything the entire album wanted to be: carefree, jovial and perfect for a springtime jaunt through a local meadow. With lovely instrumentals and the endearing refrain of "you've got me wild at heart," this track is an obvious high point on the album. Too bad it's the seventh track. 
MOTOMAMI — ROSALĺA
Released Friday, March 18, 2022
I doubt ROSALĺA's brilliance can be overstated. MOTOMAMI is a breathtaking collection of intensely versatile musical works. She effortlessly transitions from intimidatingly cool pseudo-rap ("SAOKO", "CHICKEN TERIYAKI," "CUUUUuuuuuute"), to melodious ballads ("G3 N15," "DIABLO," "SAKURA") to fast-paced stream-of-consciousness ramblings ("BULERÍAS," "Abcdefg") that capture the casual musicality of children humming to themselves. 
"LA FAMA," a collaboration with The Weeknd, which ROSALĺA performed on SNL on March 12, is an electronic bachata that begs to be danced to. The Weeknd's voice blends seamlessly with ROSALĺA's, and culminates in a stunning bridge. "DELIRIO DE GRANDEZA," an unexpected track with strong vintage influences proves that, not only can ROSALĺA rap like a fiend, she can croon with the best of them. "COMO UN G" made me a little teary, and the line "No reces por mí, quiero que sepas que estoy bien/Yo tengo mi fe, mis armas, mi cora', que no sé pa' quién" ("Don't pray for me, I want you to know that I'm all right/I've got my faith, my weapons, my heart that I don't know for whom") makes me thank my stars I've never made the mistake of breaking ROSALĺA's heart. 
ROSALĺA's genius is so universal that even listeners who know little Spanish, like me, will be dazzled. 
Highlighted Tracks:
"LA COMBI VERSACE"
ROSALĺA and Tokischa unabashedly revel in materialism and sound so darn cool while doing it that I wish I had a stack of cash to throw into the air. It uses a classic hip hop beat and layers distorted vocals near the top of ROSALĺA's range to create an irresistibly danceable track. But don't get too attached. ROSALĺA may be "Dressed in white, draped like a bride," but take it from her, "no soy tu esposa." 
"CHICKEN TERIYAKI"
This track is as bizarre as it is catchy. ROSALĺA performanced "CHICKEN TERIYAKI" on Saturday Night Live on Mar. 13, commanding the small studio audience easily, and seemingly reaching through my TV screen to command my attention. I don't know if I was more captivated by her casually cool performance or the glimmer of the gem inserted into her front teeth.
"G3 N15" 
The rawness of ROSALĺA's voice shines brilliantly in this track. Her lamentations are haunting. Make sure to listen to this one with a lyric sheet next to you so you don't miss out on lines like, "Si vives/tranquilo o vives con guerra/Si ya te enamoras o si aún te peleas/Si sientes calor, lo sientes por dentro/Es que tiene un ángel" ("If you live calm or live with war/If you're falling in love or still fighting/If you feel heat, you feel it inside/It's because there's an angel")
Crash — Charlie XCX
Released Friday, March 18, 2022
Charlie XCX's fifth album, Crash, is charmingly predictable, fraught with über-poppy refrains, and contains several potential girlboss anthems. The heavily 80's inspired earworms on the album are most similar to those on her 2017 album, Number1Angel.
Crash's strengths lie in its electric pre-choruses, which elicit visions of crowded European nightclubs filled with raucous young adults waiting for the beat to drop. Unfortunately, most songs on the album lose their tantalizing buzz after the first chorus, when the lyrical repetitions and synth become repetitive. 
The album contains two collaborative songs. Christine and the Queens bring a gorgeous, full, vocal tone to the second verse of "New Shapes," and Rina Sawayama's voice adds a much-needed richness to "Beg for You."
Highlighted Tracks:
"Move Me"
This track is more intimate than any other on the album. Producer Ian Kirkpatrick helps coax XCX's vocals into the foreground while still including emotive electronics in the background. The powerfully understated line "It's something about the way you save my life" induces goosebumps.
"Yuck"
This track is playful, piercingly clever, and positively addictive. The laughably cutting lyrics, "All these butterflies make me sick/It's some hocus pocus s***, I'm bewitched" feed into the hilarious chorus which begins with, "Yuck, now you got me blushin'." "Yuck" has the head-boppin' beat of a cheesy pop song, but flips the cheese on its head for an pleasantly unexpected take on puppy love. 
Expect album and song reviews on a semi-regular basis. With exciting upcoming releases such as Harry Styles's "Harry's House," The Killers's "Pressure Machine" and Bon Iver's 10th Anniversary Edition of "Bon Iver" (which I find particularly exciting). Plus there's always the hope that Taylor Swift will surprise us with another re-recording. 
About the Contributor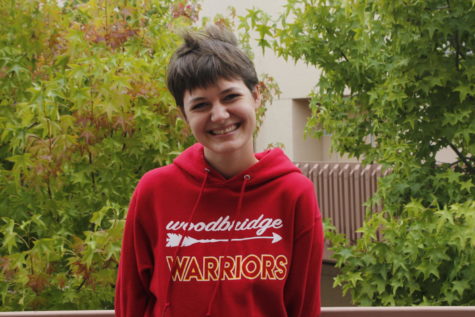 Sophia Anderson, Arts and Entertainment Editor
Hey-o Warriors! My name is Sophia Anderson and I am thrilled to act as your 2021-2022 Arts & Entertainment Editor. As a certified Choir Kid™ myself,...