Homecoming Royalty Ushers in a New Era of Inclusivity
The shift from traditional Homecoming 'King and Queen' to 'Royalty' prompts a bright future for Woodbridge High
The Homecoming football game took place on Friday, Sept. 23 where senior Associated Student Body (ASB) President Nanami Yamakawa and senior ASB Performing Arts Commissioner Genesis Araiza won Homecoming Royalty. Yamakawa and Araiza were thrilled to receive the title.
"That was a special night for me. I was very surprised because I know all the other seven candidates were very well-qualified, and so when I saw my name on the banner and heard my name on the speaker, I was very happy," Yamakawa said.
Yamakawa also appreciates all of the hard work that went into the event.
"I know Homecoming is the biggest event of the year, looking from the ASB perspective, there's a lot of planning that goes into it," Yamakawa said.
Araiza expressed her excitement over the win.
"It did mean a lot to me to have the support from my peers, just a lot of people I didn't necessarily think I was close with, being like 'I voted for you,'" Araiza said.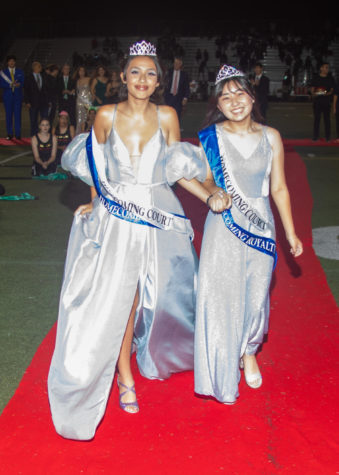 All eight individuals who were on Homecoming Court were chosen from an intricate point system which serves as the foundation for voting in ASB.
"The traditional way [for deciding] is that [ASB] would take everyone's applications for everyone who replied and they submit a resume, and we give them points based on what they've done throughout the years at Woodbridge [High]," ASB Junior Class Vice-President and junior Ali Attia said.
The traditional system where the top four boys and girls were chosen based on their amount of points was replaced with the court being chosen on the top eight individuals, regardless of gender. This year, ASB put forward a memorable change for the school. This shift entailed discarding the words Homecoming "King and Queen" and instead implementing the word "Royalty." ASB, a group of elected students made up of diverse groups on campus, made this decision on behalf of the student body. Part of ASB's decision was influenced by what they saw other schools do at ASB camp.
ASB hopes that these changes would better promote an environment in which everyone would feel included. With these changes being put in place, there is a hope to shift to a more gender-inclusive campus in the future.
"We felt that [things] could be more inclusive by just getting rid of the whole 'prince and princess,' 'king and queen' system. I'm really glad we did this because ever since I was planning [Homecoming] last year as a junior, I was thinking how we could make it more inclusive," Yamakawa said. "I feel like [Royalty] represents the student body better than having just the 'king and queen' system and I think it promotes a lot of inclusivity."
Araiza agrees.
"It's a good step forward for Woodbridge High…I don't think changing to an inclusive court that takes the top eight [candidates] takes away anything that Woodbridge High [School] has done throughout the years…If anything, it's enhancing everybody's ability to win and get on court," Araiza said.
However, some students are concerned with the change that was put in place. These students might feel nostalgic for the traditional titles and do not believe that political views should fit into a lighthearted event, such as Homecoming.
For others, the shift has illuminated other opportunities for Woodbridge High to be more inclusive. Some suggest that these changes help to encourage students on campus to participate in various school activities.
"I think there's definitely more changes that can always be made at Woodbridge to get a step in the right direction and I think that Court was a good step, but I also think that…people need to be more proactive in the change," Araiza said.
Progress has been made throughout the Irvine Unified School District (IUSD). Constructed in 2019, the New Theater (Performing Arts Center) at Woodbridge High was built with an all-gender restroom. Neighboring school Portola High also has a gender-fluid Homecoming court. Conversations are still ongoing regarding shifting to a more inclusive campus and district.
About the Contributor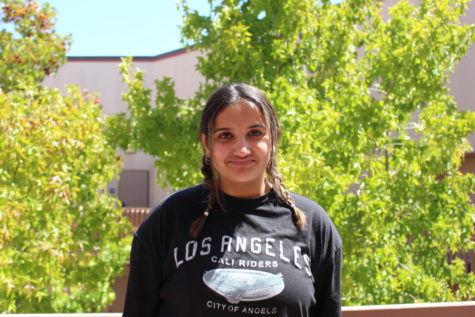 Donya Yazdihan, Copy Editor
Hey Warriors! My name is Donya Yazdihan and I'm thrilled to be serving as one of your Copy Editors as well as being a staff writer for the Golden Arrow....