Driving in Style
Students share the backstories and features of their unique cars
Dean Huisken: Fiat 124 Sport Spider
Senior Dean Huisken got his 1973 red Fiat convertible from his father after the car was driven by his three older sisters. Huisken enjoys putting the top down as well as the freedom and mobility that owning a car has afforded him. "A lot of cars this old have not lasted this long. [My car] is almost 50 years old and a lot of it is original. [We] have only replaced a couple things to keep it moving," Huisken said. In addition, he appreciates the bright red color of his car due to the fact that it reflects upon his outgoing personality. He believes that the vibrant color of his car mirrors his stand-out passion and talent for choir and percussion.
Ryan Distaso: Volvo XT90
Senior Ryan Distaso received his car in September of last year and enjoys the smooth driving and plentiful space that his car provides. Distaso shares the car with his two other siblings. "It is our first car, [and] it has sentimental value because it is the car we learned to drive on," Distaso said. Distaso enjoys the fact that his car can fit 5 people, and drives smoothly. He also feels his personality is reflected through his car through its sleek and simple design, similar to how he is a simple and uncomplicated person in life.
Romi Benasuly: Tesla Model 3
Senior Romi Benasuly received her Tesla as a birthday present from her parents about three years ago. Benasuly also owns a Jeep and raves about the differences between the two cars. "[My Tesla] is really comfortable [to drive], and the difference of the two cars [has made me] notice that the Tesla is easier and more natural to drive," Benasuly said. Benasuly also enjoys the modern aspects of her Tesla. Tesla's are famed for their design and cutting edge advances such as self-driving features and accident awareness, allowing Benasuly to feel both stylish and safe.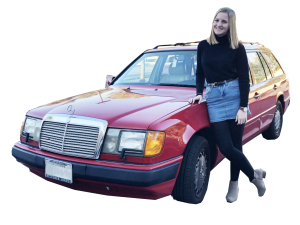 Sam Blake: 1993 Red Mercedes
Junior Sam Blake received her grandmother's 1993 Mercedes about two years ago when her grandmother gifted it to her. Blake enjoys the car's nostalgic feel coupled with several newly updated features, including reclining seats and bluetooth. As a member of the Associated Student Body (ASB), Blake often has to attend school functions and events. "Since I am super busy and always going to different places, it's really helpful to be able to drive myself to where I need to go," Blake said.
About the Contributors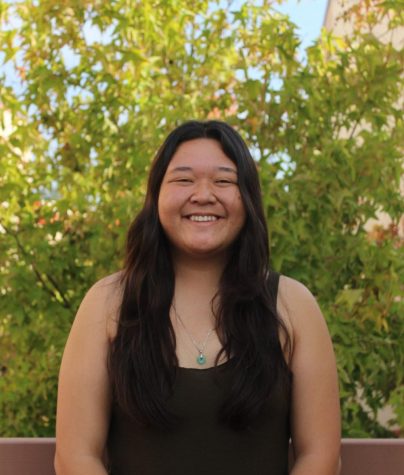 Kylie James, Features Editor
Hi Warriors! I've been apart of the Golden Arrow for two years now and I'm so excited to be one of your Features Editors this year! I am also the Vice...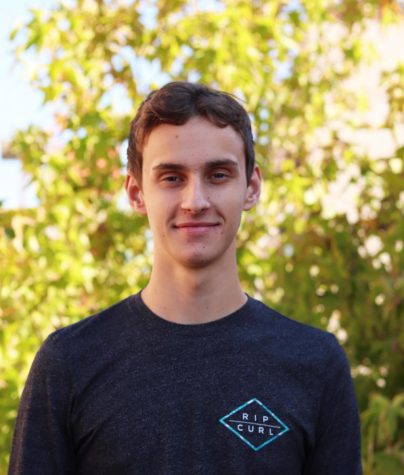 Thomas Loynd, Sports Editor
Hello Warriors, my name is Thomas Loynd and am this year's Sports Editor for the Golden Arrow. As a big sports enthusiast, I'm in charge of covering the...