Woodbridge High Welcomes Back Dr. Phil Roh
Dr. Phil Roh returns to Woodbridge High as an English teacher after obtaining his Ph.D.
English teacher Phil Roh returns to Woodbridge High this year after fifteen years.
Roh started his teaching career in 2000 during his sophomore year at University of California Irvine. Roh first worked at Woodbridge High as a football coach and left for San Francisco to work at a nonprofit writing center. Roh continued to work in Northern Calif. as he shifted through jobs until finally coming back to Orange County for graduate school. He then worked at Northwood High and in the city of Santa Ana before finally coming back to Woodbridge High this year.
Roh's family motivated and encouraged Roh to pursue a Ph.D. During his course, Roh got to research and craft proposals, write and defend dissertations and studied for qualifying exams.
"The tricky thing with the Ph.D. is that the first half is made up almost entirely of the requisite coursework, so you're in a traditional graduate school classroom setting with peers who make student life so much more interesting," Roh said. "And more consistent. The second part is so much more difficult because it all centers around the dissertation. It gets very lonely and there's not as much regular interaction with other human beings as there was in coursework to balance that out."
Roh's favorite memory in his teaching career is when he got to establish a transdisciplinary program called Forensics Core at Northwood High.
"We read books like Silence of the Lambs, drew up psychological profiles of serial killers. [We] learned how to determine time of death by examining maggots that grew on carcasses of dead chickens in the body farm my teaching partner created in the back of the school," Roh said. "But the best thing about it was that we (students, teachers, administrators, community members) came together to take a risk and ultimately, the students benefited from the experience."
Roh currently teaches Honors English 1 and World Literature at Woodbridge High. He also enjoys sharing works of literature by Marilynne Robinson.
"I am, at least in ivory-tower-academic terms, a contemporary Americanist, which is a fancy-pants way of saying that my research interests are centered around contemporary American literature," Roh said. "I also attended UCI, which at the time, was a school known for its literary theory program […] With that, I feel like I'm at my best […]"
Senior Owen Lucas comments that Roh is one of his favorite teachers as he cares for all students.
"He makes class more than it actually is and really tries to have each and everyone of his students engage," Lucas said.
Senior Nicholas Oshefsky describes Roh as an honest teacher and very well versed in English as he draws a lot of meaningful insights from texts read in class.
"Mr. Roh tries to create a community in our classroom despite the pandemic, this includes circle time where he encourages us to share about our lives," Oshefsky said. "He is also very personable of himself and shares some of his experiences which I personally enjoy."
Roh shares the positivity of his students and is happy to be back at Woodbridge.
"It's like returning home," Roh said.
About the Contributor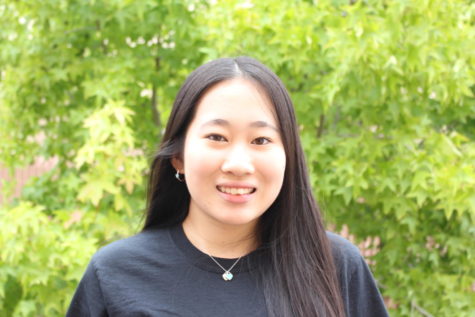 Leisa Komyo, Co-Editor-in-Chief
Hi Warriors! My name is Leisa Komyo and this is my third year in the Golden Arrow. I am honored to be working this year as a Co-Editor-in-Chief, photographer...