New Teacher in the Social Studies Department
Ryan Brucker (History Teacher) 
Q: What subjects do you teach?
A: I teach US History and I'm also the head varsity baseball coach.
This is my ninth year teaching. So I taught two years at El Toro high school, and then I taught three years at Woodbridge, and then I was three years at Irvine High, and now I'm back at Woodbridge.
Q: How was Woodbridge different from other schools?
A: I think Woodbridge is the most unique place I've ever taught at. I actually applied for the baseball job when I heard that it was open because I wanted to a be part of Woodbridge again. I think all of our faculty get along very well and work well together. The atmosphere here is just very unique. It's unlike other schools I've been at. There's a good feeling when you walk on the campus. There's a good vibe among the students and whether that's, you know, when you go to a choral concert or [when] you go to a sporting event, there's a lot of participation and there's just a good atmosphere on campus that I think is very unique. It's unlike other place I've ever taught.
Q: First impression of Woodbridge?
A: I came back here because it's such an awesome place to teach and I already knew a lot of faculty when I came back so for me, walking on the campus, I knew exactly what to expect and I think that's a tribute to one, our administration and our teachers and two, most important, our students. I think Woodbridge is that much more special of a place that I wanted to come back and be part of it again.
Q: What do you look forward to the most?
A: Like I said, just the atmosphere and working with the students. The students here are great, and they are very open and interested in having dialogue in class and discussing things in class, different issues, I look forward to working with the faculty here and the administration here because they're very enjoyable to work with. That kind of was, again, my main decision to apply and come back over here, and fortunately, I was hired.
Q: What is your goal as the new baseball coach and history teacher?
A: From the history standpoint, I just want to continue to do the good work that the department here.  From the social science perspective, we try to provide an atmosphere where one, students feel like they can debate and discuss different historical events that pop up and two, hopefully as teachers we can provide multiple aspects and multiple viewpoints on the situation and events that we teach about, and encourage dialogue within the class. With respect to the baseball program, the baseball program has been very successful here for the last five, seven years, and I just want to continue being a positive voice for the players and continue the success that they've had over the course of history.
Q: What made you want to be a teacher?
A: Whether I'm teaching social science or coaching baseball, for me, young kids who come to Woodbridge between the age of 14 and 18, the decisions that they make is going to impact the rest of their life, and so if I can teach them skills that can have some positive impact and in the classroom and in the baseball field, hopefully I can be a positive part of some of their decision making and make a difference in them down the road. They can look back, and say, 'Hey, this teacher, this coach had a positive impact on me and help me shape my future.' For me, that was the most important thing. I really wanted to be the positive impact and be a positive influence on young people.
Q: What do you expect from the students?
A: I expect them to have positive attitude and to work hard and to take others into account. Be empathetic, think about others. That's what I hope that students take away, that you're not the center of the universe, there's other people out there, and that in order to truly have a productive and positive impact, you need to consider other people. For me, in the classroom, that is discussing other people's points of view, and you don't necessarily have to agree, but you have to be open to and listening to and understanding those point of view. From the baseball standpoint, working as a member of the team, and understanding that you are one person but your effort impacts the rest of the team and rest of the program. I think that's an important attribute that people need to learn because when you go out and join the work world, you need to learn how to function as a productive member of a team. Teamwork is very important. I think that, for me, I expect student to be open to and learning that and practicing that whether it's in the class or out in the field.
Fun Fact: Brucker has his grandfather's army jacket hanging on the wall. His grandfather, Ralph Brucker, was in the 28th Infantry Division as a technical sergeant, leading a group of men to string communication wire in the battlefront. He fought at the Western Front, including Battle of Normandy, Battle of the Bulge, the Liberation of Paris and was able to meet up with Soviet troops at Berlin. Keeping in mind Brucker's career as a teacher, his grandmother made sure to pass the army jacket to him before she passed away. Ralph Brucker was almost killed when a German soldier threw a Grenade, but thankfully, it was a miss. He eventually captured the German soldiers as prisoners of war. This earned him a bronze star, which still hangs on Brucker's wall to this day.
About the Contributor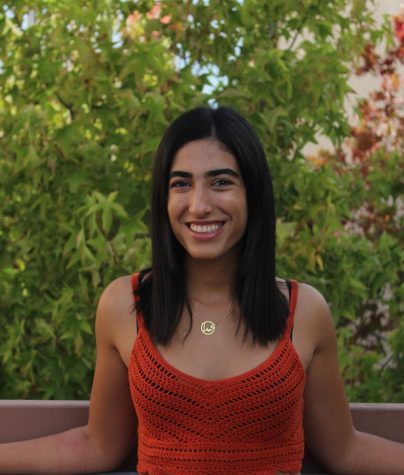 Bahar Khezri, Visual Director
Hey everyone! Last year I was a photographer for the Golden Arrow and I had a blast taking pictures for our magazine. As a visual director this year, I...