New Teacher in the Technical Education Department
Ilya Berkan (Auto Teacher)
Q: What is the exact name of the course that you are teaching?
A: It's automotive technology. Within the program, we have couple of different courses.
Q: Where did you teach before?
A: I used to teach at Cerritos College and Golden West College.
Q: Is it your first time teaching at high school?
A: Yes.
Q: Why did you decide on teaching at a high school?
A: The job was offered for full-time. I was teaching part-time at a community college.
Q: How is teaching at high school different from teaching at college?
A: Student's goal, student's will. There are less students just idling around in class in community colleges, because they come there to learn technology. In high school, the choice of this program is just not to take math.
Q: There must be some students who are interested and passionate about this class, though.
A: Definitely. Every group of people has their own group of people. Everything in this world balances. There's good people, and there's bad people. So in this class, there are people who are eager to know something, and I see in their eyes, and I can recognize them. But I also see people who just came to get the credit for the class to do nothing.
Q: What was your first impression of Woodbridge?
A: Organized school, I would say. Clean. Big community. Emphasis on community. It's not just a school.
Q: What do you look forward to the most?
A: I'm an educator right now. I want my students to get as much knowledge from me as they could.
Q: Why did you want to become a teacher?
A: I used to work as a technician for 19 years. I met a lot of young individuals, school graduates, community college graduates, internship from high schools, and I realized that I can teach them using my knowledge.
Q: What is your goal as the automotive technology teacher?
A: My goal is to establish this program like how I wanted it to run. Because I just came here for a little more than one month, I want to fix everything that would be interesting to students. Right now, the course is split into three names.
Q: What are the three levels of this class?
A: Three years. In the beginning I was told that it was a two-year program. Advanced and basic. Right now, from the office, I got a suggestion to do a three-year program. The first year would be the basic, basic, basic for students who want to know what's on the vehicle, know how to replace oils, maybe air filter, how to check the tire pressure, how to evaluate the entire condition. The second year is more advanced. We would go deeper in the systems of the vehicle.
Q: What sparked your interest to go into this field?
A: Technology. Science, that is strict. If it's math, it's two by two so it's four. There's no other opinion other than that. I like the exact science, and I like technology. I liked speed.
Q: How does the auto class work?
A: For example, it's a hand on step by step, directions worksheets. Maybe to check the pressure, then in the worksheet it specifies what steps students have to take. Battery testing. Of course, if it's more advanced, then there's more steps and more complicated assignment. Regular tests. I give tests once a month, maybe twice a month. They have a test that goes along with the new technology. What's the construction of the tire, what's the tools that are supposed to be used.
Fun Fact: Berkan moved from Moscow, Russia to United States in 2000. He loves riding motorcycles during his free time, and he rides them on tracks a couple times a year. What he loves the most about California is the weather, since it's freezing in Russia right now. Although he earned a Master's degree in computer engineering from the Moscow Technical University, he never had a job in the industry, because he "hate computers" since he would have to sit around all day. Berkan firmly believes that all the fun in his life is created by himself, and he constantly tries to make his life interesting.
About the Contributor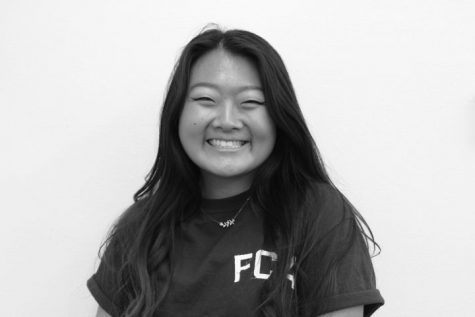 Jessie Chau, Photographer, Cartoonist
Hi everyone! This is my first year being on The Golden Arrow for photography and I'm extremely excited to expand my knowledge and practice photography...